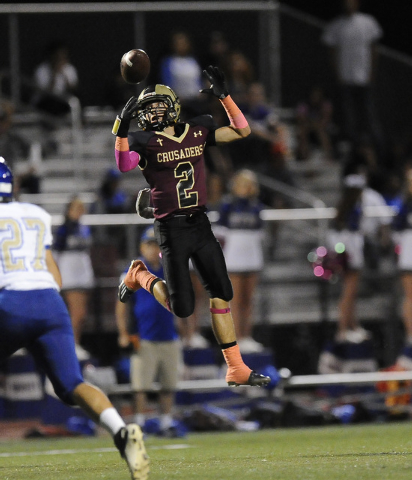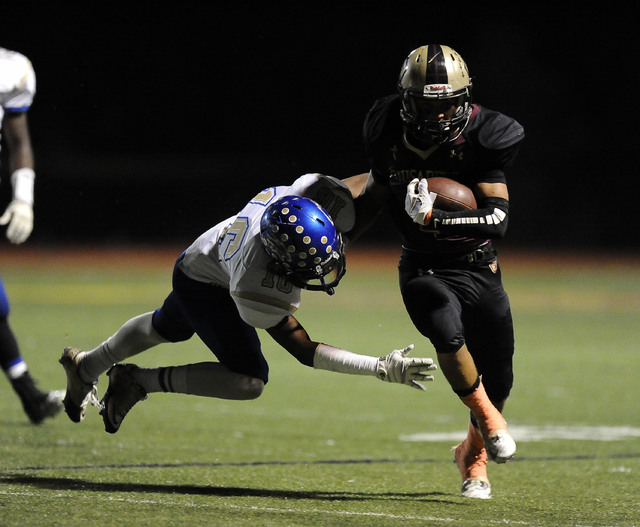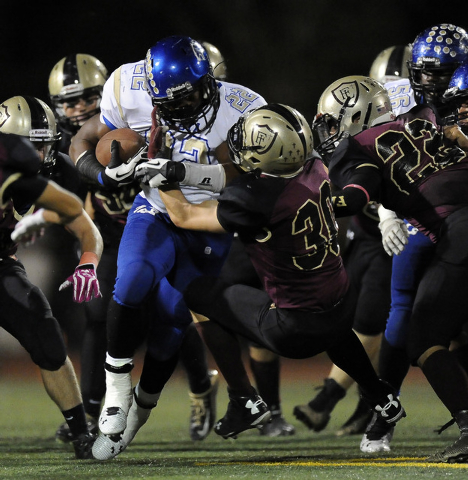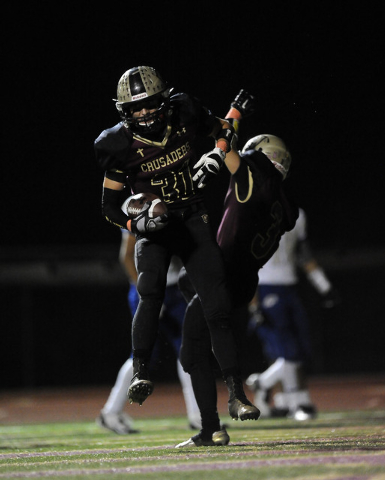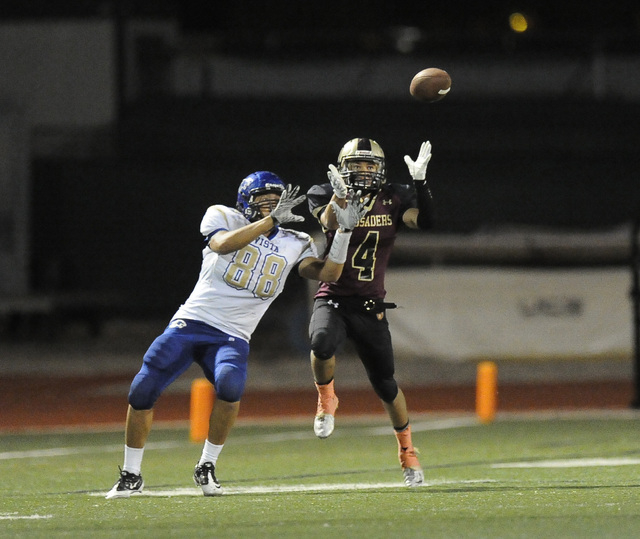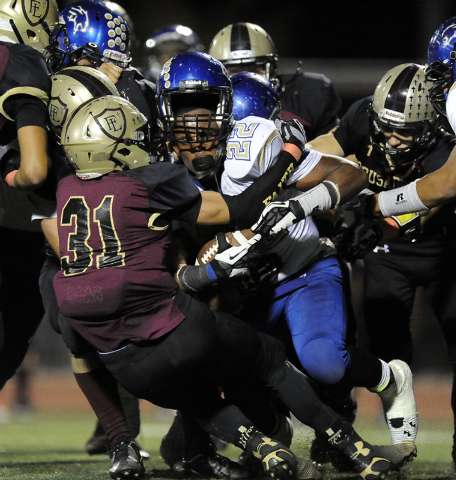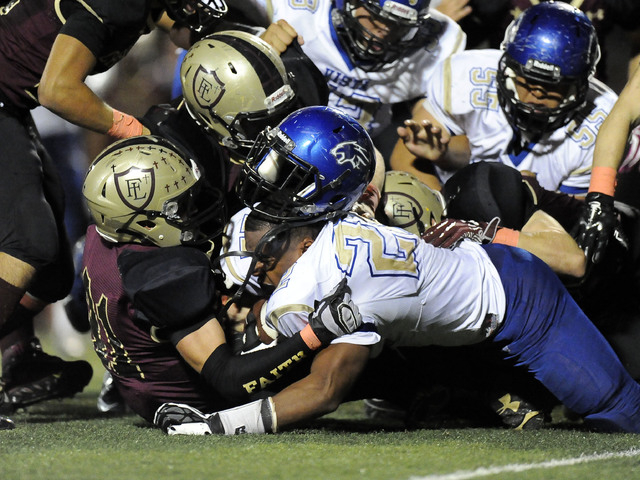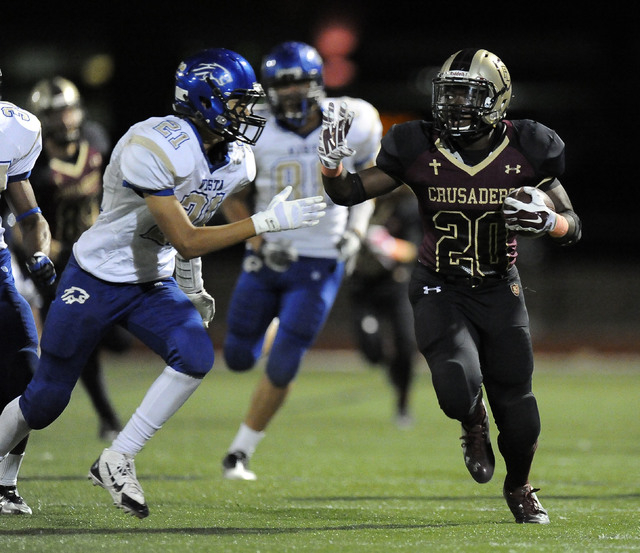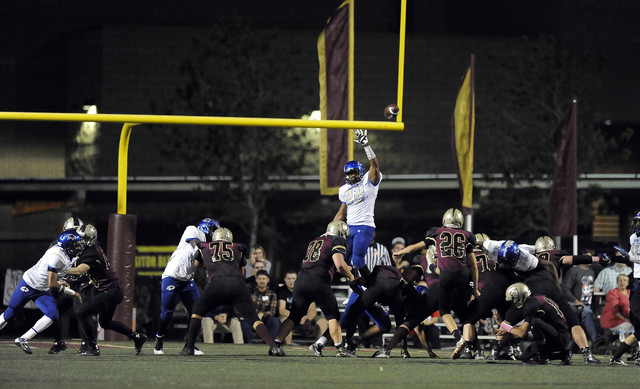 Faith Lutheran's football team took the field Friday hoping to make a statement in a key Division I-A Sunset game.
Alfred Soboyejo returned the opening kickoff 82 yards for a touchdown, and the Crusaders were well on their way to achieving that objective.
Greg Benson completed 12 of 21 passes for 144 yards and two TDs to lead Faith Lutheran, which took control early and rolled to a 31-7 victory over visiting Sierra Vista.
"It's never easy," said Crusaders coach Vernon Fox, who insisted the win was more difficult than it looked. "Sierra Vista is an excellent team, but we just had a good game plan and we came out and executed it."
That execution continued well after Soboyejo's game-opening sprint down the left sideline, as Faith Lutheran pulled off a successful onside kick on the next play. The Crusaders hit a momentary lull, failing to score on the drive and allowing Maliek Broady to cap a 68-yard Lions drive with a 39-yard TD run to tie the score at 7-7 with 6:14 remaining in the first quarter.
But it was all Faith Lutheran from there. Benson put the Crusaders ahead for good with an 8-yard TD pass to Mark Rubalcaba late in the quarter, and Ryan Callan extended the lead to 17-7 with a 39-yard field goal midway through the second.
The killer blow came when Faith Lutheran's Trevor Driscol recovered a Sierra Vista fumble and ran it in for a 37-yard TD just before halftime.
Fox said his squad's big plays were a key to the win.
"It's huge," he said. "Especially when you're able to convert that to scores. It's an important aspect of the game, and it gave us a big push."
Any doubt was erased when the Crusaders squelched a 13-play, seven-minute Lions drive at their own 7-yard line late in the third quarter.
"That was a long time for our defense to be out there," said Fox, whose squad denied all three of Sierra Vista's fourth-down attempts. "But we expect them to respond. It's a pride thing."
Faith Lutheran tacked on a 36-yard TD on a pass from Benson to Tyler Mahan early in the fourth to make it 31-7.
Rubalcaba had 10 receptions for 96 yards for the Crusaders (4-3, 3-2 Division I-A Sunset).
Broady carried 23 times for 159 yards to lead the Lions (5-2, 3-2).
■ Liberty 54, Valley 0 — At Valley, the No. 5 Patriots racked up 304 yards on only 19 plays from scrimmage, including a 39-yard TD pass from Kenyon Oblad to Lucas Bogues on the game's first play.
Bryan Roland (81 yards) and James Christie (53) each returned punts for touchdowns for Liberty.
The Patriots (5-2, 1-1 Northeast) forced three turnovers and held the Vikings (0-6, 0-2) on two fourth-down plays. Mario Gaona threw for 164 yards for the Vikings but threw two interceptions.
— Mike James
■ Basic 42, Eldorado 34 — Quarterback Aeneas McAllister rushed for three touchdowns and threw for two for Basic.
McAllister finished with 126 yards rushing and 73 yards passing for the Wolves (4-3, 1-1 Southeast).
Eldorado's Deven Dabbs completed 27 of 40 passes for 314 yards and four touchdowns for the Sundevils (3-3, 0-2). Joshua Brown led Eldorado with 10 catches for 142 yards and two scores.
— Robert Horne
■ Centennial 37, Cimarron-Memorial 14 — At Centennial, Rhamondre Stevenson rushed for 213 yards on 19 carries and two touchdowns to lead the Bulldogs to a homecoming victory.
Centennial (6-0, 2-0 Northwest) turned a close game into a rout by outscoring the Spartans 24-7 in the second half.
Zach Mays kicked three field goals, including a 44-yarder, for the Bulldogs. Juan Rodriguez completed 8 of 16 passes for 113 yards and ran for 59 yards and a TD.
The Spartans (2-4, 0-1) were led by Tyree Riley's 74 yards on 21 attempts.
— W.G. Ramirez
■ Desert Oasis 45, Bonanza 14 — At Desert Oasis, Tyeree Johnson racked up 146 yards and scored three times to lead the Diamondbacks (1-5) their first win.
Desert Oasis (1-5) turned four Bengal turnovers into points before halftime.
Bonanza (0-7) got 87 passing yards from Wyatt Allison including two touchdowns to ByJon Large.
— Mike Bailey
■ Palo Verde 41, Shadow Ridge 7 — At Shadow Ridge, Jaren Campbell rushed for 122 yards and two touchdowns for the No. 8 Panthers.
The Panthers (4-2, 1-0 Southwest) scored on their first three possessions — an 8-yard run from Ty Fuller and TD runs of 2 and 27 yards from Campbell.
Christian DeJesus totaled 139 yards on 15 carries for Shadow Ridge (2-4, 0-2).
— Sam Leeper
■ Bishop Gorman 77, Durango 0 — At Durango, the top-ranked Gaels (8-0, 2-0) dominated in all three phases of the game, remaining undefeated with an easy shutout of the Trailblazers (1-5, 0-2).
Alize Jones and Cordell Broadus each caught a touchdown pass from Tate Martell for the Gaels.
— Adam Berchin
■ Desert Pines 48, Del Sol 6 — At Desert Pines, Del Sol jumped out to an early lead on a 9-yard run by Taaric Flowers, but Jon McCoy returned the ensuing kickoff 89 yards for the Jaguars.
Isaiah Morris totaled 152 all-purpose yards for the Jaguars. Marckell Grayson completed only five passes, but three went for touchdowns for Desert Pines (6-1, 4-1 Division I-A Sunrise).
Taaric Flowers managed 71 yards on 20 carries for Del Sol (3-4, 1-4).
— Adam Helmsing
■ Spring Valley 13, Pahrump Valley 7 — At Spring Valley, Michael Bianco scored on a 6-yard pass from Christian Tasi, and Marcus Dawson provided a 53-yard interception return for a touchdown as the Grizzlies (5-2, 4-1 in Division 1-A Sunset) held off the Trojans (3-4, 2-3).
Tasi connected on 8 of 13 passes for 79 yards, 57 yards to Mycah Benoza.
— Brennan Karle
■ Clark 78, Western 12 — At Clark, Ty'Rek Wells rushed for two scores and caught a TD pass for the Chargers.
Milan Dixon carried six times for 89 yards for Clark (4-3, 3-2 Division I-A Sunset). Nick Kinnard threw for 101 yards and two touchdowns, and Aquantay Morris scored on a 67-yard run.
Gregory Castenada connected with Kwan Carter on an 85-yard scoring pass for Western (0-7, 0-5).
— Mike Sloan
■ Foothill 22, Silverado 18 — At Silverado, Devon Mueller threw for 149 yards and a touchdown and rushed for another 79 yards to lead the Falcons.
Te'vion Reed scored on a 1-yard run for Foothill (3-3) with 2:10 left to put his team up 22-12, but Devon McKinney returned the ensuing kickoff 82 yards.
McKinney had 24 carries for 141 yards, scoring on a 54-yard run and a 20-yard reception for Silverado (3-3).
— Tim Guesman
■ Arbor View 35, Legacy 14 — At Legacy, Herman Gray rushed for 312 yards on 19 carries, helping the No.2 Aggies pull away from the Longhorns.
Gray scored on runs of 53, 56 and 40 yards as Arbor View (6-0) took a 35-7 lead near the end of the third quarter.
DeMichael Walker finished with 142 yards and two TDs, including a 90-yarder, for Legacy (2-4), while Tanoa Alapati completed 14 of 31 passes for 129 yards.
— Jesse Vineyard
■ Sunrise Mountain 21, Rancho 20 — At Rancho, Jamilo Whitten caught two TD passes from Damon Heard and Wanya Calahan rushed for 189 yards and a score to lead the Miners (1-6)to their first win.
Rancho (0-7) trailed 21-6 but rallied late, paced by fourth-quarter touchdown runs of 10 yards by Nathan Guido and 55 yards by Robert Howard. Howard finished with 150 yards on 27 carries, while Guido had 68 yards on 10 tries.
— John Dubrish
■ The Meadows 19, Mountain View 13 — At Mountain View, The Meadows quarterback Jacob Gleason completed 12 of 20 passes for 215 yards and a touchdown to lead the Mustangs over the Saints.
Senior Bryson Navallo rushed for 112 yards and two touchdowns for The Meadows (5-2, 4-0 Division III Southern), while Ethan Fridman caught five passes for 97 yards and a score.
The Saints (2-4, 1-3) were led by quarterback Ian Locke, who completed 12 of 26 passes for 164 yards and a touchdown and rushed 17 times for 29 yards.
— Jesse Granger
■ Spring Mountain 78, Tonopah 0 — At Spring Mountain, Sydney Shackerford and Jarron Belvin each ran for two touchdown runs during the first quarter as the Golden Eagles (4-2, 3-1 Division IV Southern) routed the Muckers (2-4, 0-4).
■ Sandy Valley 54, Beaver Dam 14 — At Sandy Valley, Lane Eastham ran for three touchdowns and threw for two more to lead the Sidewinders (6-0, 4-0 Division IV Southern) over the Diamondbacks (0-4, 0-3).
■ Pahranagat Valley 62, Indian Springs 0 — At Indian Springs, Wade Leavitt, Tabor Maxwell and David Ingram ran for two touchdowns apiece as the Panthers (6-0, 4-0 Division IV Southern) blew by the Thunderbirds (0-5, 0-3).