Defense takes over in Liberty's rout of Arizona school
August 26, 2017 - 10:31 pm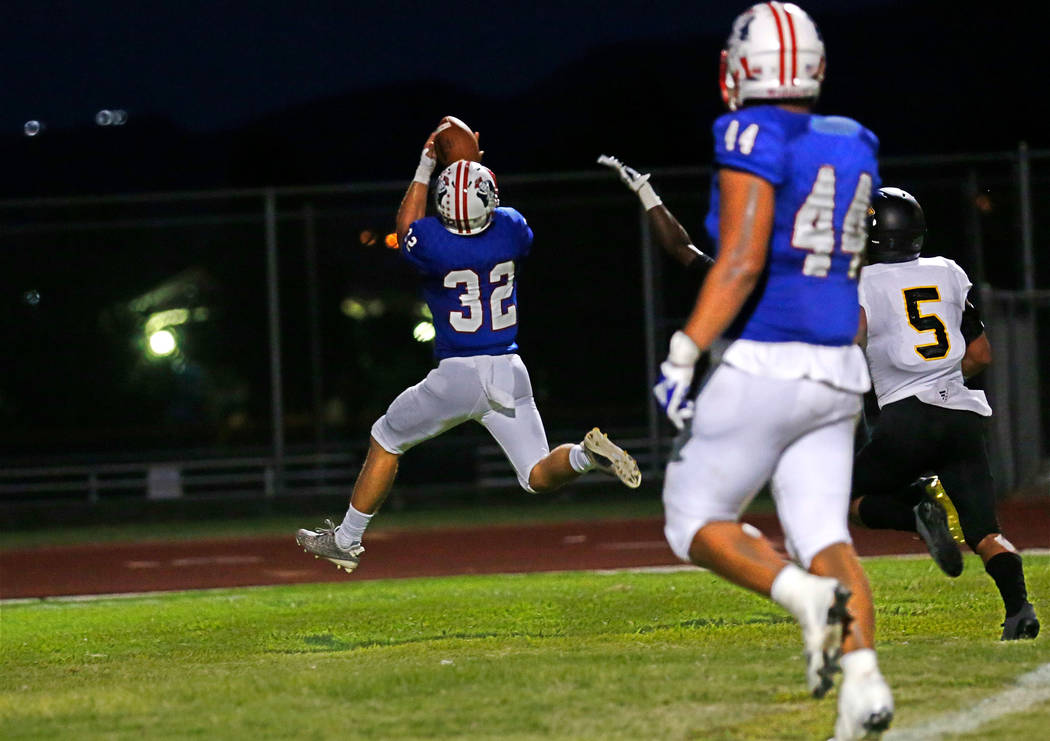 For three series Saturday night, it looked as if Liberty might not be quite the football team it has been in recent seasons.
The team's offense was sputtering against Saguaro (Arizona), which entered the game on a 26-game win streak.
But then the Patriots' defense took over.
Liberty scored three defensive touchdowns, including two early in the second quarter, on the way to a 51-20 home victory over the Sabercats.
"I felt like, and I still feel like, the strength of our team is our defense," Liberty coach Rich Muraco said. "We have six Division I offered kids on our defense. When we can get pressure on the quarterback, that kid was shifty and escaped a few times, but our back end of our secondary, we can do a lot of things with them, a lot of different coverages and they played great tonight"
Liberty quarterback Kenyon Oblad looked rusty to start the game, as he missed on his first four passes and started 1-for-7. The four-year starter overthrew several receivers early, and the first three drives ended without points.
Then running back Kishon Pitts and the defense sparked the Patriots.
Pitts scored on a 34-yard run on the first play of the second quarter to put the Patriots on the board.
Then the defense stepped in with the first of its three scores, as junior linebacker Austin Fiaseu picked off a pass and returned it 25 yards for a touchdown and 14-0 lead.
"It's like play recognition" Fiaseu said. "I remember that play from the film, so I baited the quarterback to get my interception. When you can get an interception and turn the game over, it's a pretty good feeling."
Liberty added another defensive score in the second quarter when Davion Ware jumped a route and picked off a pass, returning it 19 yards for a touchdown and 28-0 lead with 7:40 left in the half. Fiaseu's younger brother, freshman Zyrus, returned a fumble 55 yards for a score in the fourth quarter.
"When you see your family or anyone you love, somebody you grew up with rise like that you get hyped," Austin Fiaseu said. "I was too hyped for my little brother, he's just 14."
Oblad finally got going, and he completed eight consecutive passes after the 1-for-7 start, including two for touchdowns. He finished 10 of 19 for 197 yards.
"I think it's a huge step for us," Muraco said. "Obviously, Saguaro is an amazing program, they've won four straight state championships in Arizona. We knew they were going to be a quality opponent."
Contact prep sports editor Damon Seiters at dseiters@reviewjournal.com or 702-380-4587. Follow @DamonSeiters on Twitter.