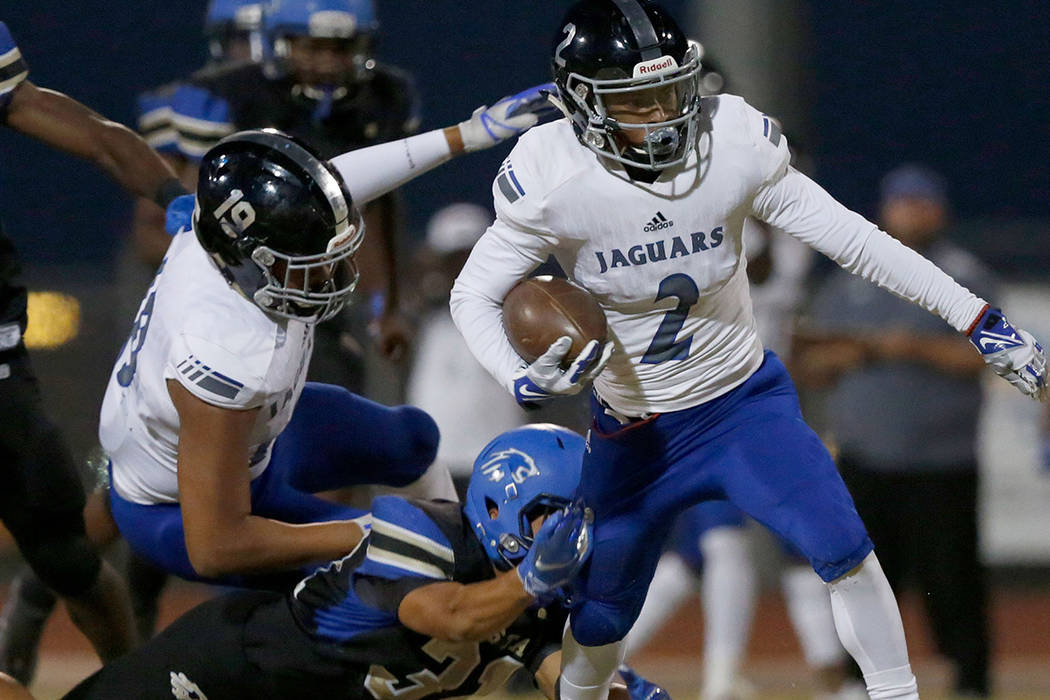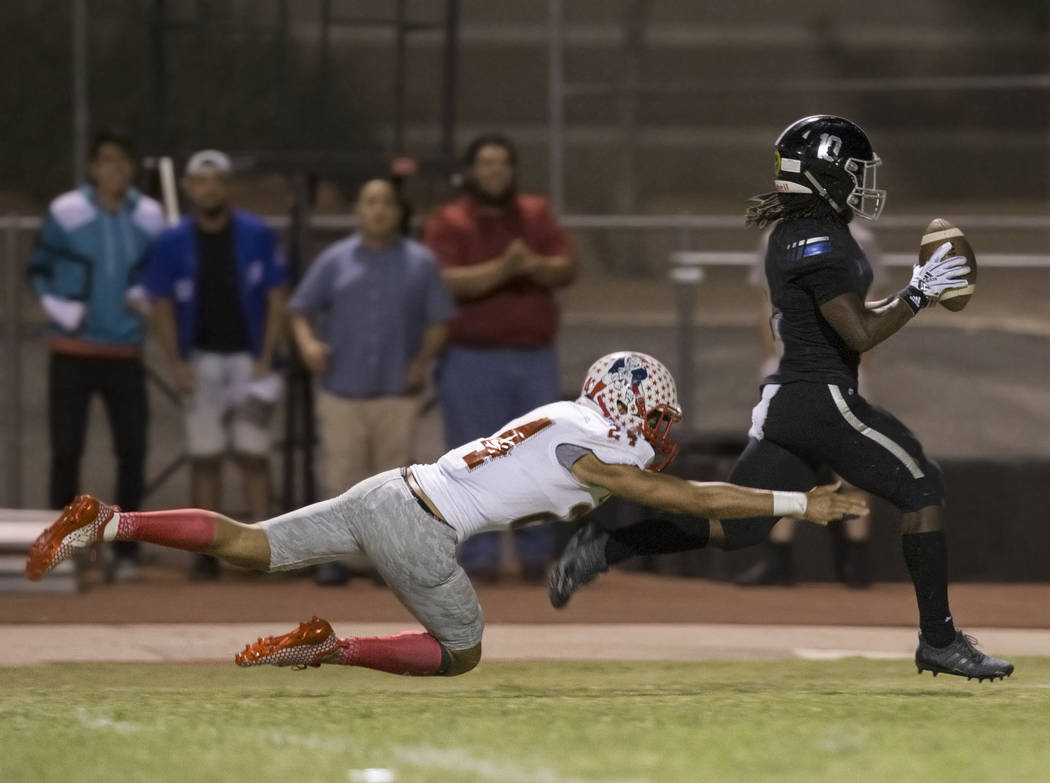 Many a high school football team has used the opinions of others as motivation.
Desert Pines is no different as the Jaguars prepare to start the postseason.
"It's our last go-round, so we're trying to go out with a bang," senior receiver Tye Moore said. "We're trying to go to state, we're trying to do all these things other teams think we couldn't do."
The first step comes at 7 p.m. on Friday when No. 4 Desert Pines (7-2) hosts No. 8 Centennial (7-3) in a Class 4A Mountain Region quarterfinal.
"We have a lot of doubters, but us as a team, we don't really care for it," Moore said. "We're trying to show them wrong."
The Jaguars also are trying not to be defined by one ugly moment this season, a fight against Liberty that forced them to forfeit their Northeast League opener against Canyon Springs.
That loss ultimately eliminated Desert Pines from contention for the league title and the league's No. 1 playoff seed.
"It was an embarrassment," Desert Pines coach Tico Rodriguez said of the fight. "We did that on national TV (online stream), and it cost us. We're a two seed, and we feel like we're a one seed. But when you're a young team, things happen. These are high school kids. They make mistakes. We learn from them and move on."
If the last two games are any indication, Desert Pines has hit its stride. After edging Legacy 15-8 on Oct. 12, the Jaguars outscored their next two opponents 97-13. Rodriguez said a change in strategy has helped get the offense going. He said the team's early focus on power running wasn't right for the young offensive line. The team now is back to a fast-paced spread attack that better fits the personnel.
"We were throwing a lot of scheme at our offensive line, and they're so young," said Rogdriguez, who starts four sophomores on the line. "And they were playing confused. Now we're playing fast, and that's always good when you're going into the playoffs. Less mental mistakes, and kids can just execute."
Desert Pines still can run the ball, too, with Jamel Brown (450 yards, seven TDs), Cameron Wiley (449 yards, six TDs) and Devin McGee (438 yards, seven TDs) splitting carries.
"They're all different running styles," Rodriguez said. "One's a power back. Devin's lightning in a bottle, and Jamel just runs hard. It's a three-headed monster."
Desert Pines won the last two Class 3A state titles before moving up to Class 4A this season. And Brown thinks the team is ready to silence those who doubt the Jaguars can make an impact at the higher level.
"Everybody counts us out," Brown said. "Nobody wants to see us win. They say we're too ghetto, everything.
"We're just playing hard. The record shows a lot."
More preps: Follow online at nevadapreps.com and @NevadaPreps on Twitter.
Contact prep sports editor Damon Seiters at dseiters@reviewjournal.com or 702-380-4587. Follow @DamonSeiters on Twitter.
Friday's Playoff Schedule
Class 4A Mountain Region Playoffs
Mojave (4-6) at Arbor View (9-1), 7 p.m.
Centennial (7-3) at Desert Pines (7-2), 7 p.m.
Palo Verde (5-4) at Canyon Springs (6-3), 7 p.m.
Legacy (4-6) at Faith Lutheran (6-4), 7 p.m.
Class 3A State Playoffs
Cheyenne (9-2) at Moapa Valley (9-1), 7 p.m.
Boulder City (7-3) at Pahrump Valley (6-3), 7 p.m.