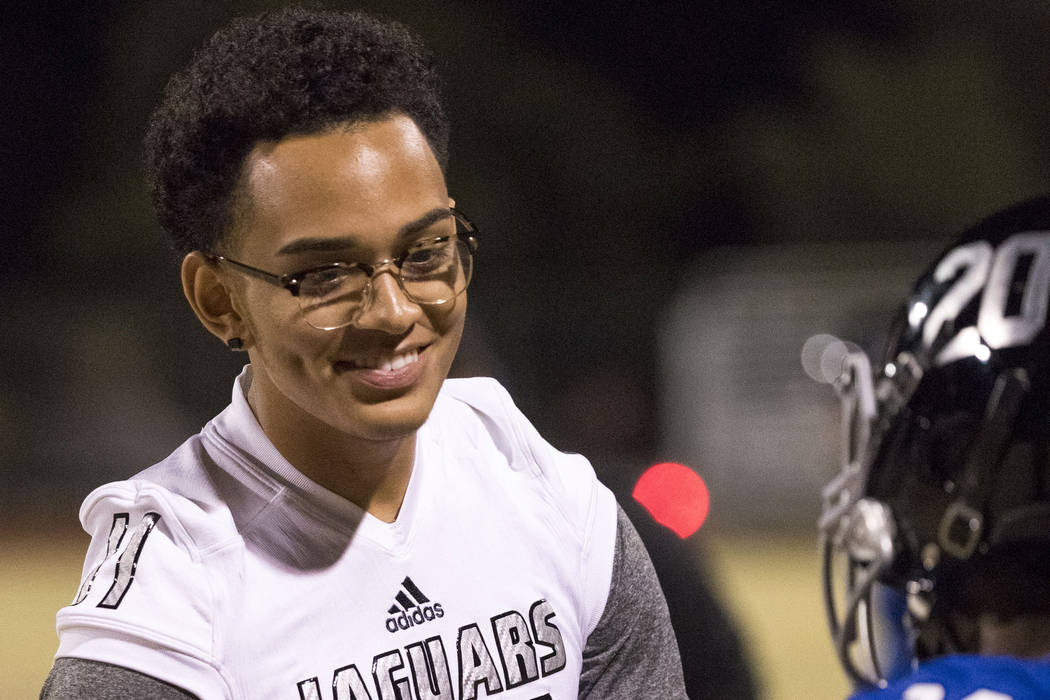 Kaleb Ramsey is not a high school football player.
Well, not anymore.
He was one of the best defensive backs in Southern Nevada, until the Nevada Interscholastic Activities Association, undeterred by documentation proving his residence, ended his prep career by ruling him ineligible to play for Desert Pines this season.
"It all could have just been done with," said Ramsey, a Division-I talent with gargantuan goals and a gentle soul. "All 10 years I worked hard for, to go to college, play Division-I football. All taken away."
But Ramsey persevered through the NIAA's decision and earned a scholarship to play at Pima Community College in Tucson, Arizona.
"He just wants to play football," Desert Pines coach Tico Rodriguez said, "Getting an opportunity to showcase his talents at a national (junior college), it gives him and opportunity to showcase his skills and do what he loves."
Ramsey was born in Texas and moved to Las Vegas with his mother — a domestic violence survivor — when he was 4. He grew up a Baltimore Ravens fan and dreamed of emulating All-Pro safety Ed Reed on the field. As a youngster, he often played against older, more mature competition.
"Football is everything to him," said his mother, who spoke on the condition of anonymity out of safety fears. "Playing every year, he loved it. He always tried to get better, he was watching videos at a young age … Had all the apparel of the Ravens."
Ramsey began his high school career at Coronado and excelled on the freshman team, before moving and transferring as a sophomore to Green Valley, where he made his varsity debut.
He emerged as a starter for the Gators, but had to move again because of "family problems," meaning he'd play his junior season for Desert Oasis.
"My mom being a single parent, I really wasn't too upset about moving, but you got to do what you got do," he said. ""I was already used to moving a lot … I just continued doing what I did. Went to summer workouts, did what I could do."
More family turmoil meant one more move, so Ramsey relocated into the Desert Pines' school zone this March and filed the necessary paperwork with the athletics and registrar offices.
He worked out with the Jaguars' defense and attended several collegiate camps, drawing attention from several Division-I programs, like Arizona State, Arizona, San Diego State, UNLV and Nevada.
But on July 24, the NIAA ruled him ineligible, citing that his family did not abandon its previous residence, where his 27-year-old sister still lived in Desert Oasis' zone. Ramsey and his mother filed an appeal, but it was denied days before Desert Pines' first game.
"I felt like I was being put on stand in a courtroom, having to fight for what I was going through personally," Ramsey's mother said. "Going into personal situations of my life and decisions that I had to make for myself and telling it to total strangers."
NIAA executive director Bart Thompson, who oversees rules, regulations and policies including eligibility, declined to comment through attorney Paul Anderson, referencing Ramsey's status as a minor and the Family Educational Rights and Privacy Act, which protects the records of student-athletes.
"When he got the news … he was completely devastated," Rodriguez said." He turned in all his stuff. He gave me a hug … I was worried about him. This is a happy-go-lucky kid that all of a sudden was shutting down."
Ramsey couldn't sleep or eat a full-course meal, and lost 15 pounds in wake of what he termed "a stage of depression."
He all but wrote off his chances of playing college football, assumed his career was over and focused on becoming a good teammate and mentor for the younger players on the Jaguars' roster.
Ramsey attended practices and games and took pride in sharing his insights with freshmen and sophomores, many of whom are key contributors for Desert Pines.
"The younger guys play for him because they love him so much," Rodriguez said. "The young guys really respect him."
The Jaguars started winning and Ramsey started feeling better. Rodriguez worked to find him a football scholarship, and he accepted an offer from Pima last week, ensuring he'll have at least one more chance to fulfill his vision of becoming a Division-I player
"It was tears of joy," Ramsey said. "I cried. I bawled my eyes out."
Ramsey will fulfill his duties as the Jaguars' ballboy and hype man during games. Desert Pines (8-2) has surrendered 25 total points in its last eight contests and will play Spring Creek on Saturday for a berth in the Class 3A state championship game.
After the season, Ramsey will return to the weight room to bulk up. He posted straight A's during the first academic quarter and is on track to finish high school with a cumulative GPA better than 3.0.
"He's never had that father figure since he was 4 years old. For him to change his life and to make something positive and big for himself, hopefully that says I did a good job in raising him," his mother said. "I'm super proud of him."
Contact reporter Sam Gordon at sgordon@reviewjournal.com Follow @bySamGordon on Twitter.