Desert Pines pulls away in second half to claim 3A state title
November 19, 2016 - 6:33 pm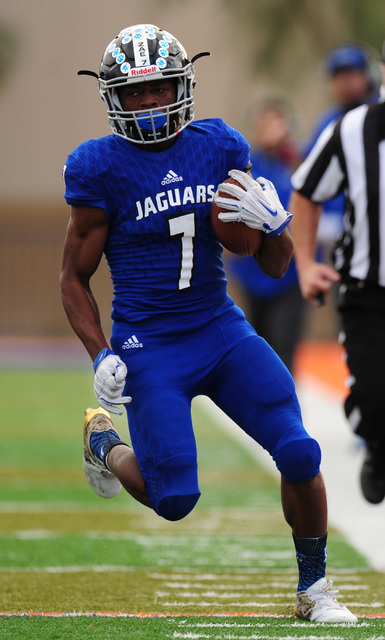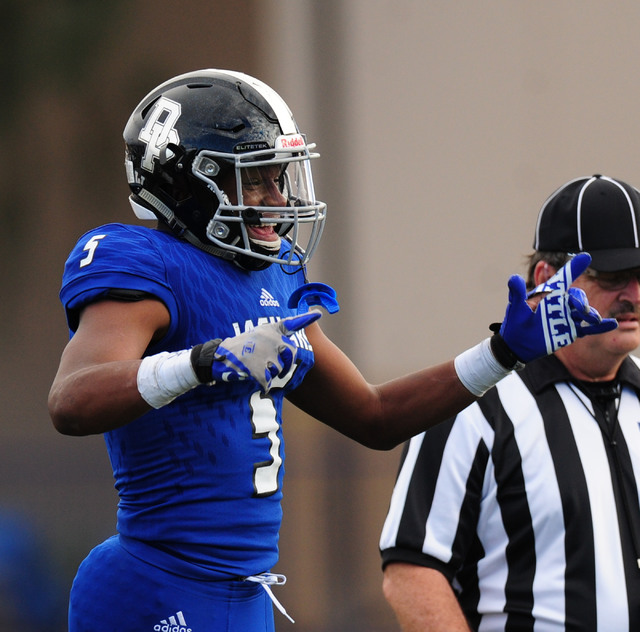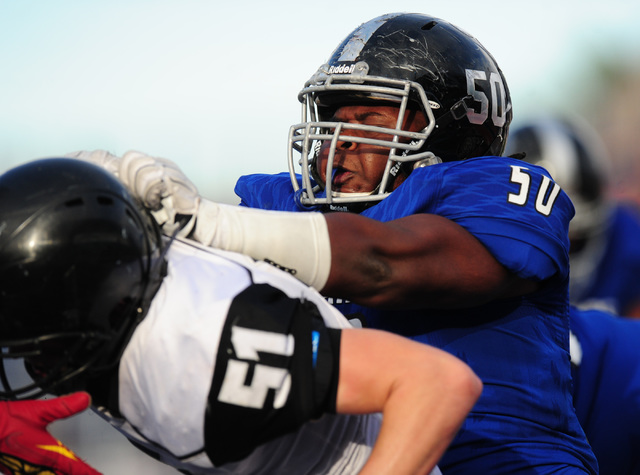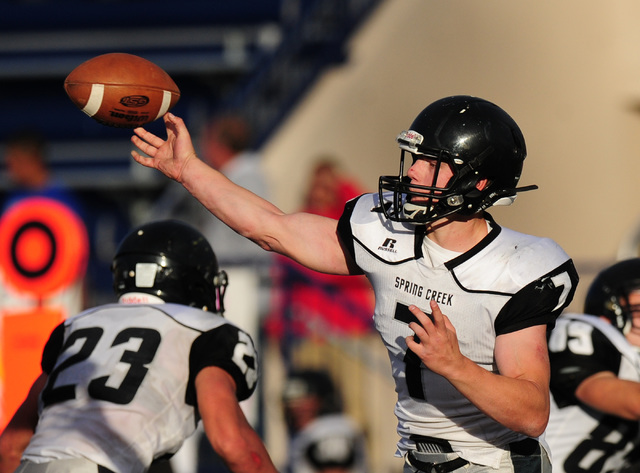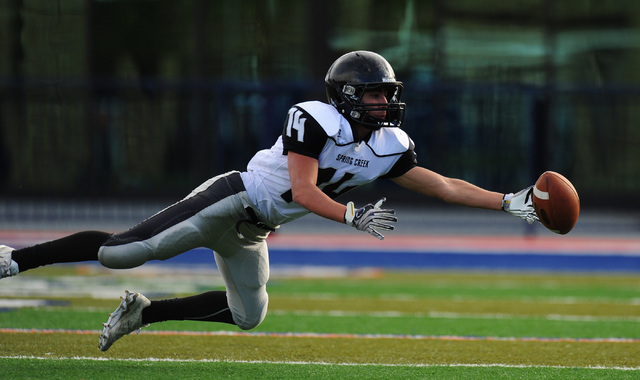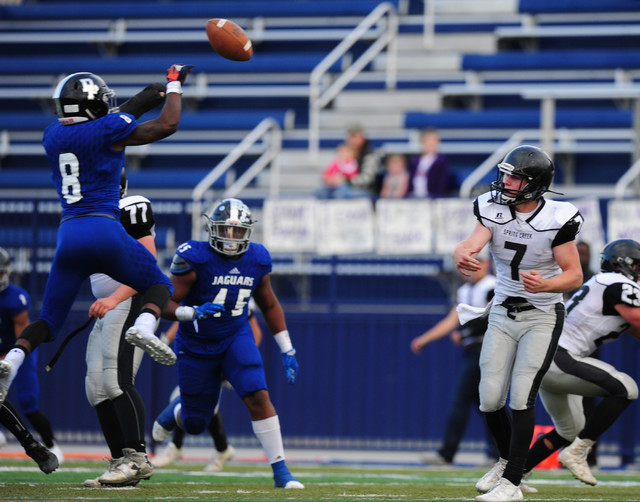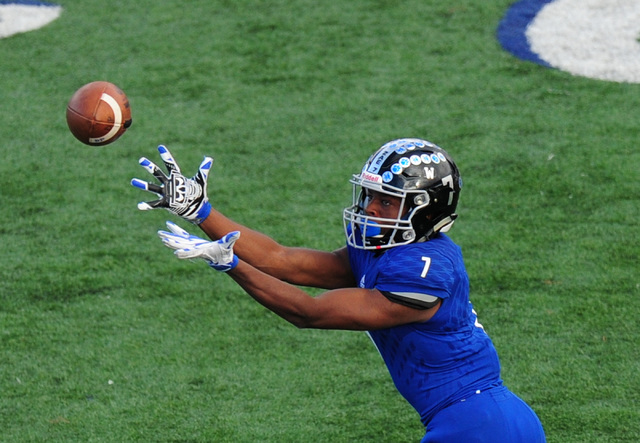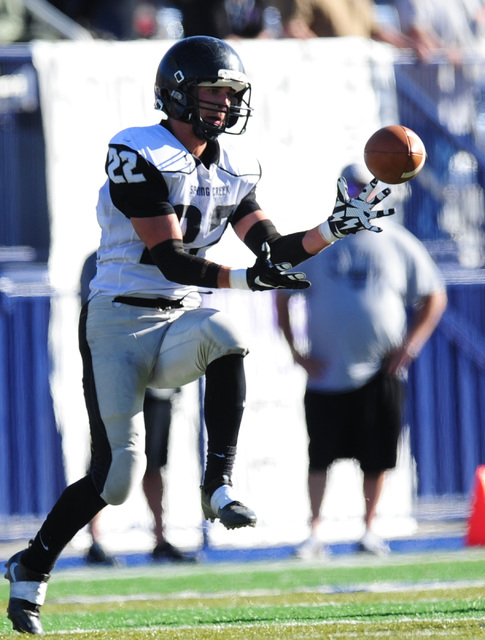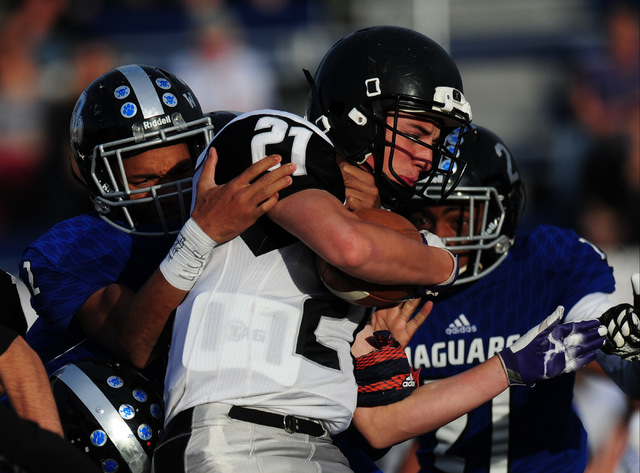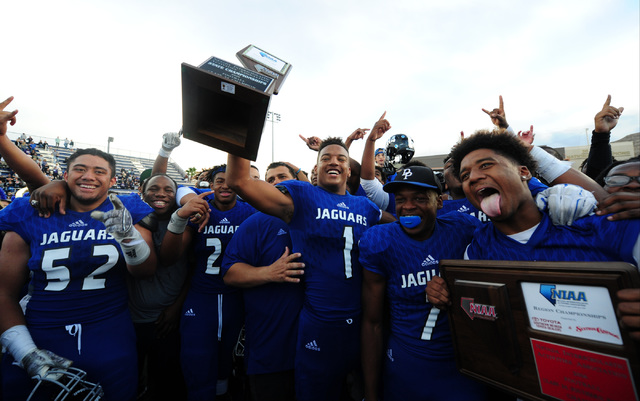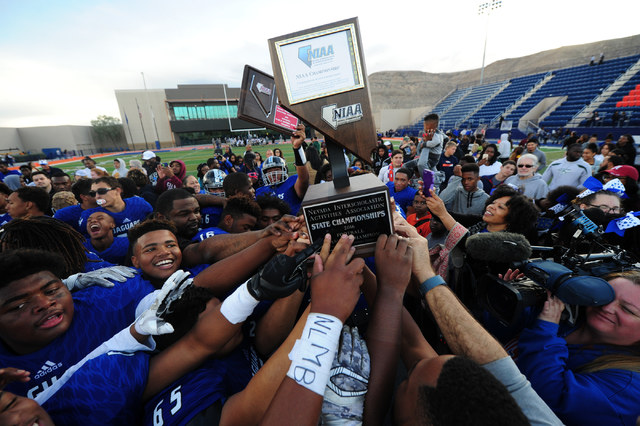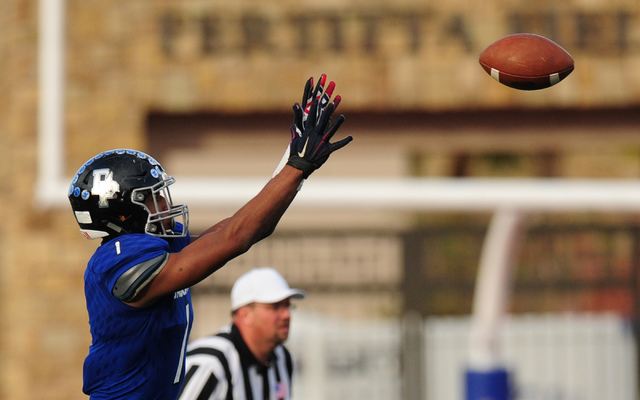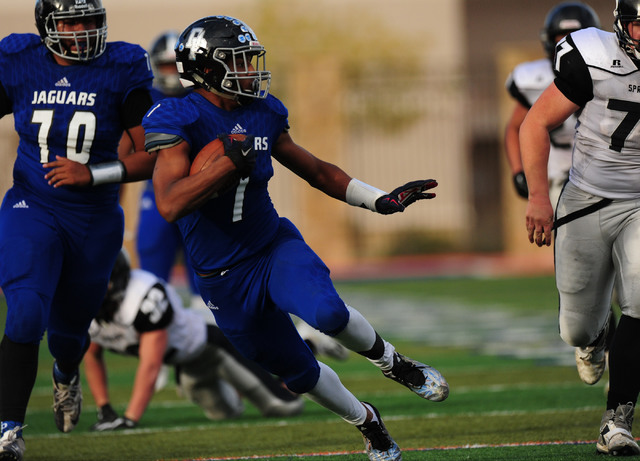 There were no fourth-quarter collapses or late fumbles this time. After two seasons of heartbreak, Desert Pines' football team finally has its state title.
Sophomore quarterback Tyler Williamson accounted for four touchdowns, and the Jaguars pulled away in the second half to defeat Spring Creek 39-6 in the Class 3A state final Saturday at Bishop Gorman.
Tony Fields had two receiving touchdowns, and Isaiah Morris added 198 yards and a score on 26 carries for the Jaguars (12-1), who overcame four turnovers and were aided by a huge goal-line stand in the second quarter.
"With the heartaches and the disappointments, these kids have a built up a resilience, a grit," Desert Pines coach Tico Rodriguez said. "They had some tough breaks, but they never quit, they kept the course and they trusted the process."
The Jaguars feature five seniors currently committed to Football Bowl Subdivision schools and won 32 of their past 36 games (not counting two forfeits in 2015) but didn't have a state title to show for it before Saturday.
Two years ago Desert Pines squandered a 22-point lead on the same field and lost 42-36 to Moapa Valley in overtime. And the Jaguars suffered a one-point setback at Moapa Valley in the state quarterfinals last season after fumbling with a chance to run out the final few minutes.
Desert Pines fell behind in the first quarter against Spring Creek (11-1) before scoring 39 unanswered points.
"We've been working for it," Fields said. "With all the obstacles from last year and the devastating loss from sophomore year, it feels great to finally capitalize on our opportunity."
Spring Creek recovered a muffed punt midway through the second quarter and drove to the Jaguars' 1-yard line. But the Spartans were stuffed on four straight rushing plays, including two consecutive sneaks by quarterback Jon Jund, to keep the score tied at 6-6.
"I think that was a momentum changer," Rodriguez said. "It showed our grit, our toughness."
Desert Pines then drove 99 yards and took a 12-6 lead on a leaping, 27-yard reception by Antonio Wallace on fourth-and-10 with 41 seconds left until halftime.
Fields, who has committed to Arizona, turned a short pass into a 46-yard touchdown and added a 17-yard TD reception after a Spring Creek fumble to put the Jaguars on top 25-6 with 4:19 to play in the third quarter.
Williamson finished 16-for-20 for 266 yards and added a 10-yard TD run in the first quarter.
"He's a special kid," Rodriguez said.
The Spartans entered the game averaging nearly 450 yards per game but were outgained 492-259 and limited to 2.9 yards per carry on 39 attempts. Dakota Larson, the state's leading receiver, was held to six catches for 62 yards and a TD by Desert Pines' secondary.
Eddie Heckard added a 100-yard interception return for a touchdown late in the fourth quarter for Desert Pines.
"We just played our game. It opened up, and the defense kept getting stops for us," Morris said. "This finally took a chip off our shoulder. We finally got it."
Contact reporter David Schoen at dschoen@reviewjournal.com or 702-387-5203. Follow @DavidSchoenLVRJ on Twitter.