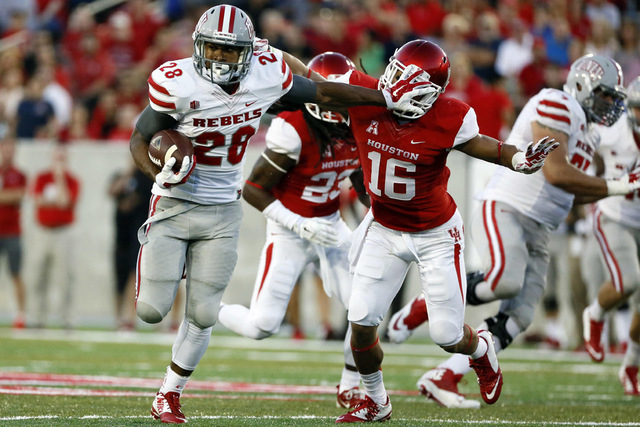 I just have time for a quick posting this week after a disappointing trip to Texas and back.
UNLV went down to my hometown to play the University of Houston last Saturday and we all wish we could have played better, especially the guys from Texas.
The new stadium the Cougars have was nice and it was a lot louder during the game than I expected it to be. But I'm happy to report that there was a big section of Rebel fans wearing their red, as so many of our family and friends were all over the stands. I think I had at least 60 people there myself. We don't get to see our families that often so it was exciting for us and they were happy to see us on the field.
We started out playing decently. It was close at halftime but then it got away from us in the second half. Another of our players from Houston, running back Keith Whitely, who went to a different high school than I did, ran hard and did some nice things in front of his family.
I told you last week about my friend, Derrick Mathews, who plays linebacker for U of H. We didn't get to see each other until after the game but we got to talk for a while and my family and his family got together in the parking lot afterward so that was good. Their head coach also came up and talked to me after the game and said he remembered me from when I played in their summer camp and said some nice things so that was cool.
This week we head to San Diego State to open our Mountain West Conference schedule against the Aztecs. I'll tell you about it next week.
Go Rebels!
—Devante
UNLV travels to play San Diego State on Saturday at 5 p.m. PT. The game can be seen on ESPN3.
Check our GameDay page for all the news leading up to the UNLV-San Diego State game.