Durango hopes to use loss as spark with postseason on horizon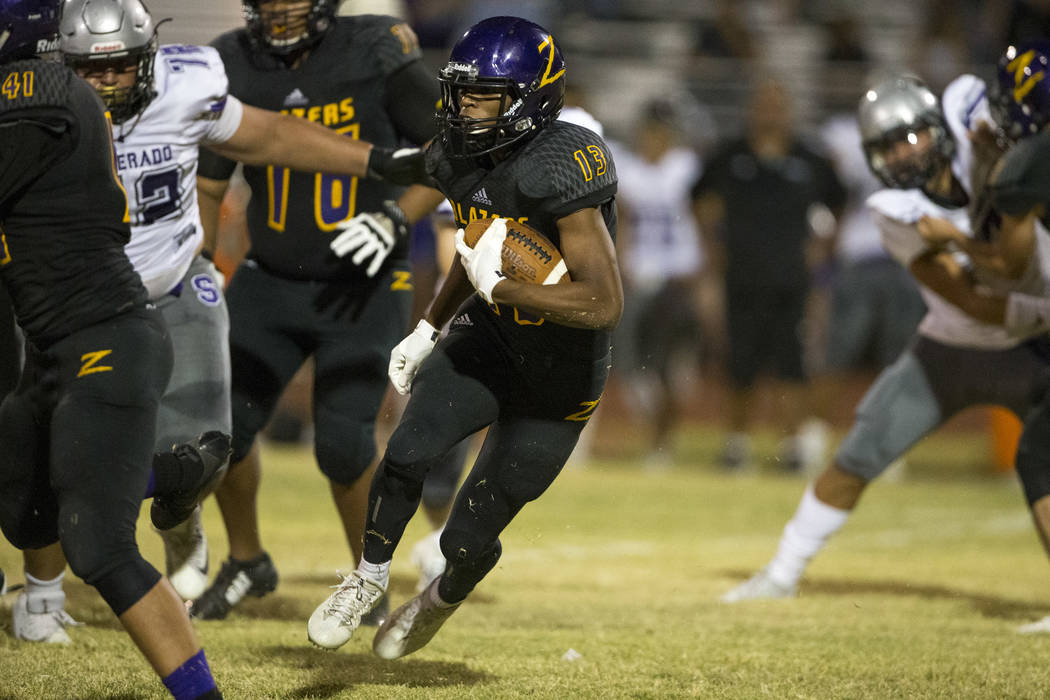 Twenty-three point losses don't usually inspire a ton of confidence.
Durango may well be the exception to that rule.
The Trailblazers are coming off a 57-34 loss to top-ranked Bishop Gorman. It was the most points a Nevada team had scored against the nine-time defending state football champions since 2011, and Durango is hoping it provides a spark that can lead to postseason success.
The Trailblazers (5-4, 4-1 Southwest League) play at Sierra Vista (4-4, 3-1) at 7 p.m. Thursday, and a win would give Durango a home game in the Desert Region playoffs.

"We just want to keep winning, and we want to make a long playoff run," senior quarterback Kaden Renshaw said. "Because now we know we can, especially with what we did to Gorman. We could do that to any team, so we're feeling really confident."
Durango trailed Gorman 36-6 at halftime before making things interesting. Renshaw threw for four second-half touchdowns, including three in the third quarter, as the Trailblazers twice closed the gap to 17 points.
"We were down big at halftime, and it's the story of the whole year," first-year Durango coach Toby Henry said. "Our kids don't give up. So they came out there and just had fun. And to put up that many points on Gorman, a Nevada team hasn't done that in a long time. So they're pretty pumped up about that. They're ready to go this week."
Senior defensive end Tavita Ioane hopes the team doesn't get overconfident, but concedes that the second half against Gorman should give the team a boost.
"We've got to stay humble, though, because we didn't win," Ioane said. "But it feels good to know that we can score on any team. It gives us a lot of confidence that all the hard work we put in pays off."
A win over Sierra Vista would lock up the Southwest League's No. 2 seed for the Trailblazers, who have a bye next week. That would give them their first home playoff game since 2009.
"I know that Durango, it's been probably over 10 years since we've had a home playoff game here," senior center Max Ah Loy said. "So if we could just get that, that would be really nice that we could change the culture around here."
A win also would avenge back-to-back close losses to the Mountain Lions. Sierra Vista beat the Trailblazers 34-26 last season and 10-7 in 2016.
"This week I'm actually really excited," said senior defensive end Jayden Nersinger, who leads Durango with 16 sacks and is the team's leading receiver. "Hopefully finally we'll beat Sierra Vista. It's been a rough three years. We haven't got them yet. A home playoff game's going to be really great."
More preps: Follow all of our Nevada Preps coverage online at nevadapreps.com and @NevadaPreps on Twitter.
Contact prep sports editor Damon Seiters at dseiters@reviewjournal.com or 702-380-4587. Follow @DamonSeiters on Twitter.
Three games to watch
Del Sol at Boulder City — The Dragons went 1-3 after a strong start, but get a chance to start fresh as the Class 3A playoffs begin.
Sunrise Mountain at Cheyenne — Cheyenne has quietly put together an outstanding season and enters the Class 3A playoffs with an 8-2 record.
Canyon Springs at Legacy — The Pioneers need a win to secure the Northeast League title and avoid a potential three-way tie with Legacy and Desert Pines.