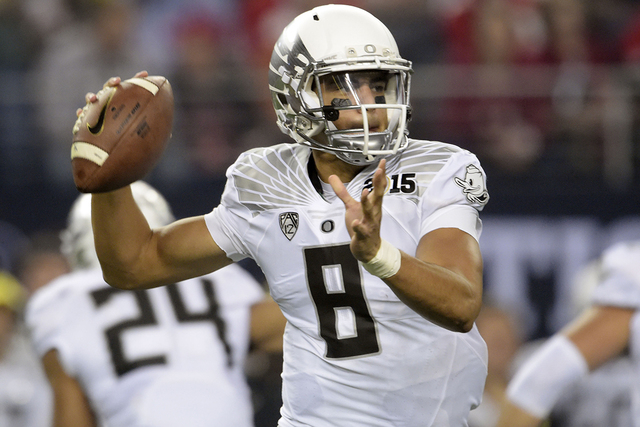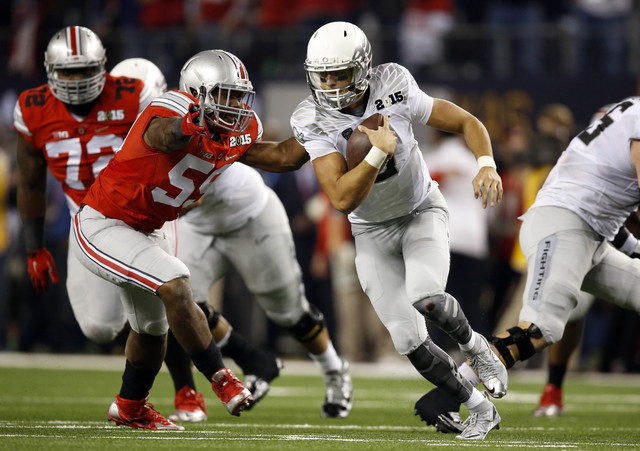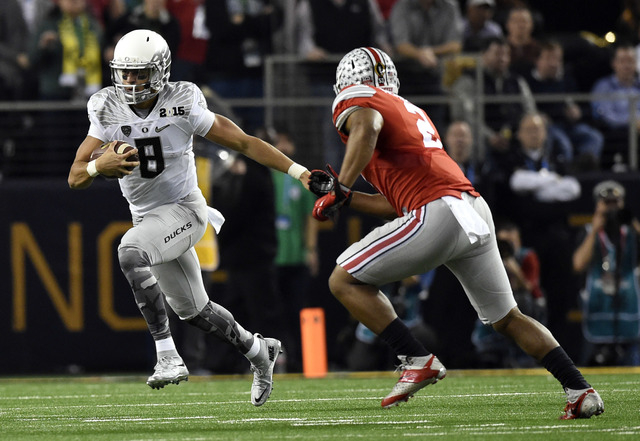 The Philadelphia Eagles hold the 20th pick in the 2015 NFL Draft but might be willing to move up for an opportunity to select Oregon quarterback Marcus Mariota, according to a NJ.com report Tuesday.
Mariota, the 2014 Heisman Trophy winner who led the Ducks to the national championship game earlier this month, is expected to be drafted within the top five picks on April 30 and possibly No. 1 overall.
Eagles coach Chip Kelly recruited Mariota to Oregon and was his coach for two years in college before moving to the NFL. Kelly has long had an affinity for the young quarterback, even going as far as to compare him with Peyton Manning.
Mariota has hinted that he wouldn't mind a reunion. Last week, the redshirt junior gave up his final season of eligibility at Oregon to enter the NFL Draft.
"Obviously, my relationship with Coach Kelly, it'd be a lot of fun to be a part of that offense and be a part of that team," Mariota said.
The Eagles would have to do some significant finagling to move up from the 20th spot, but other teams have pulled off similar moves in the past.
Eagles starting quarterback Nick Foles missed half of the 2014 season after suffering a broken collarbone on Nov. 2. He played in eight games and threw for 2,163 yards and 13 touchdowns with 10 interceptions.
Veteran Mark Sanchez took Foles' place and completed 64 percent of his passes for 2,418 yards with 14 touchdowns and 11 interceptions in 2014.