Ex-Desert Pines player returns for Shrine Bowl, eyes NFL career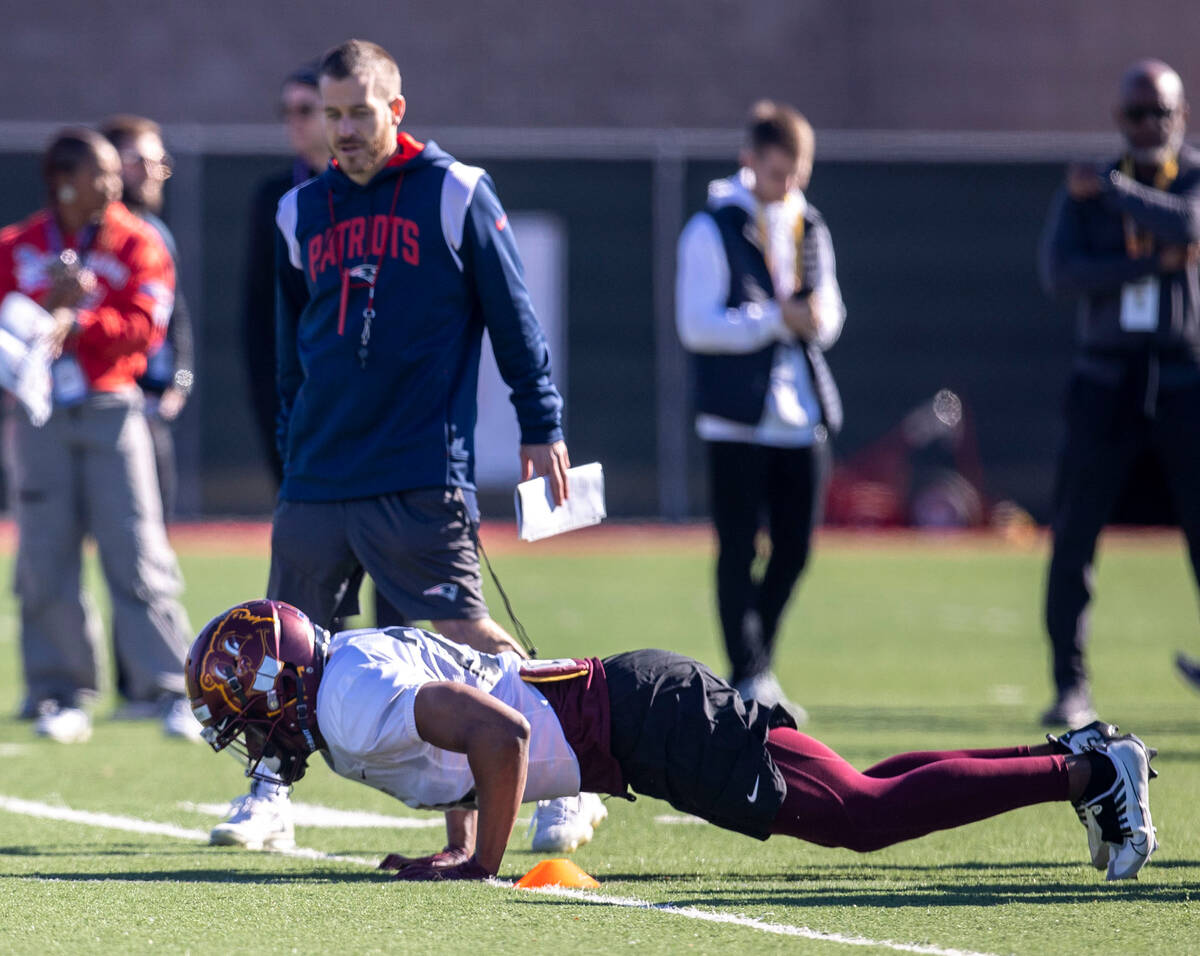 Jordan Howden's first detour through Las Vegas helped him play football in the Big Ten.
This one could help him play in the NFL.
Howden, a former Desert Pines High player, has returned to Las Vegas for the East-West Shrine Bowl, an All-Star game comprised of top college players that doubles as a premier scouting event for the NFL's 32 teams. The 6-foot, 207-pound safety played five years for Minnesota, morphing from an unranked recruit into a stalwart in the secondary.
He's been among the standouts this week, representing the West in practices and on Thursday in the game at Allegiant Stadium.
"For (NFL scouts) to talk to me about my game … it's a great feeling, knowing 'I killed that,'" Howden said. "That's the best feeling you can probably have."
Coming, going and returning
Howden is from Southern California, blossoming in the Inland Empire and San Diego into a Division I-caliber defensive back.
Except he skipped his freshman year amid an excess of credit he obtained through homeschooling in junior high, beginning high school as a sophomore sans a ninth grade season. Plus, his course load consisted of classes that did not fulfill the NCAA's academic requirements, and his recruitment would suffer accordingly.
He concluded his junior year without a scholarship offer — spurring the move to Las Vegas, where his cousin would connect him with former Desert Pines assistant coach David Hill, now an assistant at national champion Georgia.
Hill assured Howden's family that he could help him find a Division I program to play for, so long as he excelled on the field and in the classroom.
"Best option we could have (chosen)," said Howden's father, Ramsese. "It was everything that I wanted."
So Howden moved into his cousin's home in Rhodes Ranch that summer, commuting two hours every day at 5:20 a.m. to Desert Pines via ride-sharing and bus and two hours home, often returning after 7 p.m. He missed the first three games of the 2017 season amid eligibility concerns, debuting in a 48-0 victory over Silverado.
He had two interceptions that he returned for touchdowns.
The Jaguars captured the Class 3A state championship, and Howden qualified the following spring for the state track meet, winning three championships and maximizing the 2017-18 year as a defensive back, sprinter and jumper. He also made up the missed credits in summer school and bolstered a 3.8 GPA, earning a phone call from Minnesota coach P.J. Fleck, who extended Howden an offer as a preferred walk-on two weeks before his high school graduation.
"That was the only school I had. I was like, 'Might as well,'" said Howden, who converted from cornerback to safety four days into his first fall camp. "I took a risk to go to Las Vegas. Why not take a risk to go to Minnesota?"
Howden's risk was rewarded during his freshman season of 2018, first as a starter on special teams. But injuries in Minnesota's secondary paved the way for playing time for Howden, then a lanky 170-pounder tasked with tackling fifth-year seniors. He playfully lamented a missed tackle during his first start against Maryland that allowed running back Ty Johnson, now with the New York Jets, to spring 81 yards for a touchdown — and proudly recalled the pick he had a few weeks later against Indiana.
He would earn a scholarship that spring semester and start 49 of the 58 games he played at Minnesota — securing a key interception in a 2019 victory over then-No. 4 Penn State, All-Big Ten honorable mention honors in 2022 and invitations to the East-West Shrine Bowl and NFL scouting combine.
Gophers defensive backs coach Danny Collins touted Howden's leadership, noting that "he's running to win the race.
"His football IQ and everything in terms of taking things from the meeting room and bringing them out there, in interviews and things like that, he's going to blow people away when he gets on the board," Collins said.
Those interviews began this week for Howden, who said he's spoken with representatives from at least 25 NFL teams. He will remain in Las Vegas after the Shrine Bowl, training under the advisement of his locally based agency, Leverage Football.
And living a few more weeks in the city that changed his life.
"I keep my head up and control what I can control," Howden said. "For me to go out here and have the opportunity to play in front of these scouts and talk to them and see that they're interested in me, it's a great thing knowing that I'm doing great things. Knowing that people are watching."
Contact Sam Gordon at sgordon@reviewjournal.com. Follow @BySamGordon on Twitter.
Up next
What: East-West Shrine Bowl
When: 5:30 p.m. Thursday
Where: Allegiant Stadium
TV: NFL Network
Tickets: Starting at $19 on ticketmaster.com