Ex-Gorman star Dorian Thompson-Robinson returns to Las Vegas
Updated February 1, 2023 - 8:33 pm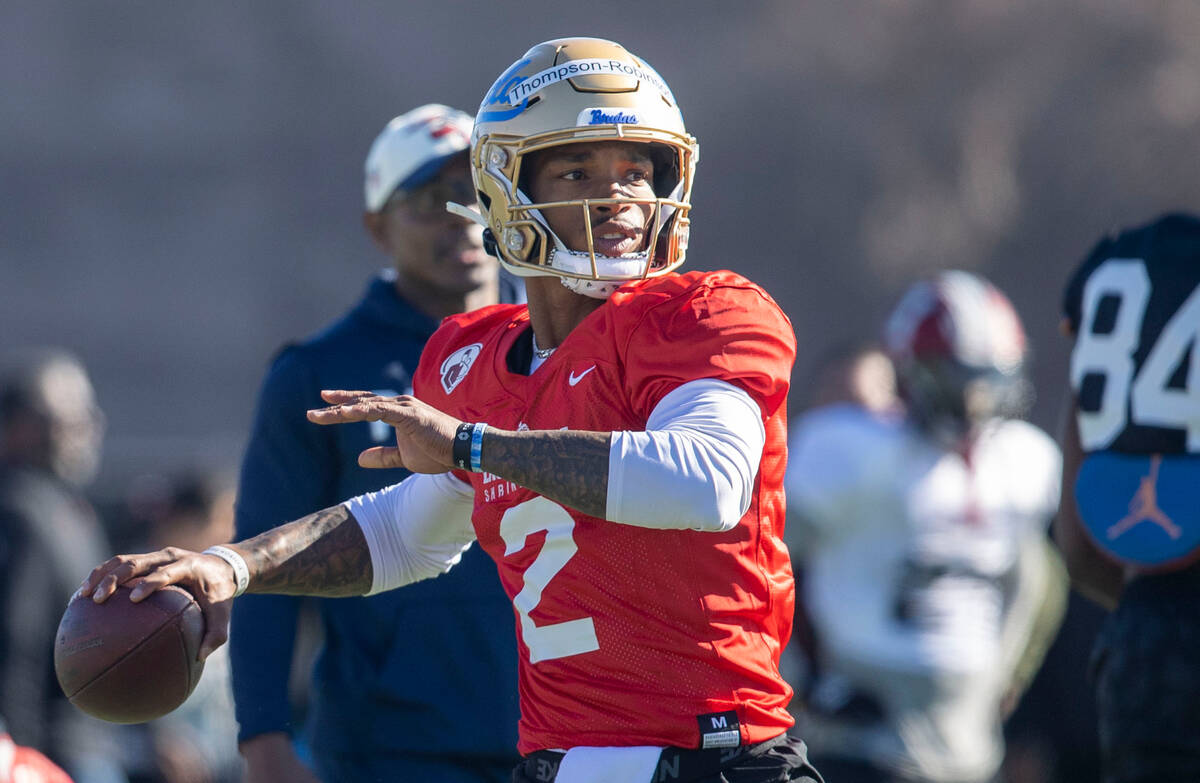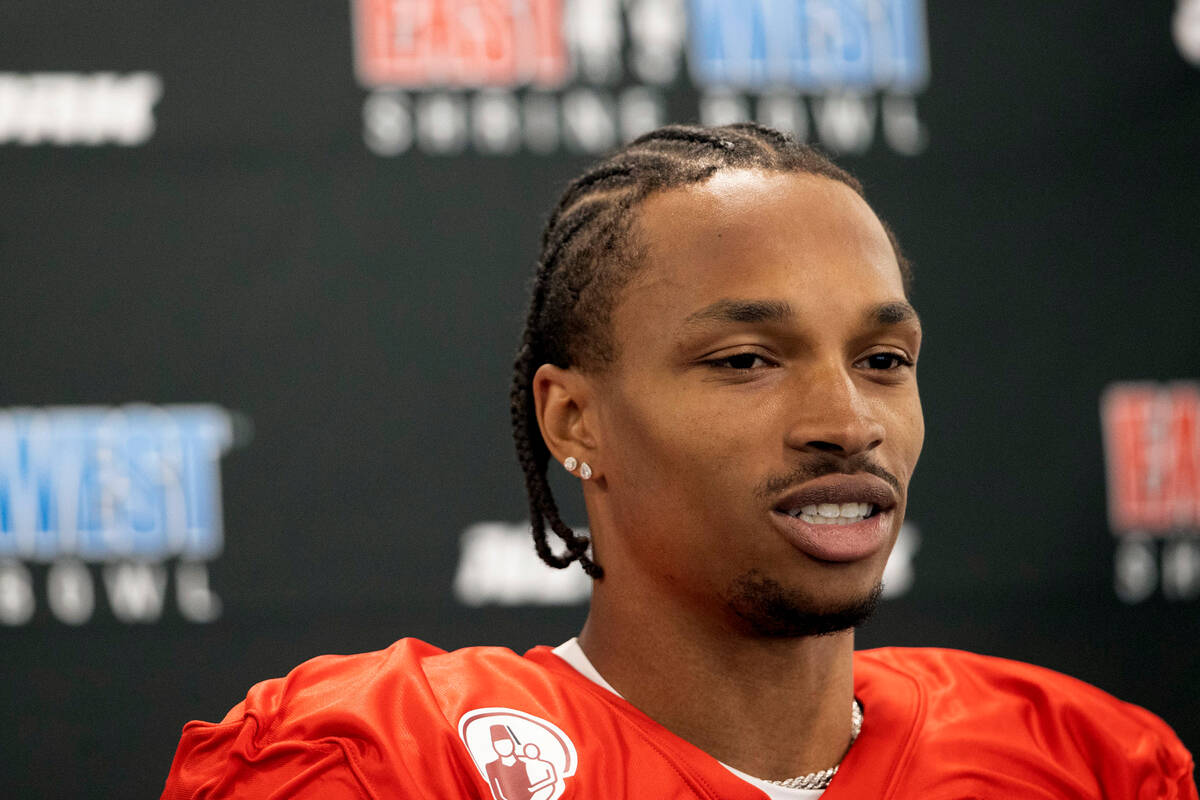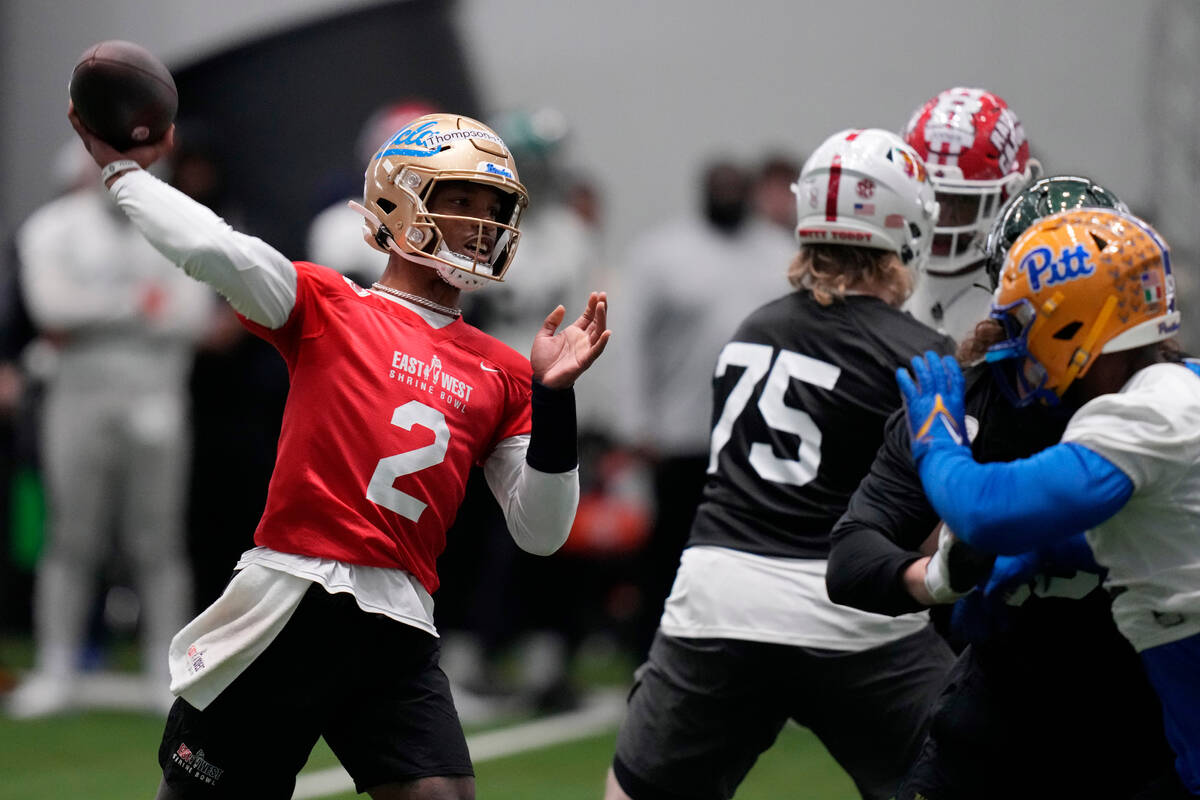 To get to the next step of his football career, Dorian Thompson-Robinson had to return home. So consider it a bit surreal for the former Bishop Gorman quarterback to be back in Las Vegas to play in Thursday's East-West Shrine Bowl at Allegiant Stadium.
"Super cool," is how Thompson-Robinson summed things up.
Now five years removed from his days as a high school phenom in Las Vegas, he returns as a favored son after a stellar career at UCLA has put him on the doorstep of the NFL.
"To be back here playing football, where I played my best football at in my career, is pretty cool," Thompson-Robinson said.
The Shrine game is an annual showcase game involving the top college prospects in the country playing in front of scouts and coaches from all 32 NFL teams. It's where Thompson-Robinson hopes to put his best foot forward as he shows NFL decision-makers that he's ready for the next level.
That includes the coaching staff of the West team he will quarterback inside a stadium he could practically see being built from the Bishop Gorman campus. Among them is Patriots coach Bill Belichick, who is serving in a supervisory role for a West team coached by New England assistant Troy Brown.
In fact, Belichick spent some practice time this week instructing Thompson-Robinson in what can only be described as an inspiring sequence for the elusive quarterback.
Or as Thompson-Robinson said of his interactions with Belichick: "Super intense."
Thompson-Robinson doesn't want it any other way. He wants to make it clear he has a firm command of the intangible qualities the NFL looks for in a quarterback.
"Just showing how trustworthy I am," Thompson-Robinson said. "Being a good teammate. Being there for everybody in the room and showing guys can depend on me."
It hasn't gone unnoticed.
"He's been great," Brown said. "Confident kid. Poised."
That's not a surprise to Thompson-Robinson's former UCLA teammate Jake Bobo, a wide receiver playing in the game. Bobo said Thompson-Robinson has shown his leadership qualities this week.
"As a QB, you've got to command that respect," Bobo said. "And Dorian's definitely doing that."
Bobo had a front-row seat to watch Thompson-Robinson develop into an NFL prospect and cap his UCLA career by throwing for 3,169 yards and 27 touchdowns this season.
"One of, if not the most competitive, people I've ever met in my life," Bobo said. "Obviously you can see it; guys want to follow him."
The game is the first step in an evaluation process leading up to April's draft. According to most draft analysts, Thompson-Robinson is projected to be a third-day pick.
Robinson, who checked in at 6-feet, 1-inch and 191 pounds this week, continues to show the arm strength to succeed at the next level. He runs well, and in today's NFL that will serve him well.
Like almost every other prospect, there is room to grow, and while Thompson-Robinson seems like a lock to get drafted, he's more of a developmental prospect than a sure thing.
And that's OK, he said. Time is on his side.
For now, he's content showing decision-makers what he's all about. That he gets to do it at Allegiant Stadium is a bonus.
Contact Vincent Bonsignore at vbonsignore@reviewjournal.com. Follow @VinnyBonsignore on Twitter.
Up next
What: East-West Shrine Bowl
When: 5:30 p.m. Thursday
Where: Allegiant Stadium
TV: NFL Network
Tickets: Starting at $19 on ticketmaster.com