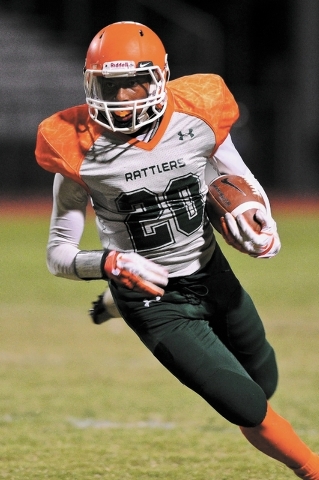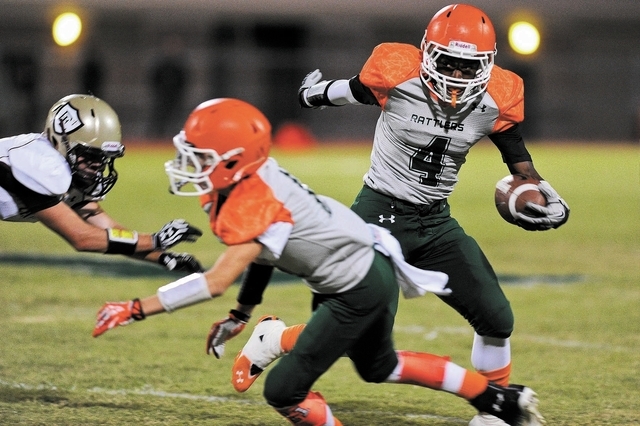 The calendar has not even turned to October, but that didn't stop the Faith Lutheran football team from embracing the importance of Friday's Division I-A Sunset League opener.
"We recognize there's games to play," Crusaders first-year coach Vernon Fox said. "But we understood this game was vitally important for us turning the corner as a program and controlling our own destiny in (league)."
Vinny DeGeorge scored four touchdowns, and visiting Faith Lutheran scored 15 points in the final 6:14 to rally for a 32-25 victory over Mojave.
DeGeorge scored on a 62-yard pass from quarterback Jacob Deaville with 2:53 remaining in the game to cap the comeback by the Crusaders (4-2, 1-0 Sunset). The touchdown came one play after Faith Lutheran stuffed Rattlers quarterback Zack Arave on fourth-and-2 from the Faith Lutheran 38 with 3:08 to play.
"We took a shot with the post, and it worked out for us," DeGeorge said. "In the locker room before the game, Coach Fox was saying this game was the defining game for the rest of our season. This was our chance to prove ourselves and earn respect."
Mojave appeared to be in control after dominating the third quarter and taking a 25-17 lead thanks to a 34-yard interception return by Davion Fletcher with 6:38 left in the fourth. But on the first play after the kickoff, DeGeorge got behind the Rattlers' defense for a 68-yard score. Deaville then connected with Mark Rubalcaba on the 2-point conversion to tie the game at 25-25.
DeGeorge finished with four receptions for 186 yards and three TDs, including a 45-yard score early in the third quarter one play after the Crusaders stopped Mojave on a fake punt. He also returned a kickoff 87 yards for a score to give Faith Lutheran a 10-7 halftime lead.
Deaville ended up 10 for 15 for 246 yards and three touchdowns for the Crusaders, who were without leading rusher Keenan Smith.
"You really have to monitor the game as coaches, and you don't want to be frivolous with your play calling," Fox said. "Credit to our offensive coaches. This was one of those games where you have to be careful, but we had to take chances and it paid off."
Arave finished with a game-high 105 yards on the ground, and teammate Ty Flanagan added 53 yards and two touchdowns.
Mojave's Marcus Parker made a leaping catch over double coverage for a 23-yard touchdown that cut Faith Lutheran's lead to 17-13 with 3:14 left in the third quarter. After Mojave forced a three-and-out on Faith Lutheran's next possession — the Crusaders ran only four plays in the quarter — Flanagan capped a 55-yard drive with a 6-yard scoring run to give the Rattlers a 19-17 lead with seven seconds left in the third.
"They played a great game, take nothing away from them, but we had them where we needed them and we let it slip away," Mojave coach Joe Delgado said. "We have to play four quarters of football, and we didn't do that tonight."
■ Basic 42, Valley 14 — At Basic, Antraye Johnson threw three touchdown passes and rushed for another score to power the Wolves to their first victory of the season.
Johnson connected on 17-of-27 passes for 290 yards, including touchdown tosses of 19, 36 and 25 yards. He also led Basic (1-3) with 142 yards rushing on 13 carries, including a 35-yard TD run.
David Garza had four receptions for 106 yards and a score for the Wolves, who outgained Valley 553-242.
Basic's defense forced four turnovers. Alex Evans, Brandon Moreno and Demetrius Trim each grabbed interceptions for the Wolves.
Tyrone Prewitt threw for 170 yards and two touchdowns for Valley (1-3).
■ Cimarron-Memorial 20, Eldorado 7—At Cimarron-Memorial, Maurice Bennett scored two touchdowns and the Spartans held Eldorado to 206 yards to remain undefeated.
Cimarron turned two interceptions into 14 points as the Spartans held the Sundevils to 46 yards in the first half.
On the Sundevils' third play, quarterback Joshua Brown was intercepted by Bennett, who found a wall of blockers and raced 58 yards for the touchdown and a 7-0 lead.
Late in the second quarter, Eldorado had its best drive of the first half, moving to the Spartan 36. Backup quarterback Matthew VanOrden, however, was picked off by Cimarron's Savigon Mciver at the 1, and Mciver returned the interception to the Cimarron 36. From there, the Spartans marched the 64 yards in 10 plays, capped by quarterback Derek Morefield's 1-yard sneak with four seconds left in the half, and Cimarron enjoyed a two-touchdown advantage at the break.
The Spartans (3-0) pushed the lead to 20-0 on their first play of the third quarter, as Morefield hit Bennett, who eluded one Eldorado defender then raced 76 yards for the score.
■ Palo Verde 21, Silverado 6 — At Palo Verde, Parker Rost threw for two touchdowns, while Jaren Campbell ran for one to lead the Panthers over the visiting Skyhawks.
Leading just 7-0 at halftime, the Panthers (2-1) took the second-half kickoff and drove 62 yards, sparked by back-to-back Silverado penalties for a face mask and and unsportsmanlike conduct, to extend their lead to 14-0. Campbell rumbled in from 2 yards out at the 7:21 mark.
Moments later, Silverado's Rohan Walters fumbled the ensuing kickoff and the Panthers wasted no time in scoring in three plays, as Rost hit Jake Ortale with an over-the-shoulder strike in the right corner of the end zone at the 6:18 mark.
■ Bonanza 27, Spring Valley 22 — Bonanza (3-1) dominated rival Spring Valley in the first half of the annual Banner Game, but the Bengals still needed a last-minute miracle to defeat the Grizzlies.
After leading throughout the first 43:09 Friday, the Bengals found themselves trailing when Spring Valley (1-3) quarterback Christian Tasi scored on a 6-yard run and ran in the 2-point conversion to give the Grizzlies a 22-21 lead with 4:51 to play.
On the ensuing drive, Bonanza faced third-and-15 at its own 38, but quarterback Tyler Penkalski ran for 10 yards and then 6 more on fourth-and-5 to give the Bengals a first down on the Spring Valley 46.
Penkalski injured his ankle on the fourth-down run, and senior Justin Nakata went into the game. Nakata completed 3 of 3 passes for 51 yards – including a 27-yard touchdown pass to DeAndre Garcia – to give the Bengals a 27-22 lead with 48 seconds remaining.
■ Shadow Ridge 27, Del Sol 10 — At Del Sol, Cody Alfar rushed for 198 yards and a touchdown and J Henderson threw for a score, caught a touchdown pass, had a quarterback sack and got a late interception to seal a Mustang victory over the Dragons.
Henderson hit Ben Triana on a 22-yard TD pass to open the scoring, and Alfar burst through the middle and rumbled 49 yards to put Shadow Ridge (2-2) up 13-0 in the first quarter. Henderson then took a short Dustin Puia pass and broke a few tackles on his way to a 69-yard touchdown with just 36 seconds left in the first half.
Del Sol's (0-4) Aaron Williamson would score on a 14-yard run to cut the lead to 10, but Puia found Melvin Johnson for a 21-yard touchdown with five minutes to play, and Henderson's interception ended the Dragon's final drive.
■ Liberty 56, Durango 0 — At Durango, quarterback Tyler Newman passed for 293 yards and four touchdowns and ran for three scores as No. 4 Liberty's defense dominated the Trailblazers.
Newman scrambled for a 16-yard score and had two touchdown passes: 5 yards to Jarvis Polu and 44 yards to Drew Hladek, to make it 20-0 at the end of the first quarter.
Newman connected on an 18-yard strike to a wide-open Chris Reed for a score and a 7-yard slant to Hladek for another TD in the second quarter. The teams traded interceptions before Newman found the end zone on a 9-yard keeper with 14 seconds left in the half.
Brenan Adams rushed for 112 yards on four carries, including a 24-yard touchdown, for Liberty (3-3).
Casey Smith had an interception for Durango (0-4).
■ Moapa Valley 47, Sunrise Mountain 13 — At Sunrise Mountain, Jared Repp racked up 238 yards on the ground and scored four TDs to lead the Pirates' rout of the Miners.
Repp was held to only 60 yards and a touchdown in the first half, which ended with Moapa ahead 14-7. Repp found a hole for a 59-yard TD run on Moapa's second play of the second half. After a Jeremy White interception, Repp scored from 20 yards out just six plays later to keep the Pirates rolling. Repp added a 4-yard run during the fourth quarter.
Sunrise Mountain started quickly with a seven-play, 68-yard TD drive capped with an 8-yard pass from Wanya Calahan to Daquwan Doyle. From there, Moapa controlled the line of scrimmage, holding Sunrise to just 4 yards the rest of the half. The Pirates allowed just 148 yards for the game, 46 on the ground.
■ Calvary Chapel 12, White Pine 0 — At Calvary Chapel, Chris Basilio snagged six receptions for 135 yards, including an 84-yard touchdown, as the Lions shut out the Bobcats.
Basilio added an interception on defense, and teammate Lucas Griebel added a touchdown catch.
Calvary Chapel quarterback Riley Clark went 6 of 23 for 142 yards and two touchdowns while rushing for 93 yards on five carries and intercepting a pass on defense.
Calvary Chapel posted four interceptions, two from Dawson Thomas, on their way to the shutout.
Emmit Finnicum led the Bobcats, rushing for 84 yards on 13 carries.
■ Mountain View 27, The Meadows 21 — Mountain View quarterback Ian Locke scored three rushing touchdowns, including a 90-yard score in the second half, to lead the Saints to a come-from-behind victory over the Mustangs.
Locke's other scores came on runs of 1 and 17 yards. Running back Matthew Larson rushed for 179 yards and a touchdown for Mountain View (3-1, 3-0 Division III Southern). Bryson Navallo rushed for 140 yards and three touchdowns on 24 carries for the Mustangs (3-2, 2-1).
■ Pahrump Valley 25, Clark 22 — At Pahrump Valley, T.J. Milk threw a 28-yard touchdown pass to A.J. Segura as time expired to lift the Trojans.
Segura finished with three touchdowns, two through the air and one out of the backfield, for Pahrump Valley (2-3).
Both receiving touchdowns came from his quarterback, Milk, who finished 6 of 12 passing for 121 yards.
Clark is 2-3.
■ Desert Pines 53, Boulder City 19 — At Boulder City, Eric Wilkes ran for 239 yards and four touchdowns on nine carries as the Jaguars (5-0, 1-0 Sunrise) ran past the Eagles (2-3, 0-1).
Iquan Corsey completed 3 of 4 passes for 161 yards, including an 88-yard touchdown pass to Tim Hough. Hough also returned a kickoff 55 yards for a touchdown for Desert Pines, which pulled away after leading 21-11 at the half.
■ Virgin Valley 35, Chaparral 0 — At Mesquite, Dee Bowler rushed for two touchdowns, and Devonte Milligan returned the second-half kickoff for a touchdown as the Bulldogs (5-0, 1-0 Sunrise) blanked the Cowboys (2-3, 0-1).
Bulldogs quarterback Garrett Leavitt completed 11 of 18 passes for 153 yards and one touchdown.