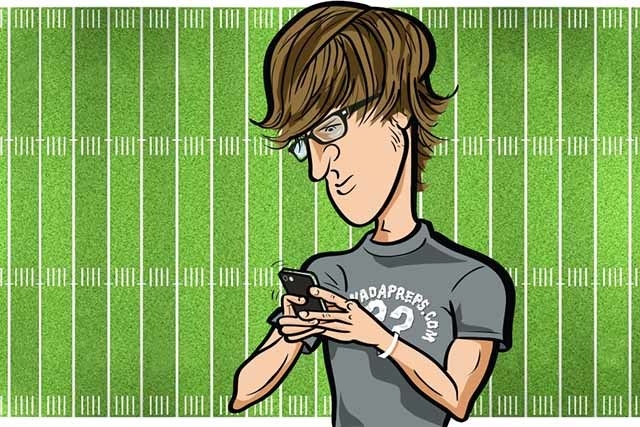 The concept of "Throwback Thursday" almost certainly wasn't created with prep football in mind, but that's not going to stop me.
Thanks to a fortunate quirk in the schedule and the majority of local games being moved up a day to accommodate the Jewish holiday Yom Kippur, I'm officially declaring it "Throwback Thursday" on the gridiron in Southern Nevada.
Three games on this week's slate are throwbacks to the 2012 postseason. Arbor View opens its season by hosting Centennial (0-1), and the Aggies' 22 returning lettermen haven't forgotten the 14-9 loss to Centennial in November. It was their only defeat, after all.
In addition, Green Valley (1-1) ventures up the hill in Henderson to take on Coronado (0-2) in a rematch of the Sunrise Region semifinal that the Cougars pulled out 29-14. And two of the favorites in Division I-A square off in Overton when Moapa Valley (2-0) welcomes Mojave (2-0) for its home opener. Those teams met in the state quarterfinals last season as the Pirates held off Mojave in a 36-32 doozy.
Football coaches aren't big on the whole revenge angle. New year, new team, and all that sort of stuff.
I've never bought their rationale, though, and neither do a lot of other fans. Don't believe me? Just look at the circus surrounding Alabama's visit to Texas A&M this weekend after Johnny Football ruined the Crimson Tide's perfect season in 2012.
Personally, I can't get enough of that storyline. In fact, Eric and I were inspired to start a brand of ice cream called Revenge.
"Revenge ice cream. It's a dish best served cold." (Rimshot)
Picking against the spread last week was tough. Even Uncle Lefty missed his Super-Mega Lock of the Week. But I'm due to bounce back, so make sure to visit Nevadapreps.com for all of this week's plays.
■ Centennial at Arbor View — We didn't learn much from the Bulldogs' season-opening loss except that JSerra Catholic (Calif.) is pretty good. Centennial had nearly two weeks to lick its wounds after the 44-0 drubbing and probably spent a good chunk of that time preparing to defend the Aggies' double-wing offense.
Arbor View returns its leading rusher in Anthony Smith, but we'll find out whether the No. 3 Aggies were able to plug the gaping holes in the offensive line created by the departures of Elijah George (Oregon) and Thomas Newton (UNR). … Arbor View by 9.
■ Palo Verde at Legacy — The Panthers lost five games in 2012 after going 59-6 from 2007 to 2011. With a three-year starter at quarterback (Parker Rost) and several talented linemen back, this season should tell us if that was just a hiccup or the signal of a program in decline.
No. 2 Palo Verde is playing its first game this season — by comparison, Bishop Gorman plays its fourth Friday — and will need to make this a defensive struggle. That won't be easy against Longhorns speedsters Casey Hughes and DeMichael Walker. … Palo Verde by 3.
■ Green Valley at Coronado — The Gators' offense got untracked in the "Henderson Bowl" as quarterback Christian Lopez tossed four touchdowns in a 58-36 win over Basic. The Cougars, meanwhile, are averaging only 14 points through their first two games. Uh-oh.
If the Cougars can stay close into the latter stages of the second half, Green Valley might start to think back to last season's meeting and become tight. That's not likely to happen, however. … Green Valley by 11.
■ Mojave at Moapa Valley — Skeet knows a guy who knows a guy in North Las Vegas, and he said the Rattlers were pointing to this game all offseason. Maybe they figured out a way to run against the Pirates' active front seven. Nobody else has been able to so far.
Last year, I picked the Pirates as a three-touchdown favorite over Mojave. I learned my lesson. … Moapa Valley by 1.
Last week: 5-3, 3-5 (with points)
Season: 12-4, 9-7 (with points)
Contact Fielder at fielder@nevadapreps.com. Follow him on Twitter: @FielderNVP.