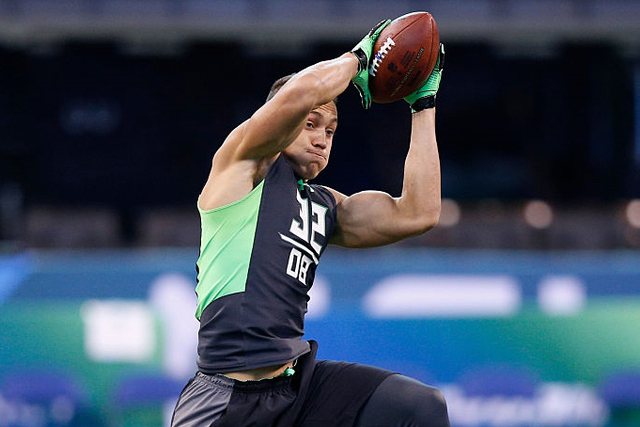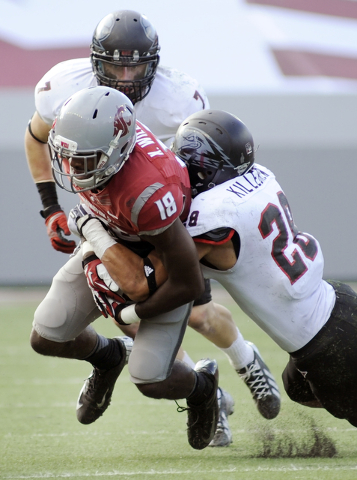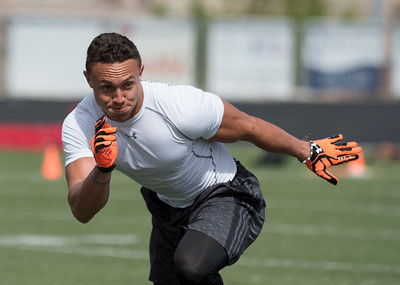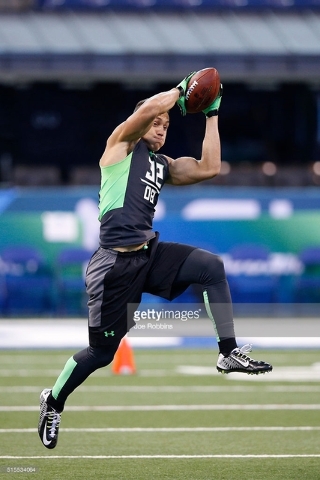 Like countless college students, Miles Killebrew didn't attend the school of his choice, proceeded to pack on 50 pounds and doesn't plan to pursue a career in his major anytime soon.
Unlike many of his peers, that formula has proved successful for Killebrew, a Foothill High School product and hard-hitting former Southern Utah safety projected to be a third- or fourth-round pick in this week's NFL Draft.
"Coming out of high school, I had no idea. I thought you had to be at the top, premier schools to get noticed by the NFL," Killebrew said. "But that can't be further from the truth. They have so many people working to find talent."
ESPN will televise the first round of the draft at 5 p.m. Thursday, the second and third rounds at 4 p.m. Friday and rounds four through seven at 9 a.m. Saturday.
If projections by NFL Media and NFL Draft Scout are accurate, Killebrew still should have enough time to make it to his college graduation ceremony Saturday afternoon at Southern Utah.
Killebrew, who plans to watch the draft at his family's Henderson home, earned his engineering degree in December, but the Football Championship Subdivision school in Cedar City holds only one annual commencement ceremony each spring.
"I'm hoping to get drafted so I can rush up to SUU," Killebrew said. "If it's me and my corner, LeShaun Sims, we can ride up together."
Sims, an Agassi Prep product who played cornerback for the Thunderbirds, is projected to be drafted in the sixth or seventh round.
Killebrew was an all-state cornerback for Foothill, but received only the one scholarship offer from Southern Utah. Considered a bit undersized at 180 pounds, he was overlooked by UNLV, whom his father approached, and every other Football Bowl Subdivision school. Killebrew, who has since grown to 6 feet 3 inches tall and a chiseled 230 pounds, used the snubs as motivation.
"I did have a chip on my shoulder," he said. "That's what kind of drove me to be the best player I can be."
Killebrew said his father didn't let him lift weights much in high school.
"My dad didn't want me to lift heavy weights to put stress on my body and my joints," he said. "He said I was still growing."
Killebrew gained 15 pounds his first year at Southern Utah as he recovered from a broken collarbone and added 10 pounds of muscle each season thereafter.
"When I got to college, the weight just came on with age and actually being able to lift weights," he said. "It was slow at first because I had to figure out how to overeat. That was tough. Every two hours, I would eat."
The extra weight didn't slow him, as he started 48 games for the Thunderbirds, earned All-Big Sky honors all four seasons and made 233 tackles the past two years.
"He always had the speed and the nice physique. He just didn't have the size in high school," Foothill coach Marty Redmond said. "He was always a big hitter. He was on special teams, and he loved to fly down the field and hit people."
After first appearing on the NFL radar his junior year, Killebrew's stock continued to soar this year with strong showings at the Senior Bowl and NFL combine, where he led all safeties in the bench press with 22 reps of 225 pounds.
He ran the 40-yard dash in 4.49 seconds at Southern Utah's pro day, which was attended by more than 20 NFL scouts.
A safety/linebacker hybrid, Killebrew has been compared by NFL Media's Lance Zierlein and ESPN's Todd McShay to 2014 first-round pick Deone Bucannon, who started his career with the Arizona Cardinals at safety before moving to inside linebacker.
Zierlein rates the humble Killebrew as the No. 5 safety in his predraft rankings, writing that he's "all about business. Quiet but assertive as a hitter. … (P)lays the game like an NFL box safety already."
Along with the combine and pro day, Killebrew has had private workouts with the Cardinals, Carolina Panthers, Tampa Bay Buccaneers and Tennessee Titans in Cedar City and with the Atlanta Falcons and New England Patriots in Las Vegas.
"They want to see some last-minute stuff and some drills relevant to their system and just to talk to you," he said. "They want to get a feel for you to see if you're someone they want to be involved with personally."
The whole process of becoming a potential NFL Draft pick has been a whirlwind for Killebrew.
"That's an understatement. It's been a crazy ride," he said. "I thought it was crazy that two scouts came to check us out at Junior Day. Then, to have scouts come to our practices and games, it was crazy. Then, when I got invited to the Senior Bowl and got invited to the combine, I was beside myself.
"This whole process has been insane to me. But now I'm ready."
Listed as one of the 12 best sleepers in the draft by the Sporting News, Killebrew is still attracting interest from teams he hasn't worked out for, such as the Baltimore Ravens, who called him Thursday.
"They were just calling to make sure my draft day (phone) number is correct," he said. "Random teams will still call you to say, 'Hey, just in case we call, is this the right number?' "
Killebrew declined to predict where he'll be drafted.
"The draft is one of the most unpredictable things about the NFL. You can't even gauge the top 10 picks, let alone the rest of the picks," he said. "I'm looking forward to watching it and having my phone on full volume in anticipation."
Contact reporter Todd Dewey at tdewey@reviewjournal.com or 702-383-0354. Follow him on Twitter: @tdewey33.