Former Las Vegas prep star, Raiders QB David Humm dies at 65
Updated March 28, 2018 - 6:47 pm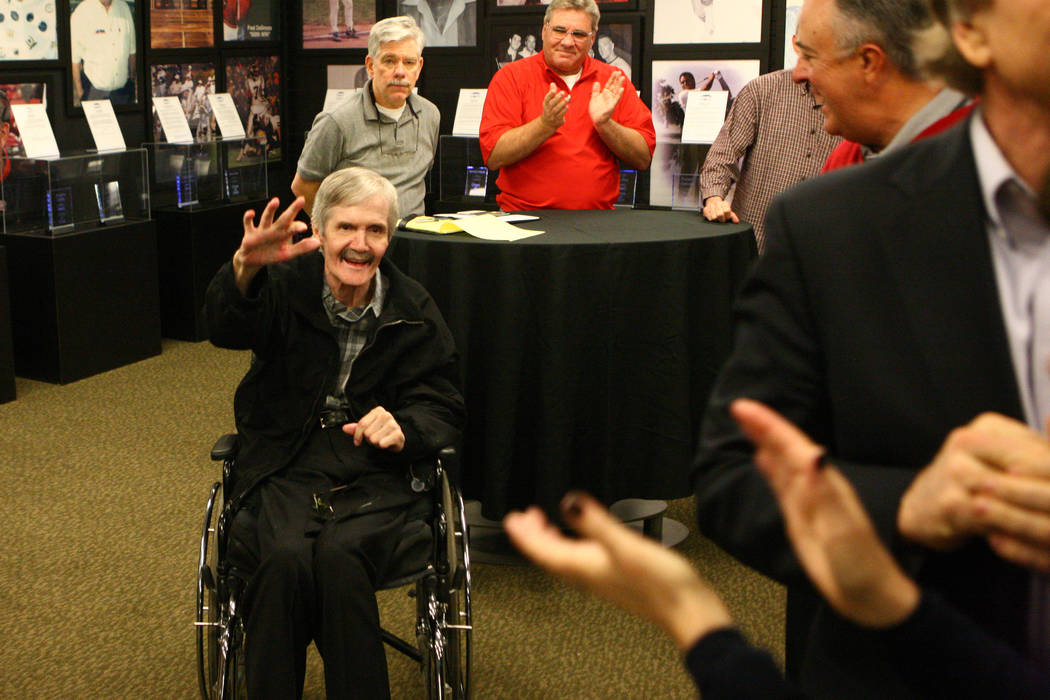 David Humm, perhaps the greatest quarterback in Las Vegas prep history, died late Tuesday at Mountain's Edge Hospital from complications of multiple sclerosis. He was 65.
His death was confirmed Wednesday by close friend Steve Stallworth, South Point Arena general manager and former UNLV quarterback.
Humm left Las Vegas after graduating from Bishop Gorman High School for the University of Nebraska, where he was an All-American in 1974, and then played 10 years in the NFL, seven of them with the Raiders.
"The entire Raiders family is deeply saddened to learn of David Humm's passing. David was a true Raider in every sense, and the heart of the Raider Nation goes out to his family at this time," the Raiders said Wednesday in a statement.
The entire Raiders Family is deeply saddened to learn of David Humm's passing.

David was a true Raider in every sense and the heart of the #RaiderNation goes out to his family at this time.#OnceARaiderAlwaysARaider pic.twitter.com/S0pHICQmqf

— OAKLAND RAIDERS (@RAIDERS) March 28, 2018
Humm, who would have turned 66 on Monday, had battled multiple sclerosis since 1988. The disease confined him to a wheelchair permanently in 1997, but he never lost his competitive nature, trying to beat the disease since he received the diagnosis.
"It never went through my mind that I wouldn't beat it," Humm told the Las Vegas Review-Journal in 2008. "It's never gone through my mind that this is going to be me to this day."
Local sports history can't be written without Humm's name. He was the first inductee into the Southern Nevada Sports Hall of Fame, and Raiders owner Al Davis flew in for the 1997 ceremony, as well as former Nebraska coach Tom Osborne and many of his ex-Oakland teammates.
"That was one of the most special nights of my life," Humm said.
The SNSHOF said Wednesday in a statement: "In addition to being one of the finest athletes to ever hail from Southern Nevada, (David) has been an inspiration to our community. He will be forever remembered for his kindness, compassion and courage in the face of the many obstacles that he faced."
In 1999, the Review-Journal sports staff voted Humm as the No. 9 local athlete of the 20th century.
The #SNSHF is saddened by the passing of David Humm. He will be forever remembered for his kindness, compassion and courage in the face of the many obstacles that he faced. David will be missed, and we offer our deepest condolences to his family and many friends. RIP Hummer. pic.twitter.com/kLwVd8tRCb

— S. NV Hall of Fame (@SNSHF) March 28, 2018
The Bishop Gorman star was the most heavily recruited athlete to come out of the valley when the football powers came calling in 1970. NCAA rules didn't limit the number of visits at the time, and Humm visited 12 of the 18 schools on his list. More than 100 schools recruited him.
Alabama coach Bear Bryant even brought legendary quarterback Joe Namath with him to Las Vegas to try to persuade Humm to sign with the Crimson Tide. Notre Dame coach Ara Parseghian also visited.
"In 1970, there were no rules," Humm said. "(Alabama) had coaches living there the last three weeks of the season.
"We were meeting with a different group of coaches every night of the week. … It was the craziest year of my life."
Humm eventually chose Nebraska. He became the first Huskers quarterback to break the 5,000-yard career passing mark, and finished fifth in the Heisman Trophy voting in 1974.
Nebraska went 27-7-2 and finished in The Associated Press' Top 10 all three years that Humm started. He quarterbacked victories over Notre Dame in the Orange Bowl after the 1972 season, Texas in the Cotton Bowl (1973) and Florida in the Sugar Bowl (1974).
The school inducted Humm into its Sports Hall of Fame in 1985.
"Dave was an outstanding player for us and was a great passer," Osborne said Wednesday in a statement. "I recall that getting Dave to Nebraska was one of the most intense recruiting battles we ever won."
Oakland drafted Humm in the fifth round in 1975, but making the Raiders was no sure thing with Ken Stabler, Daryle Lamonica and George Blanda crowding the depth chart. Humm received a major break, though, when Lamonica surprisingly retired.
"That first practice where you sit, that first meeting where you go in there, you realize these are real men," Humm said. "You realize this is a game, but it's a job. And then you realize on this level, everybody can play. It's a completely different speed."
Humm won two Super Bowl rings with the Raiders, but he was mostly a clipboard holder on the sideline. He had stops with the Raiders in Oakland and Los Angeles, the Buffalo Bills and Baltimore Colts.
"I wasn't that big-gun guy, but I was a guy that you want on your team," Humm said.
The end finally came in a 1984 game at Chicago's Soldier Field. Minutes after Bears defensive end Richard Dent removed several of Humm's teeth with a vicious hit, linebacker Otis Wilson did the real damage with a stomach-turning tackle that tore cartilage in both of Humm's knees.
But Humm, a Davis favorite, wasn't done with the Raiders. He served as analyst on radio broadcasts in 1995 and 1996 before being forced to the wheelchair in 1997. Humm thought he would have to give up his broadcasting duties and called Davis with the news, but the owner refused to accept his resignation and hung up. He remained an analyst on pregame and postgame shows, eventually working from his Las Vegas home in a studio that Davis had built for him.
When asked how he would like to be remembered, Humm replied, "Just that I showed up and played, just that I went to work every day and loved to play this game."
Humm is survived by his daughter, Courtney, brother, Tom, and sisters Cathy DeValliere and Lori Scharar. The South Point is planning a celebration of his life with the time and date to be determined.
Staff writer Ron Kantowski contributed to this report. Contact reporter Mark Anderson at manderson@reviewjournal.com or 702-387-2914. Follow @markanderson65 on Twitter.