Former UNLV, NFL star Cunningham ready to teach the game — VIDEO
August 10, 2015 - 9:38 pm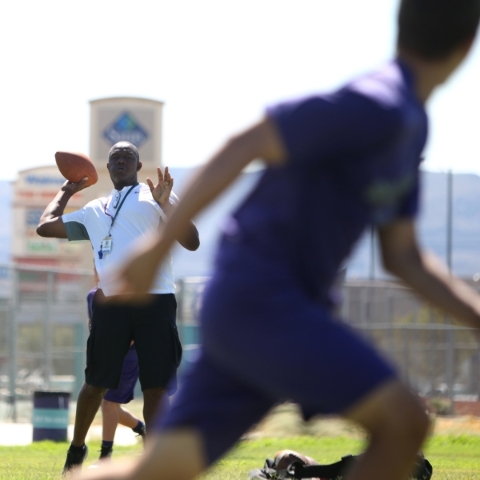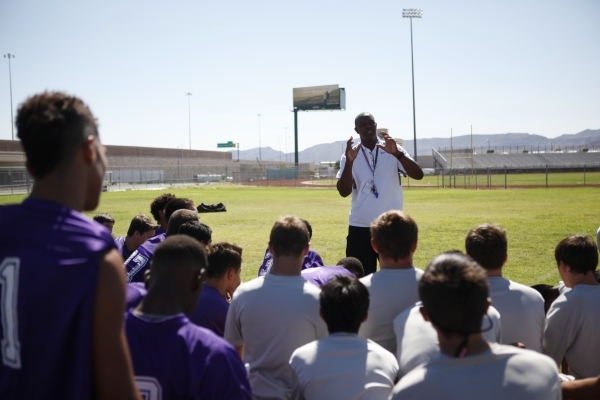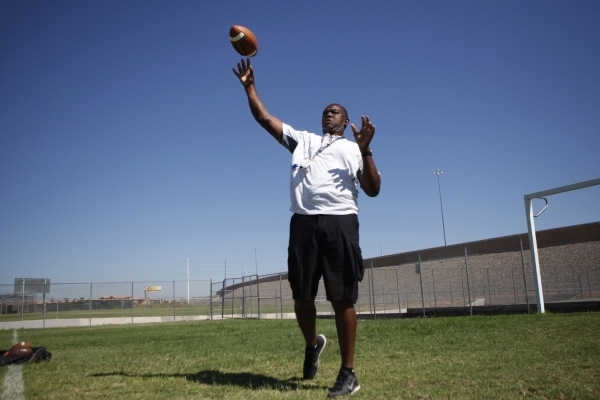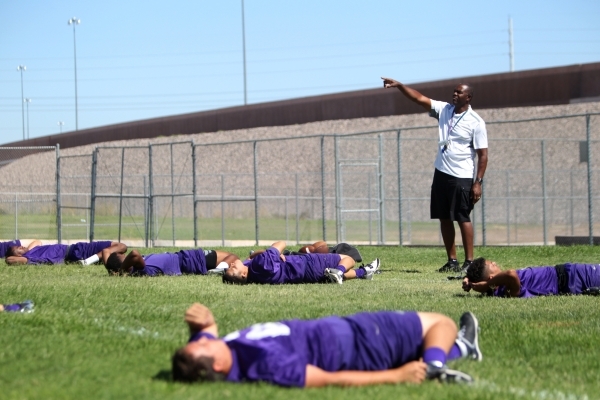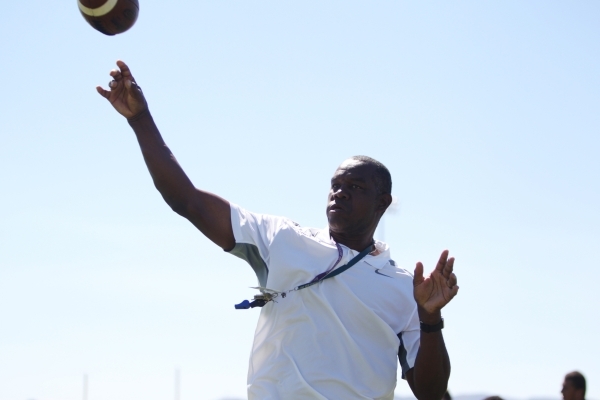 Most of the players on the Silverado football team aren't old enough to recognize "The Ultimate Weapon" nickname.
They don't know how dominant "QB Eagles" was in Tecmo Bowl or who paved the way for players such as Michael Vick, Cam Newton and Russell Wilson.
But make no mistake: They've heard the stories and have seen all the plays on YouTube of their new head coach.
"The kids walk up to me, and they don't really know me," said Randall Cunningham, a former UNLV star and 16-year NFL veteran. "Their dad might've said, 'He's a great quarterback from back in the day.' And they say, 'OK Dad, whatever.' It's kind of like the wife who doesn't want to listen to their husband talk football."
But unlike that wife, these Silverado teenagers listen to every word from the former four-time Pro Bowl selection who passed for nearly 30,000 yards in the NFL.
"It's been a blessing, man, just to have this opportunity with him," senior defensive back/wide receiver Za'kee Washington said. "He sees where he came from and how he grew up, and I think he sees a little bit of him in everybody else. He wants to see everybody be successful. He's just a good guy like that."
Cunningham, who serves as a local pastor, was named Silverado's coach in December. Since then, he has wasted little time in giving the school a face-lift in the form of new facilities and jerseys.
He also has brought in former NFL players Mark Jackson and Byron Evans to help with the transition.
"Right now, we're in the learning stages," Cunningham said after a noncontact practice on Monday. "The school, before I came back, there were not a lot of athletes here. They left and went to Liberty, Green Valley and (Bishop) Gorman. So we're building from scratch, and I'm happy about it. There's an excitement that's brewing.
"My main goal is to get our kids and put them into universities on scholarships. We want to get these kids to the next level, where they'll come back and say, 'Coach, can I come back and help in any way?' "
When considering taking the job last year, Cunningham said he prayed and recalled a conversation he frequently had growing up.
"When I was coming up in high school, people were projecting I would make it to college and the pros," he said. "And they always told me, 'When you make it, don't forget where you came from.' I didn't understand what that meant. What it is, is to remember to give back. Even though I'm not in Santa Barbara, Calif., this is the community I live in."
In giving back, Cunningham has created a buzz within the Henderson school and community while continuing his work as a pastor just three miles away.
At practices, he is no stranger to running routes, throwing footballs and playing a little defensive back.
"He's a hands-on coach," senior defensive back Vernon Jackson said. "He'll show you what you need to do and what you're doing wrong. And he'll try to make sure to perfect what you're doing, so you can produce good plays."
Silverado might not throw a 95-yard touchdown pass or kick a 91-yard punt this season, but they will be learning from the man who once did.
And they can't wait.
"The kids are excited," Cunningham said. "They can't wait to get their helmets on. They want to put their visors on, snap those chinstraps, and hit their head on the lockers."
Contact reporter Ashton Ferguson at aferguson@reviewjournal.com or 702-383-0430. Follow him on Twitter: @af_ferguson.