Gabriel Lopez, Desert Pines stop Centennial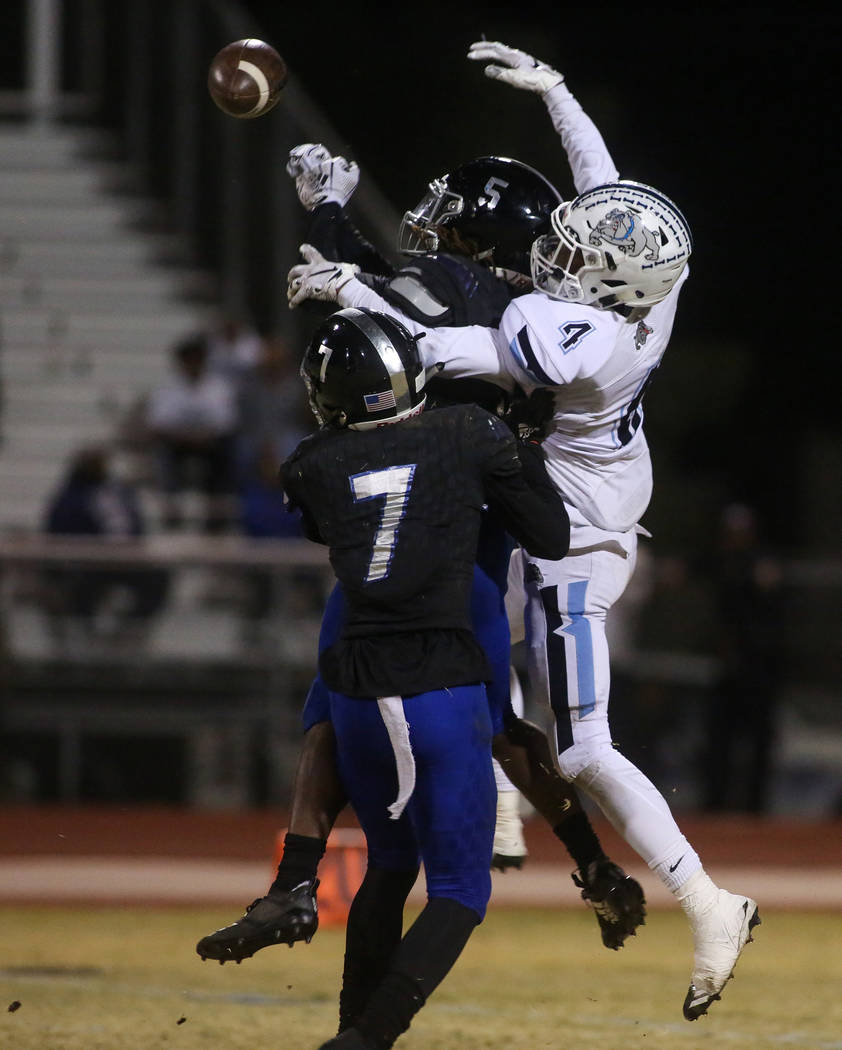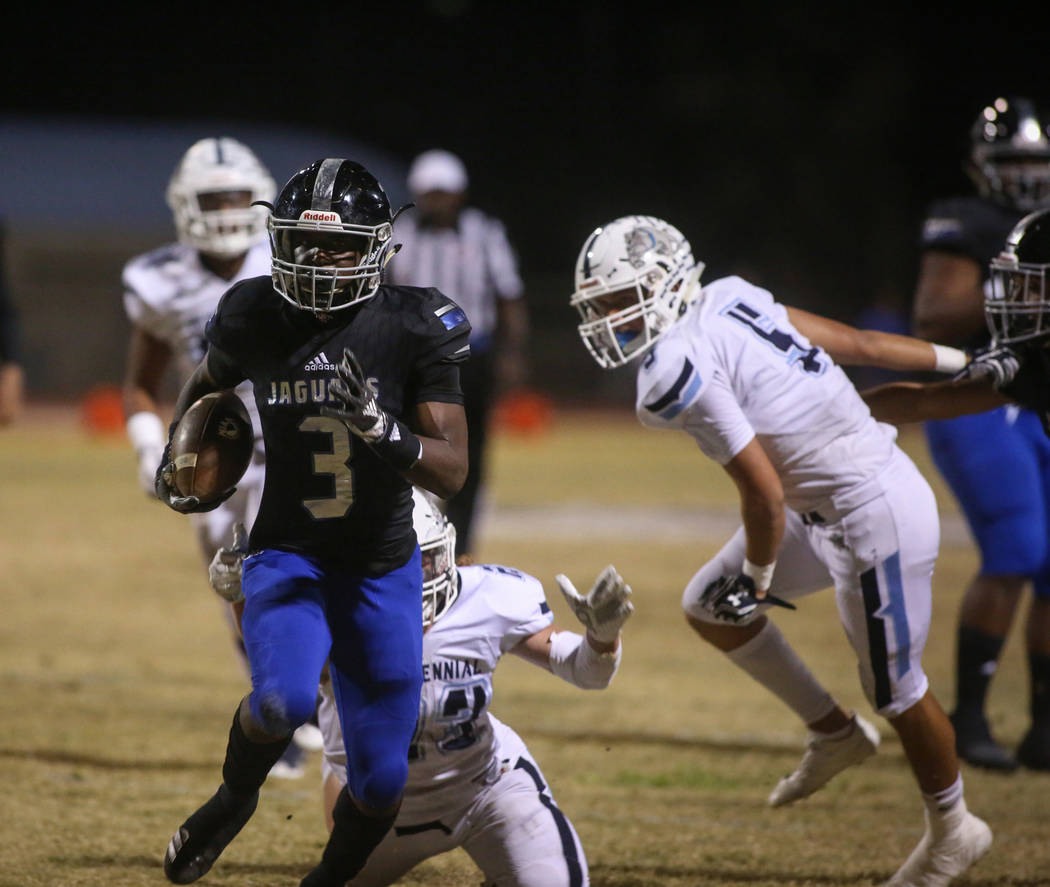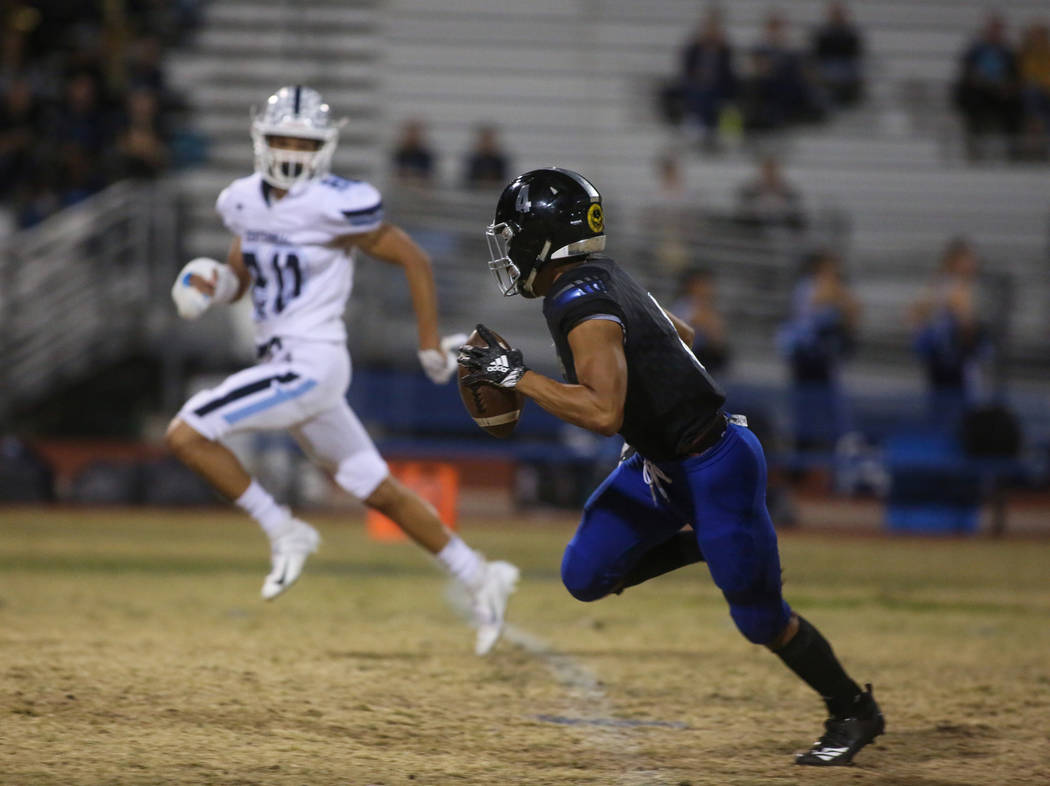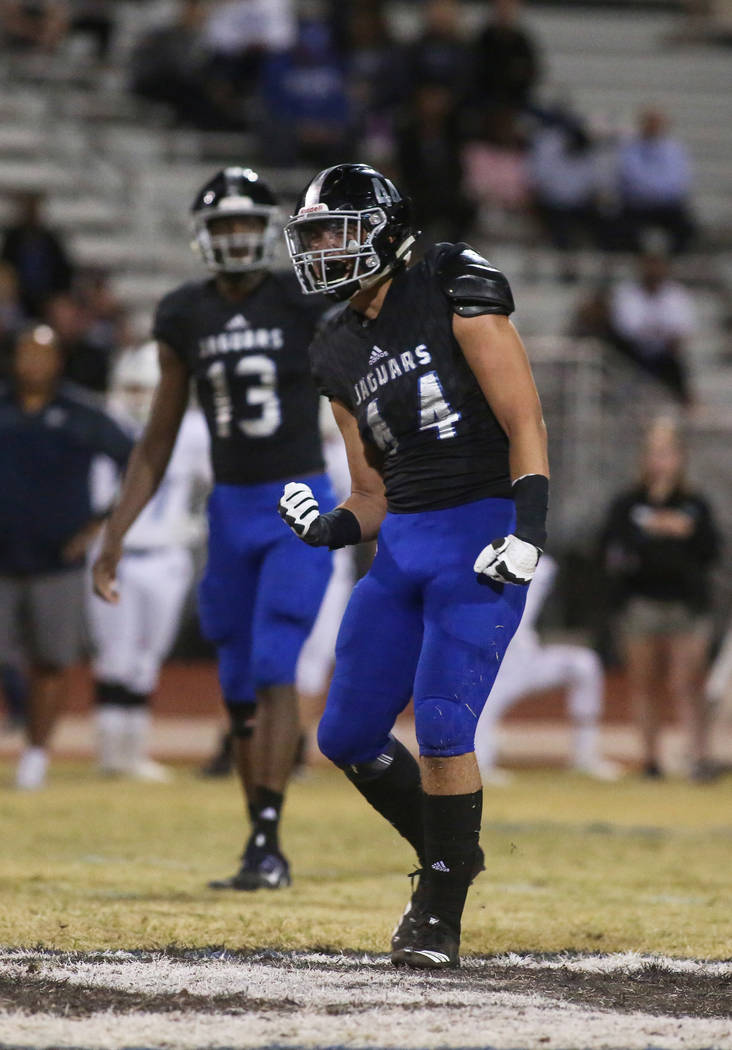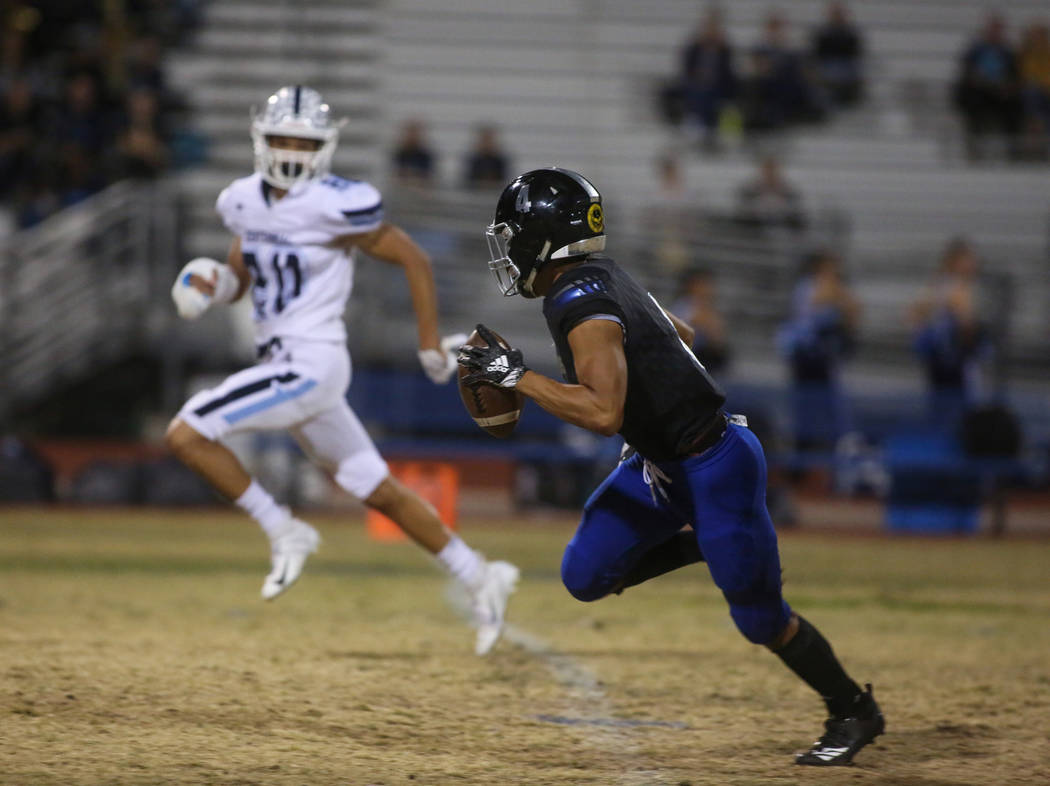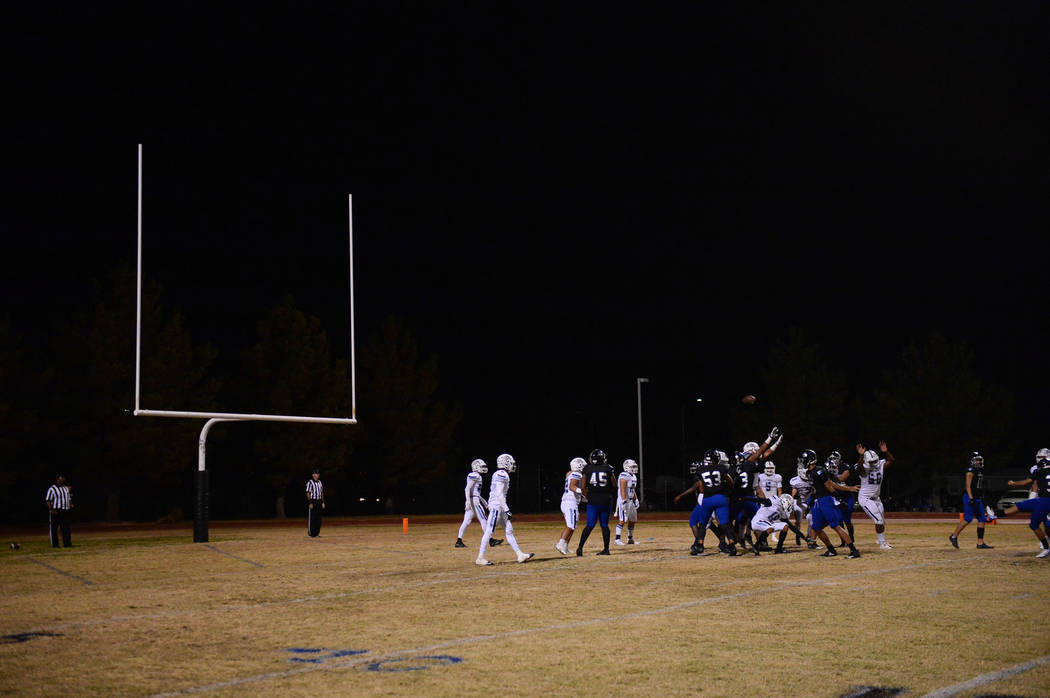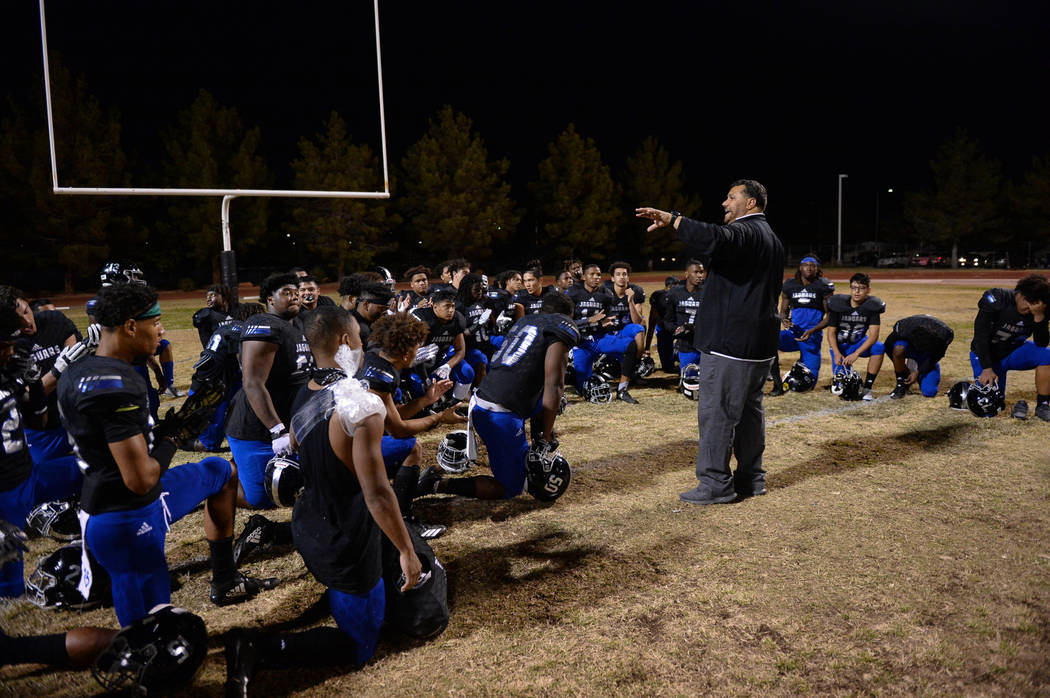 Centennial's football team was showing some life Friday night, having just scored a touchdown and forced a quick punt.
Desert Pines defensive end Gabriel Lopez made sure the Bulldogs didn't have the momentum for long.
Lopez sacked Colton Tenney to end the next Centennial drive, and the Jaguars went on to earn a 28-7 home victory in the Class 4A Mountain Region quarterfinals.
"It was really big," Lopez said of his third sack. "It just killed all their momentum. We got the ball right back and put it in our offense's hands."
Desert Pines' offense was effective, if not efficient, all game.
The Jaguars had 469 yards of offense, including 251 rushing. Cameron Wiley led the way on the ground with 91 yards, including a 75-yard TD run, on nine carries. Jamel Brown added 88 yards and a touchdown on 13 carries.
"We have the three-headed monster with Jamel Brown, Devin McGee and Cameron Wiley," Desert Pines coach Tico Rodriguez said. "When they get going, it's really special."
So was quarterback Tyler Williamson, who converted some key third downs with read-option keepers and also passed for 218 yards and two TDs.
"He really read the zone read well today, and he pulled it at the right times," Rodriguez said. "When everything is going like that, we're hard to stop."
There may have been no stopping Desert Pines (8-2), but the Jaguars did slow themselves down with penalties. Desert Pines was penalized 12 times for 107 yards.
"We sputtered with penalties here and there," Rodriguez said. "I think we could have been cleaner offensively. All in all, I'm happy with the effort."
Brown struck first, scoring on a 26-yard run on the Jaguars' first possession to make it 7-0.
That score stood almost until halftime, but Williamson found Tye Moore on a receiver screen on third-and-15. Moore turned it into a 76-yard touchdown that made it 14-0 with 37 seconds left in the half.
Wiley's long TD run made it 21-0 with 10:53 to go in the third quarter, and Williamson found Branden Thomas with a 35-yard scoring pass with 10:39 to play to close the scoring. Thomas had four catches for 115 yards.
That was more than enough for the Desert Pines defense, which sacked Tenney six times and harassed the sophomore quarterback all night.
"We came out as a team and played together," said Lopez, who also batted down a pass. "Our defense was on a roll."
Jordan Smith rushed for 143 yards on 21 carries to lead Centennial (7-4).
More preps: Follow all of our Nevada Preps coverage online at nevadapreps.com and @NevadaPreps on Twitter.
Contact prep sports editor Damon Seiters at dseiters@reviewjournal.com or 702-380-4587. Follow @DamonSeiters on Twitter.
Box score: