Haskell Garrett feels at home with Hawaiian team visiting Bishop Gorman
September 16, 2016 - 11:03 pm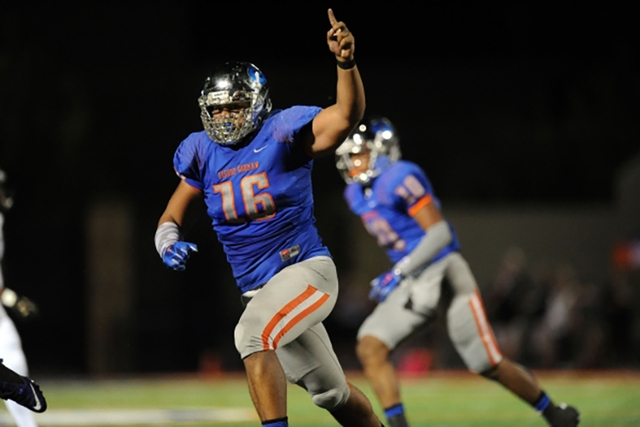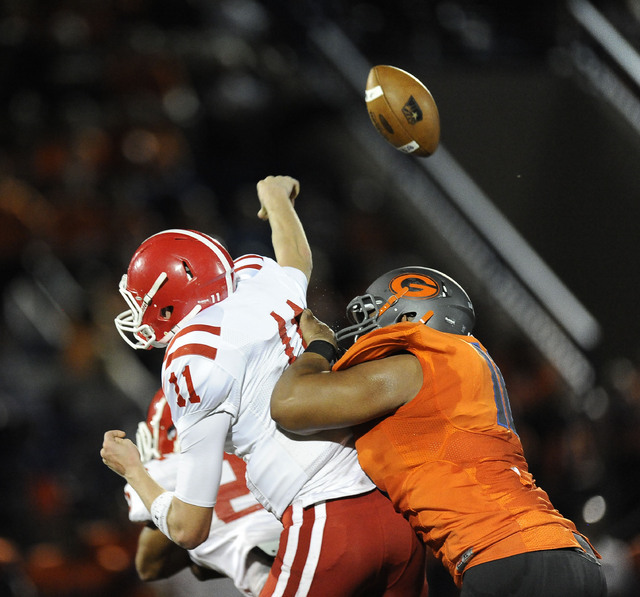 His team is protecting its home field and No. 1 national ranking against another top 20 team, so Bishop Gorman defensive lineman Haskell Garrett probably doesn't need any added motivation.
He has it anyway.
Garrett, a Hawaii native, hopes to put on a good show against a team from his home state when the Gaels host Kahuku (Hawaii) at 7 p.m. on Saturday.
"Being from Hawaii, it's special," Garrett said. "It's a real personal game. I know that being from Hawaii, that's my family and stuff like that. But my family and I made the sacrifices to come up here and be with this family. And for me, it's kind of personal."
Garrett, a top defensive tackle who has committed to Ohio State, will lead a defensive unit trying to slow the Red Raiders' potent offense. Kahuku (5-0), ranked No. 17 in the nation by USA Today, is coming off an 83-0 win over Radford (Hawaii). The Red Raiders have averaged 50.8 points, but are far from the up-tempo spread team those numbers might bring to mind.
"They just want to run the ball," Gorman coach Kenny Sanchez said. "That's it. They want to run the ball down your throat and control the clock.
"There's no mystery as to who they are, and they'd probably be the first to tell you that, too."
Harmon Brown leads Kahuku with 372 rushing yards, and he has scored six rushing touchdowns. Elvis Vakapuna has rushed for 259 yards and eight scores.
"They're going to try to wear us down," Garrett said. "As long as we bring that energy and can take their beatings and their hard offense, I think we'll be able to come out with a (win)."
Kahuku's defense has posted shutouts in its past three games and has allowed an average of 63.8 yards. But the Red Raiders haven't faced a team as potent as Gorman. The Gaels will be without reigning state player of the year Biaggio Ali Walsh, who reinjured his right ankle last week against St. John Bosco (California).
Still, Gorman has plenty of weapons, led by quarterback Tate Martell, who also has committed to play at Ohio State.
Sophomore running back Amod Cianelli has stepped in for Ali Walsh the past two weeks and done a strong job. He rushed for 116 yards and a touchdown against St. John Bosco.
"The more reps you get the more comfortable you get, and you settle in," Sanchez said. "When you have a good (offensive) line in front of you, it helps, and also a good quarterback, because it takes a ton of pressure off you. But he had a great game last week, and he's going to have to continue to do so as long as Biaggio's out."
The game is sold out, and Sanchez said the standing room crowd should exceed 5,000. Kahuku brought a large contingent and had a pep rally on Fremont Street on Thursday night.
"It's always exciting to go against the boys back home, the Poly boys, because you know they're going to bring their heart and passion to the football game," Garrett said. "And they're going to put it all on the line."
Contact prep sports editor Damon Seiters at 702-380-4587 or dseiters@reviewjournal.com. Follow him on Twitter: @DamonSeiters
Complete coverage of high school sports