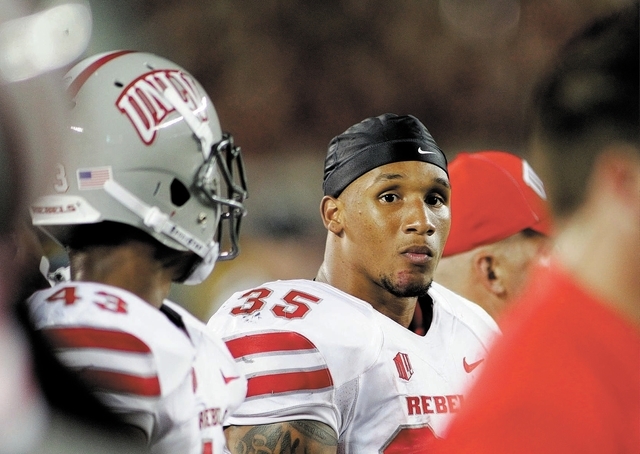 UNLV coach Bobby Hauck prefers a balanced offense, and even when his football team quickly fell behind by 17 points Saturday against Arizona, he tried to stay committed to the running game.
That also means a commitment to senior Tim Cornett, who was given the ball 11 times for 60 yards in the first half of a 58-13 loss at Sam Boyd Stadium. He ran just four times after halftime, finishing with 62 yards because the outcome clearly had been decided.
But the Rebels, even in the new spread, short-passing offense, want the ball in Cornett's hands. He rushed 20 times for 80 yards in the season opener at Minnesota, and last season had 20 or more carries six times while gaining 1,232 yards.
Despite a massive deficit nearly all night against Arizona, the Rebels had more running plays (35) to passing (28). The ratio will change from game to game, but Hauck wants as close to a 50-50 split between run and pass plays as he can get, which should benefit Cornett.
"I feel like I'm a big part of the offense, and I feel like I can help us a lot," Cornett said. "If the defense knows what you're doing and you get predictable, that's easy to stop."
The Rebels also have quality backups.
Shaquille Murray-Lawrence has played his way into the No. 2 spot, even though fellow junior Adonis Smith went into training camp as the prohibitive favorite to be the top backup.
Murray-Lawrence has shown tremendous big-play ability, with 108 yards on four carries against Minnesota and 82 yards on four attempts against the Wildcats. He averages 23.8 yards per rush.
"We probably need to hand it to him a couple of more times and see what happens," Hauck said.
So Smith, at No. 3, is hard-pressed to get carries, and freshman Keith Whitely is doing what he can to expand his role beyond special teams.
"I like what he's doing," Hauck said of Whitely. "It might take somebody getting nicked up, though. That's what happens when you get (quality) depth."
THREE-STEP DROP
■ UNLV's game against Central Michigan at 7 p.m. Saturday at Sam Boyd Stadium will be the teams' first meeting since they played twice in 1994. The host Chippewas won the regular-season game 35-23, but UNLV gained revenge in the Las Vegas Bowl with a 52-24 rout. They are scheduled to meet again in 2016 at Central Michigan.
■ Former UNLV walk-on Mike Horsey started at nickelback against Arizona, the first time he has been in the opening lineup. Horsey, a junior, is the backup to senior Frank Crawford at free safety.
■ Children 12 and younger can get in free Saturday with the purchase of an adult-priced ticket. The deal is only for the Central Michigan game and will be available only Saturday at the stadium box office.
FOR THE RECORD
■ Cornett moved up to fourth on UNLV's career rushing list with 2,591 yards. He could pass Kirk Jones, who rushed for 2,656 yards from 1983 to 1986, into third place on Saturday.
■ UNLV is first in the Mountain West and seventh nationally in pass defense, allowing only 90 yards per game. That statistic should get tested severely by Chippewas quarterback Cooper Rush.
■ The announced crowd of 26,950 for the Arizona game was the Rebels' largest home crowd since 28,958 people turned out Oct. 2, 2010, to watch a 44-26 loss to UNR.
Contact reporter Mark Anderson at manderson@reviewjournal.com or 702-387-2914. Follow him on Twitter: @markanderson65.