Here are this week's RJ high school football rankings
September 20, 2017 - 12:43 pm
Updated September 20, 2017 - 1:09 pm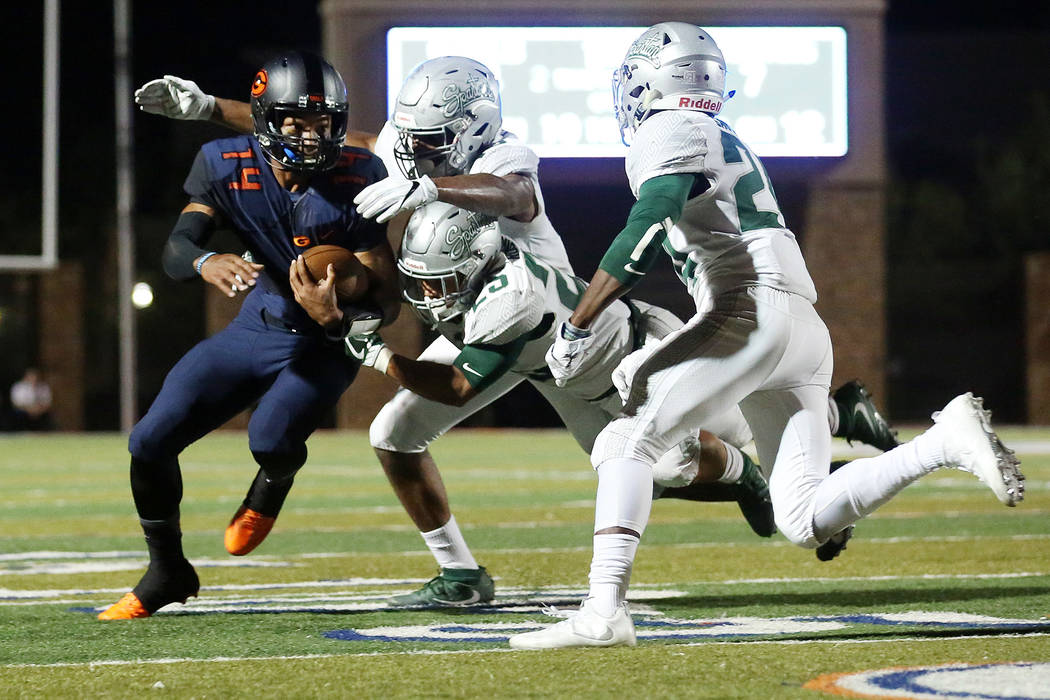 Class 4A
1. Bishop Gorman (2-2. Last week 1). The Gaels got back in the win column against De La Salle (California).
2. Liberty (3-1, LW 2). The Patriots are idle after knocking off Legacy on Saturday.
3. Arbor View (3-0, LW 3). Shadow Ridge is the next test for the Aggies' double-wing attack.
4. Green Valley (4-0, LW 5). The Gators are set on proving missing the playoffs last year was a fluke.
5. Foothill (3-0, LW 4). The Southeast League is looking mighty formidable this year.
Class 3A
1. Desert Pines (1-2, LW 1). After a 48-0 drubbing of a Class 4A team, it's safe to say the Jaguars are back.
2. Chaparral (3-1, LW 3). The Cowboys lost to a 4A team, but look to beat one in Rancho this weekend.
3. Mojave (3-1, LW 4). It's fair to wonder if anyone in 3A can stop Tawee Walker.
4. Moapa Valley (2-1, LW 2). The Pirates make the long trek to Boulder City on Saturday.
5. Sunrise Mountain (2-1, LW 5). The Miners were idle last week and head to Mesquite to play an angry Virgin Valley team.
Class 2A
1. Needles (3-0, LW 1). The Mustangs are the only undefeated team in Class 2A.
2. Lincoln County (2-2, LW 2). The Lynx come back to the valley to play The Meadows.
3. Lake Mead (1-1, LW 3). The Eagles head to Laughlin looking to even their league record.
4. Democracy Prep (1-1, LW 5). The Blue Knights got their first win last week by beating up Calvary Chapel.
5. The Meadows (1-2, LW unranked). The Meadows beat Laughlin to start 1-0 in league play.
Class 1A
1. Pahranagat Valley (3-0, LW 1). The Panthers start league play after a perfect nonleague slate.
2. Spring Mountain (2-1, LW 2). The Golden Eagles play their second home game of the season in their league opener.
3. Beatty (2-0, LW 4). The Hornets made a statement in a 65-18 victory over Tonopah last week.
4. Tonopah (2-2, LW 3). The Muckers have a chance at a major upset when they host Pahranagat Valley.
5. Indian Springs (1-2, LW 5). The Thunderbirds got their first win of the season last week at Round Mountain.