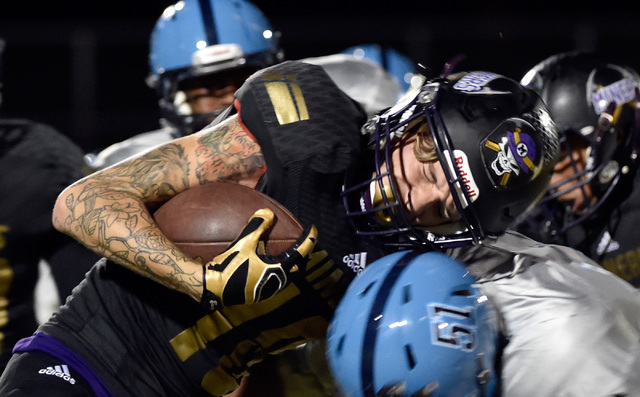 Here's a look at what happened during Week 4 of the high school football season.
WHAT WE LEARNED
1. This might be the year of the quarterback in Southern Nevada. Bishop Gorman's Tate Martell gets the national press, but the Ohio State-bound quarterback isn't the area's only accomplished passer.
Liberty's Kenyon Oblad showed great touch and made good reads in passing for 262 yards and two TDs in a 41-14 win over Desert Pines on Thursday, and Jamaal Evans racked up 350 passing yards on Friday in a 24-21 loss to Las Vegas.
But other signal callers are putting up pretty good numbers, too. Canyon Springs' Diamante Burton passed for 367 yards and four TDs against Sunrise Mountain, and he spent the first series playing running back. Basic's Aaron McAllister threw six TD passes in a win over Clark.
Sunrise Mountain's Stephen Wright now has passed for 996 yards, and none of this counts Desert Pines' Marckell Grayson, who blew out his knee in Week 1, but has committed to UNLV.
2. Las Vegas' DiQuan Brown and Elijah Hicks are a terrifying backfield combination. Now the Wildcats need to find a way to get them both even more touches.
Brown had only three carries Friday, but rushed for 122 yards and had TD runs of 60 and 48 yards. Hicks did the heavy lifting, rushing for 113 yards on 24 carries.
Wildcats coach James Thurman says he has a plan to get them on the field at the same time. That could be a nightmare for opposing defensive coordinators.
3. The "V" in Valley finally stands for victory. After 21 consecutive losses, the Vikings finally found a reason to celebrate with a 34-21 home win over Boulder City. It was Valley's first win since a 74-15 victory over Rancho on Nov. 1, 2013.
Iyen Medlock scored two rushing touchdowns and returned a punt for a score to lead the charge.
UPSET OF THE WEEK
Las Vegas 24, Centennial 21 — This isn't an upset of a monumental sort, but the Wildcats came into the game ranked No. 7 with Centennial at No. 5. The visiting Bulldogs scored on their first offensive play when Jamaal Evans hit Savon Scarver for a 75-yard touchdown.
But Las Vegas settled in defensively and shut down Centennial's rushing attack, limiting the Bulldogs to 67 rushing yards.
Centennial did make a comeback behind Evans and Scarver. Evans hit Scarver with a pair of foruth-quarter TD passes, including a 72-yarder — their third TD hookup of the night — with 2:07 to play, but Las Vegas was able to run out the clock.
STANDOUT PERFORMANCES
Passing
Diamante Burton, Canyon Springs — 22-30 passing, 367 yards, 4 TDs
Jamaal Evans, Centennial — 17-29 passing, 350 yards, 3 TDs
Micah Gayman, Agassi Prep — 16-39 passing, 292 yards
Aaron McAllister, Basic — 16-23 passing, 267 yards, 6 TDs
Kenyon Oblad, Liberty — 25-37 passing, 262 yards, 2 TDs
Rushing
Jack Berkley, The Meadows — 21 carries, 231 yards, 4 TDs
Jacob Leavitt, Moapa Valley — 22 carries, 223 yards, 3 TDs
Keikiokalani Misipeka, Silverado — 33 carries, 218 yards, 4 TDs
Tyree Riley, Cimarron-Memorial — 29 carries, 166 yards, TD
Jayden Perkins, Virgin Valley — 19 carries, 158 yards, 4 TDs
Receiving
Savon Scarver, Centennial — 9 catches, 276 yards, 3 TDs
Lazarus Kyle, Canyon Springs — 7 catches, 137 yards, 2 TDs
Elijah Kothe, Faith Lutheran — 8 catches, 118 yards, TD
Corwin Bush, Cheyenne — 7 catches, 114 yards, TD
Brandon Hargis, Foothill — 5 catches, 113 yards, 2 TDs
QUOTABLE
"I'm so happy I can't even explain how happy I am — it's like beyond the word happy. Man, it was just like three or four years of not winning, and it is like a load is off my shoulders. I wanted to cry, but I couldn't. I'm just blessed."
— Valley senior Iyen Medlock, who scored three touchdowns as Valley beat visiting Boulder City 34-21 to snap a 21-game losing streak.
"Oh, my gosh, that kid is something special. He's very special. What he lacks in size, he definitely puts in for speed and velocity, and he's just an animal. Nobody can tackle him. It's crazy."
— Las Vegas senior linebacker Cruz Littlefield on teammate DiQuan Brown, who had only three carries but rushed for 122 yards and two TDs in a 24-21 win over Centennial.
"What I did was I changed the whole game plan. (Faith Lutheran coach Vernon Fox) knows the NFL. This dude's not going to go for the okie-doke, so I said I've got to do something I've never done, something he hasn't seen on film. So, we were running a counter with our big boy (Ryan Scoggins) pulling, who never pulls. … I can't talk enough about what Coach (Ron) Scoggins is doing with the offensive line."
— Silverado coach Randall Cunningham after the Skyhawks gained 290 yards on the ground in a 36-20 win over Faith Lutheran.
"Our athletes showed up, and there wasn't a lot they could do. There really wasn't. I think the defense responded all day long."
— Legacy coach John Isola after the Longhorns beat Coronado 27-10 to improve to 3-0.
"The defense has sort of carried us the past couple of weeks. We told them the offense was going to take a little bit to start rolling. Diamante (Burton) threw for over 300 yards tonight. Lazarus (Kyle) had more than 100 yards receiving. It was nice to see."
— Canyon Springs coach Gus McNair after Diamante Burton threw for 367 yards in a 33-27 road win over Sunrise Mountain.
"They just moved me to long snapper, so my main focus was just to try to get the ball to our punter. So then I was just running down as fast as I could, and I saw that they put their best running back was the returner. So I just started sprinting for him, and luckily he dropped it and I just picked it up."
— Foothill long snapper Brandon Hargis, who recovered a muffed punt with seven seconds left to secure a 21-14 win over Palo Verde.
HOW THEY FARED
A look at how the top 10 teams in the Southern Nevada Football Coaches Poll fared in Week 4.
1. Bishop Gorman (3-0) vs. Kahuku (Hawaii), Saturday. Next: vs. Bonanza, Friday.
2. Liberty (3-0) beat No. 4 Desert Pines, 41-14. Next: at Centennial-Corona (California), Friday.
3. Arbor View (2-1) was idle. Next: at Faith Lutheran, Friday.
4. Desert Pines (3-1) lost to Liberty, 41-14. Next: vs. Pahrump Valley, Friday.
5. Centennial (1-2) lost to No. 7 Las Vegas, 24-21. Next: at Cimarron-Memorial, Friday.
6. Green Valley (2-1) was idle. Next: vs. Eldorado, Friday.
7. Las Vegas (3-0) beat No. 5 Centennial, 24-21. Next: vs. Shadow Ridge, Friday
8. Basic (3-0) beat Clark, 47-13. Next: at Canyon Springs, Friday.
9. Legacy (3-0) beat Coronado, 27-10. Next: vs. Palo Verde, Friday.
10. Silverado (3-0) beat Faith Lutheran, 36-20. Next: at Rancho, Friday
For complete coverage of all of the games from Week 4, visit nevadapreps.com.