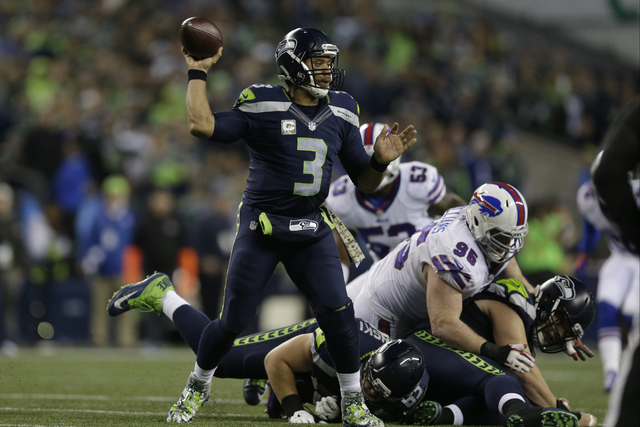 Week 13 of the NFL regular season continues today with a slew of games and the Carolina Panthers visiting the Seattle Seahawks for Sunday Night Football.
Carolina (4-7) enters the SNF game off a Week 12 loss, 35-32, to the Oakland Raiders on Nov. 27. Seattle (7-3-1) also enter tonight's game off a loss last week — 14-5 to the Tampa Bay Buccaneers.
Here's everything you need to know if you want to watch SNF in Las Vegas:
Place: CenturyLink Field, Seattle
Time: 5:30 p.m. PST
TV: NBC (Cox 3, DirecTV 3, Dish 3, Century Link 3)
Online: NBCSports live stream
Other Sunday games televised in Las Vegas:
— Los Angeles Rams at New England Patriots, 10 a.m., KVVU/FOX
— Houston Texans at Green Bay Packers, 10 a.m., KLAS/CBS
— New York Giants at Pittsburgh Steelers, 1 p.m., KVVU/FOX
Other Sunday matchups:
— Detroit Lions at New Orleans Saints
— Denver Broncos at Jacksonville Jaguars
— San Francisco 49ers at Chicago Bears
— Kansas City Chiefs at Atlanta Falcons
— Miami Dolphins at Baltimore Ravens
— Philadelphia Eagles at Cincinnati Bengals
— Buffalo Bills at Oakland Raiders
— Tampa Bay Buccaneers at San Diego Chargers
— Washington Redskins at Arizona Cardinals
Contact Kira Terry at kterry@reviewjournal.com or 702-477-3880. Follow @kiraterry on Twitter.