Jim Harbaugh only no-show for Michigan at satellite camp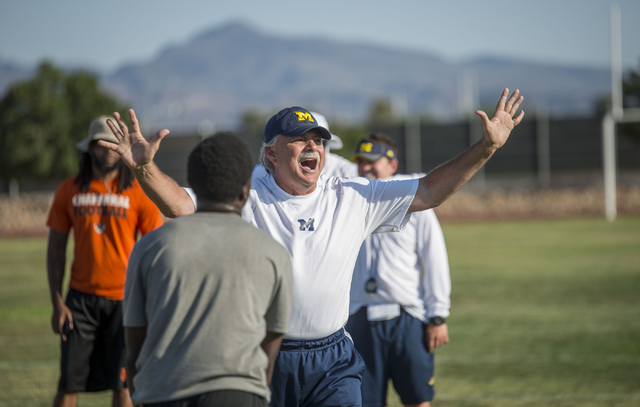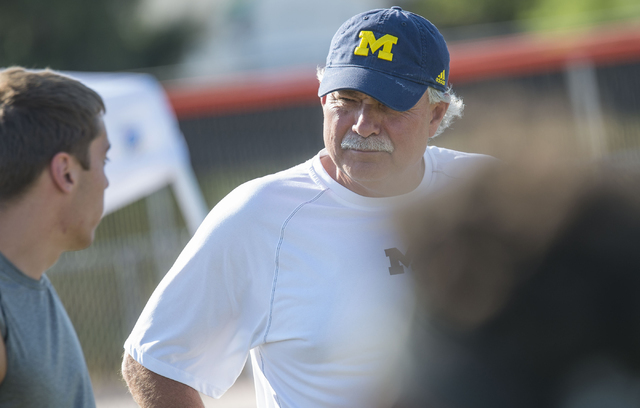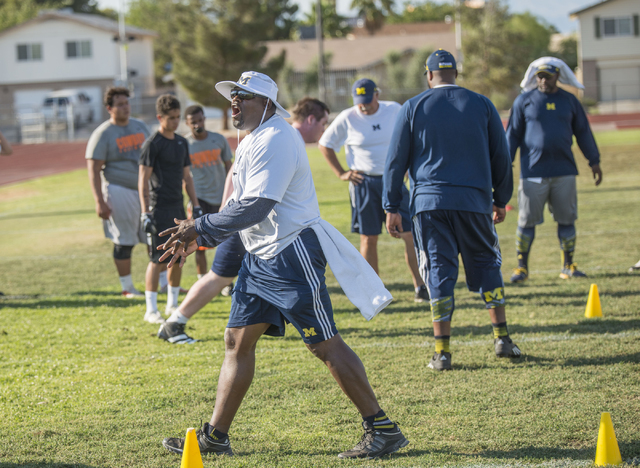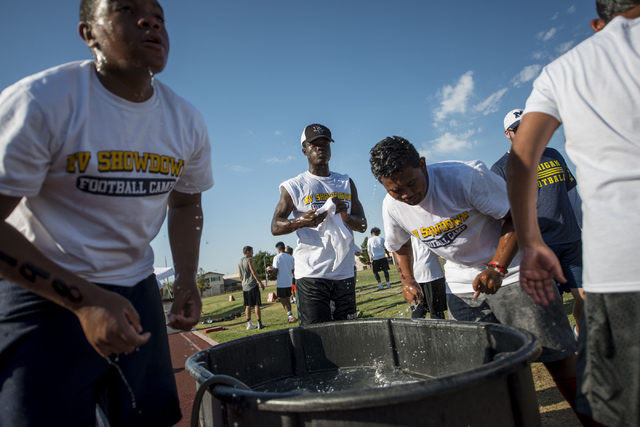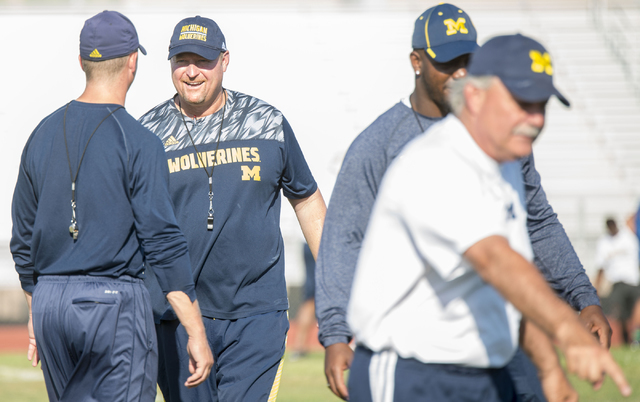 Tim Drevno was the UNLV running backs coach for one season in 1998 under former Rebels coach Jeff Horton before joining forces with Michigan coach Jim Harbaugh for 13 of the past 14 seasons.
Now the Wolverines offensive coordinator, Drevno returned to Las Vegas on a sizzling Wednesday night to help run a satellite camp for more than 100 local prep players at Chaparral High School.
Harbaugh, who had a prior commitment in Ann Arbor, Michigan, was the only member of the coaching staff that didn't brave the 115-degree temperatures here.
"I love the heat," said Drevno, who led a group of coaches that included about 20 from Michigan and two from Brigham Young. "These guys are going to sweat, so we've got to do it with them."
The camp was part of Michigan's controversial June tour that includes 39 stops across 22 states, American Samoa and Australia. The NCAA banned satellite camps April 8 but reversed the ruling April 28, paving the way for the Wolverines to take their show on the road.
The camps have been criticized for being used as a recruiting tool during a month that's supposed to be a dead period, but Drevno said that's not the case.
"The bottom line is football's been really good to us as a family and me personally, and to be able to spread the Michigan brand and this great game of football, it's great to give back to these young people that want to be good at something," he said. "I think it's made a great impact. Young men that come maybe aren't able to come to Michigan or go to Alabama or go wherever, can come to us and see us and other coaches and meet other players.
"It's unbelievable to spread football around the world."
As for why the Wolverines are hitting 39 camps, Drevno essentially said to go big or go home.
"If you have a chance to do something, you're going to go big. You're going to knock the ball over the fence," he said. "We enjoy working. We enjoy giving back. We ain't scared of work. That's our mentality. We're going to try to outwork people."
BYU assistant coach Ed Lamb, a former Southern Utah coach, was a guest at Wednesday's camp, his fourth of seven satellite stops.
"We want to be involved with as many camps as we can. I think they're great," he said. "Sometimes it's really hard to get a second piece of evaluation. Just the chance to get out there and see these guys run in a nonfootball environment and how they move their body in person is a real good opportunity for us."
Former Bishop Gorman tight end Grant Carrigan was one of the standouts of the camp, which was comprised of stretching, drills and instruction with no pads or helmets. The 6-foot-7-inch, 247-pounder said he got some tips from Michigan tight ends coach Jay Harbaugh, Jim's son.
"I liked being around my position coach. Just working with him was a good experience," Carrigan said. "That was pretty cool that they came all the way out here."
Carrigan, who will play in Pittsburgh this season and has a scholarship offer from Kent State, said one of the Michigan coaches told him to come to the camp.
"I'm interested in Michigan. It's a place I'd want to be, so I just showed them what I could do today," he said.
Chaparral incoming senior co-captain Kalani Lealao was one of about 30 Cowboys players to participate.
"I was excited. I was preparing for it the whole week. The whole team was," the 320-pound offensive lineman said. "It's Michigan. And Chaparral's not that big, so we have to put our name out there and get seen. I was kind of nervous, but I think I did pretty good.
"The (offensive) line coach was coaching me up. I learned new things today that I didn't know: footwork, speed, inside steps. It was pretty cool."
The NCAA will revisit the topic of satellite camps Sept. 1.
"There are definitely ways we can be more efficient, but just cutting out satellite camps as a whole is not a good idea," Lamb said. "They're amazing opportunities for these players, not just for evaluation but to improve in the sport they love."
Contact reporter Todd Dewey at tdewey@reviewjournal.com or 702-383-0354. Follow him on Twitter: @tdewey33