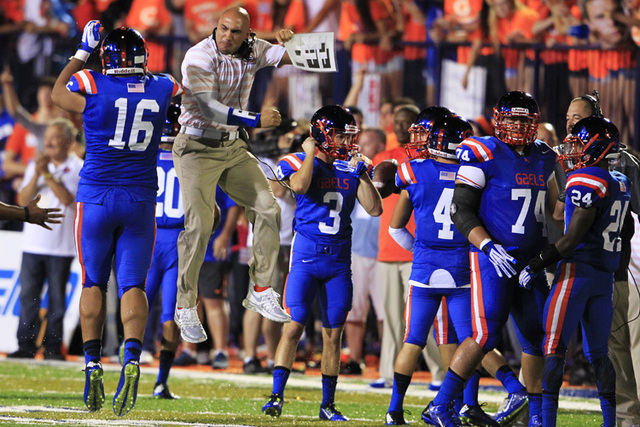 Bishop Gorman's football program will officially stay in the family.
The school announced Wednesday that Kenny Sanchez will take over as head coach, replacing his brother Tony, who took the head coaching job at UNLV in December.
Kenny Sanchez had been the team's interim coach since his brother left for UNLV.
"It's a great honor, and I'm thrilled," Kenny Sanchez said. "Being here for six years as assistant coach, I'm super honored and blessed that the relationships that I've built and the work that I've put in has been recognized and they feel comfortable enough to appoint me as head football coach. There's no better school in Las Vegas or the country that I could imagine being head coach for."
Kenny Sanchez served as the team's defensive coordinator for all six seasons that his brother was head coach. The Gaels were 86-5 and won six state titles over that span, allowing an average of 11.6 points. Gorman finished the 2014 season ranked No. 1 in the nation by USA Today.
It will be Kenny Sanchez's first head coaching job. He also served as the defensive coordinator at Ellsworth Community College in Iowa Falls, Iowa, and as an assistant at California High in San Ramon, Calif.
"It's busy. Being a head coach of the No. 1 team in the country and being here at Bishop Gorman, it's a full-time job," Kenny Sanchez said of his added administrative duties as head coach.
"Those are things I didn't have to worry about before, but it's fun. Because you build new relationships with new people in the community and you get to see it from a different angle. It's been busy and a crazy whirlwind, but, man, it's been fun."
Kenny Sanchez, 34, said he'd always had aspirations to become a head coach, but had put those desires on the back burner while helping his brother build Gorman into a national power.
"Since we got here, I haven't really thought about it so much because it's been so fun," Kenny Sanchez said. "Us having so much success with the position I was at I kind of forgot about it a little bit. I'm so thankful that I didn't try to rush into it and try to be eager and go after any head job. I really lucked out with this position, because I landed a premium job that's already established and has a great history."
Kenny Sanchez said following his brother has made the transition to head coaching easier.
"Tony, I know he's my brother, but it's not a hard job to take over for me because of how he left it," Kenny Sanchez said. "It's like moving into a house that's fully furnished.
"Here, everything's already set to go. The blueprint that he left behind, we're just going to follow and keep rolling."
Kenny Sanchez said he will remain the team's defensive coordinator. He said Craig Canfield, who was the team's running backs coach, will take over as offensive coordinator.
"I'm not trying to invent the wheel," Kenny Sanchez said. "And I can honestly care less what Kenny Sanchez's stamp is supposed to be. I'm not worried about it. We're going to keep doing what we've been doing. We went back to work with the kids in the weight room on Monday. We're going to try to outwork the entire country. We're really not going to do anything different, it's just coming from a better-looking person."
Contact prep sports editor Damon Seiters at dseiters@reviewjournal.com or 702-380-4587. Follow him on Twitter: @DamonSeiters.