Kody Presser, Shadow Ridge race past Cimarron-Memorial
September 28, 2017 - 11:00 pm
Updated September 29, 2017 - 12:09 am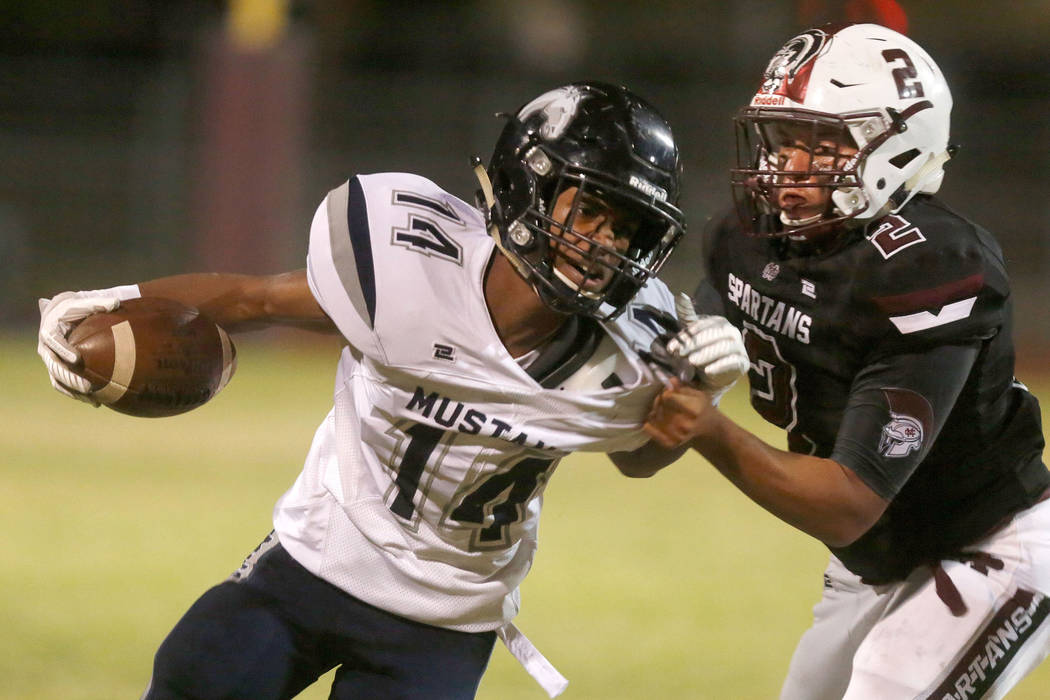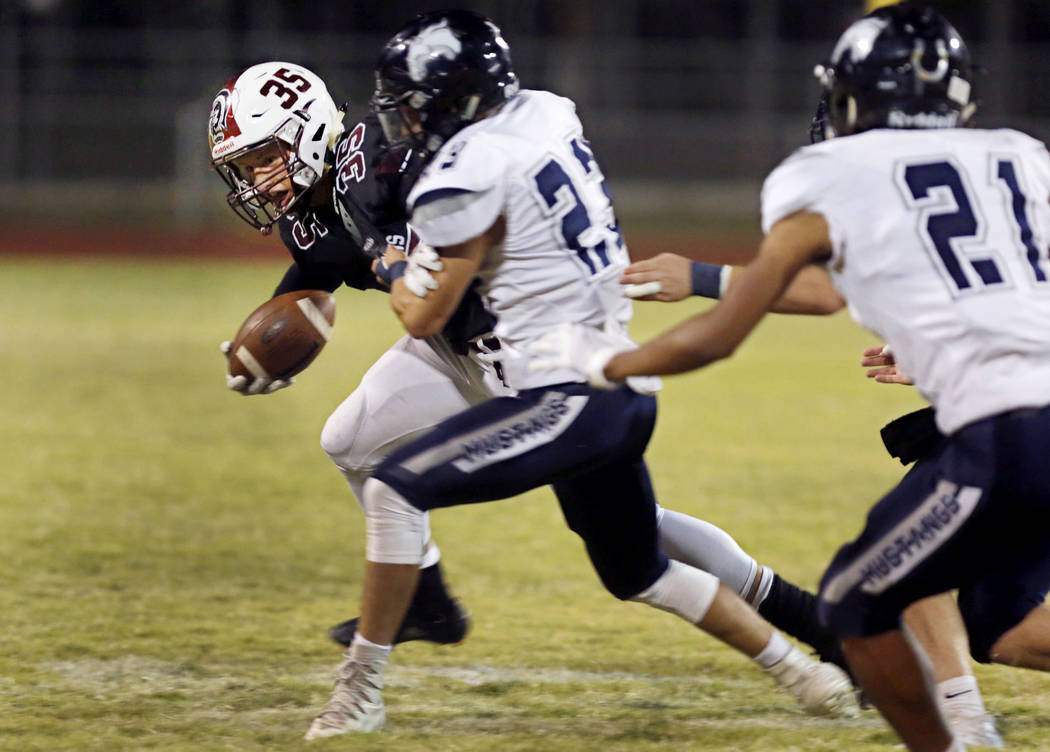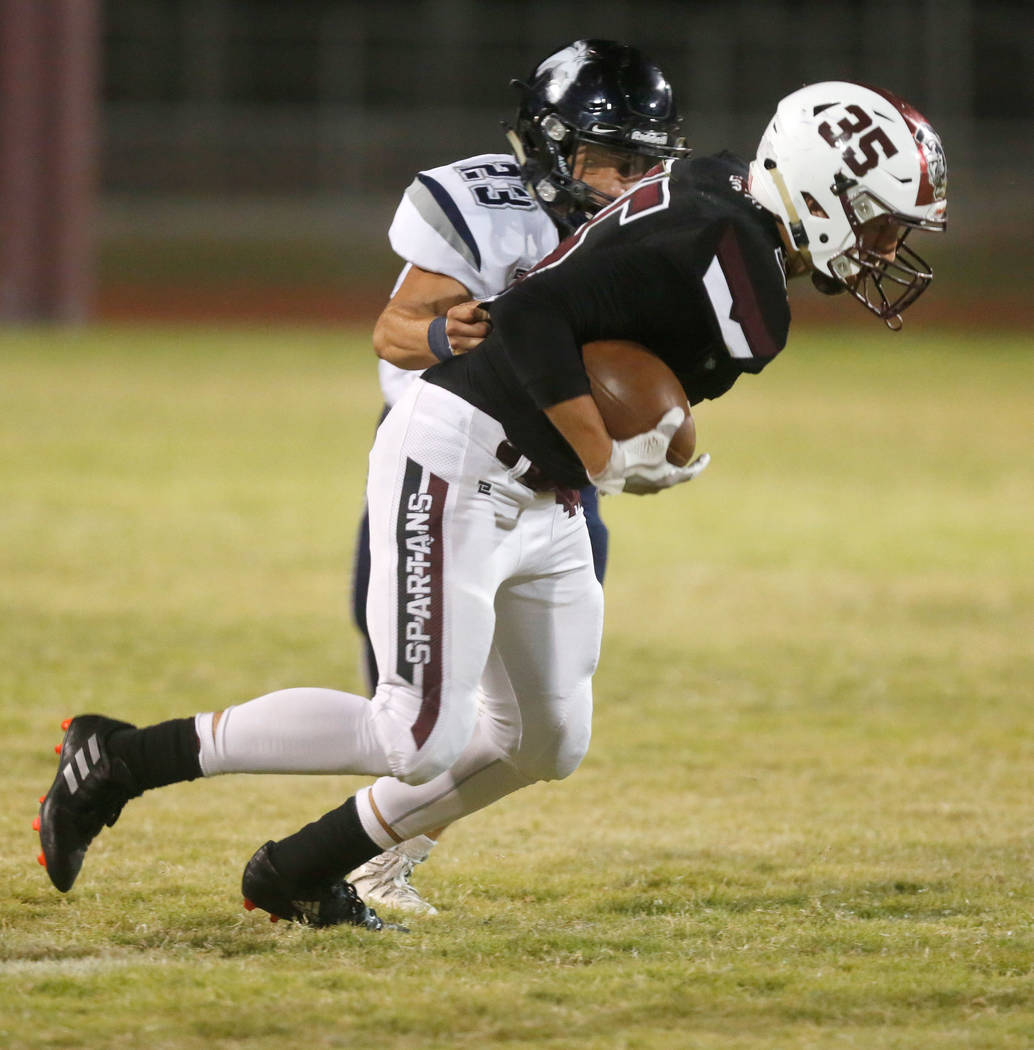 He rarely talks.
He rarely smiles.
Shadow Ridge junior quarterback Kody Presser simply runs the Mustangs' triple-option offense on Friday nights — or, in this case, a Thursday night.
And guess what?
He's damn good it at.
Presser carried 10 times for 169 yards and scored two touchdowns to help lift Shadow Ridge to a 59-20 road victory over Cimarron-Memorial on Thursday night.
The Mustangs (4-1, 1-1 Northwest League) were without senior running back Aubrey Nellems, the city's leading rusher, who did not play for religious reasons. Shadow Ridge coach Travis Foster said the Mustangs made due because of Presser and his brilliance under center.
"He's an assassin," Foster said. "He's all business. He's been starting since he was a freshman. There's not too many guys in the city that have as many starts as he does, and he's starting to get some recognition for what he's doing."
Presser scored the first of his two touchdowns in the second quarter and helped set up his teammates the rest of the night by making the correct ride-and-decide read or pitch.
Junior wideout Kaejin Smith-Bejgrowicz had two long scoring runs, and running backs Brock Weishem and Clayon Nauta also cashed in via the triple option.
"(The Spartans) were getting tired. I would see guys, hand on their hips not getting set," said Nauta, who also returned a kickoff for a touchdown in the second half. "(Our guys) took advantage."
Cimarron-Memorial senior quarterback George Tribble threw three second-half touchdown passes to keep the Spartans within striking distance, but Presser put the finishing touches on his evening with a 70-yard scoring sprint early in the fourth quarter.
"He's just like a robot," Mustangs senior left tackle Damieon Garcia said. "He gets the job done. You can't describe it."
Tribble finished 12 of 20 for 245 yards with three touchdowns and one interception. His Spartans (3-1, 1-1), however, could not keep up with the Mustangs, who rode 11 ball carriers to 405 rushing yards and six touchdowns.
Foster acknowledged that Shadow Ridge missed Nellums' big-play ability — he leads the state with 832 rushing yards on 13 yards per carry — but said the Mustangs did what they needed to do in all three facets of the game.
"Tonight is more of what we're going to be moving forward. Ball control," Foster said. "We'll make big plays when we need to."
Contact reporter Sam Gordon at sgordon@reviewjournal.com. Follow @BySamGordon on Twitter.