Kyle Graham scores 5 TDs in Arbor View's 60-13 victory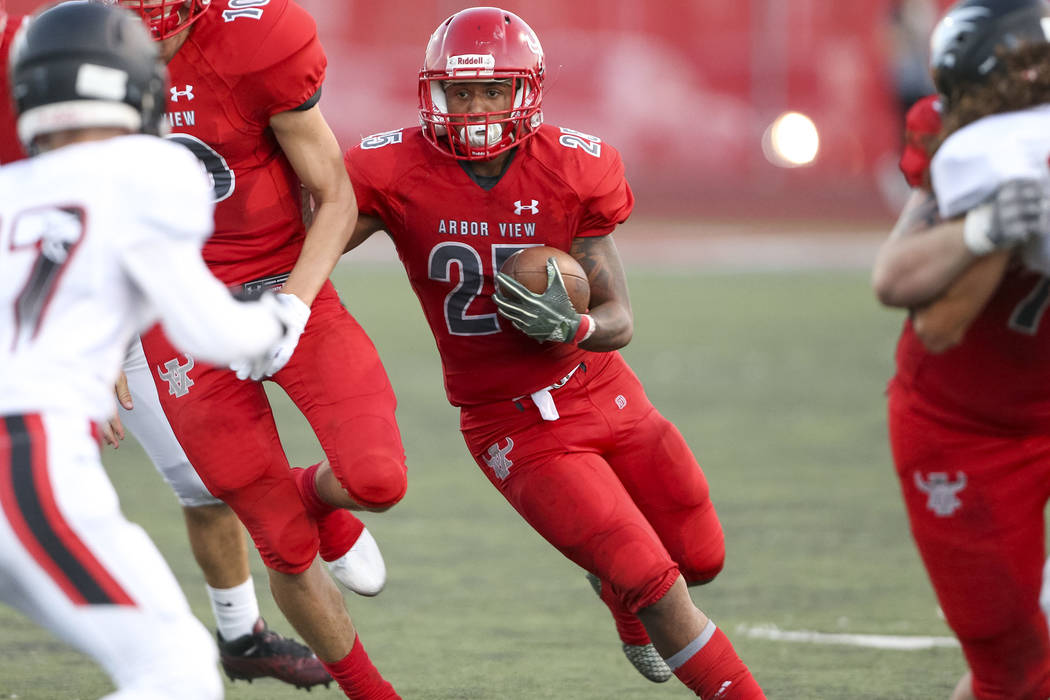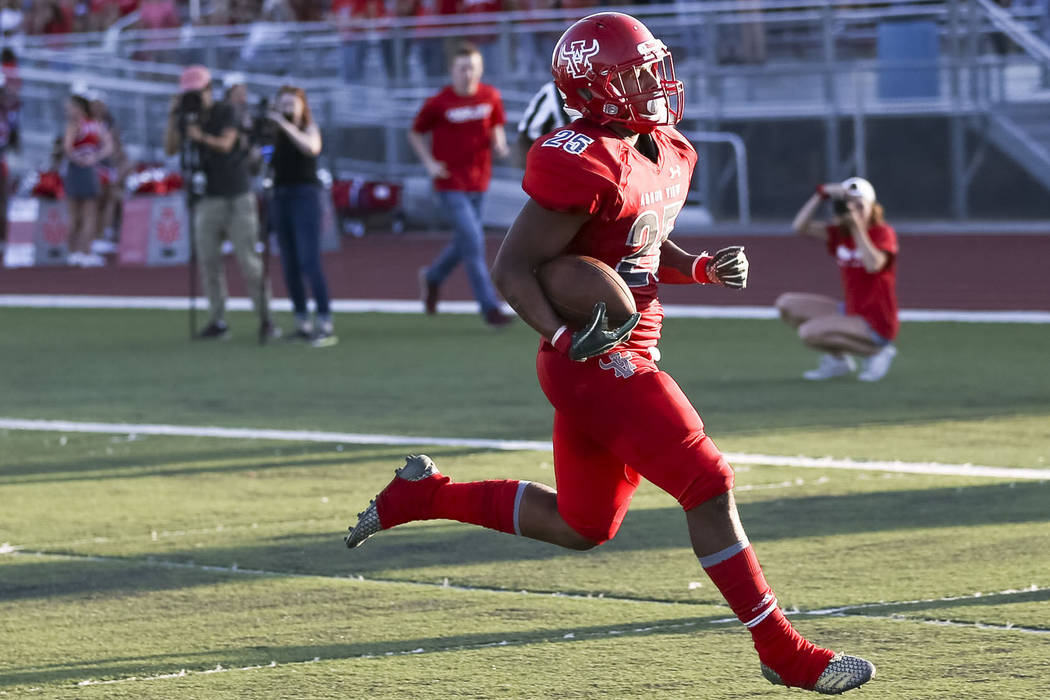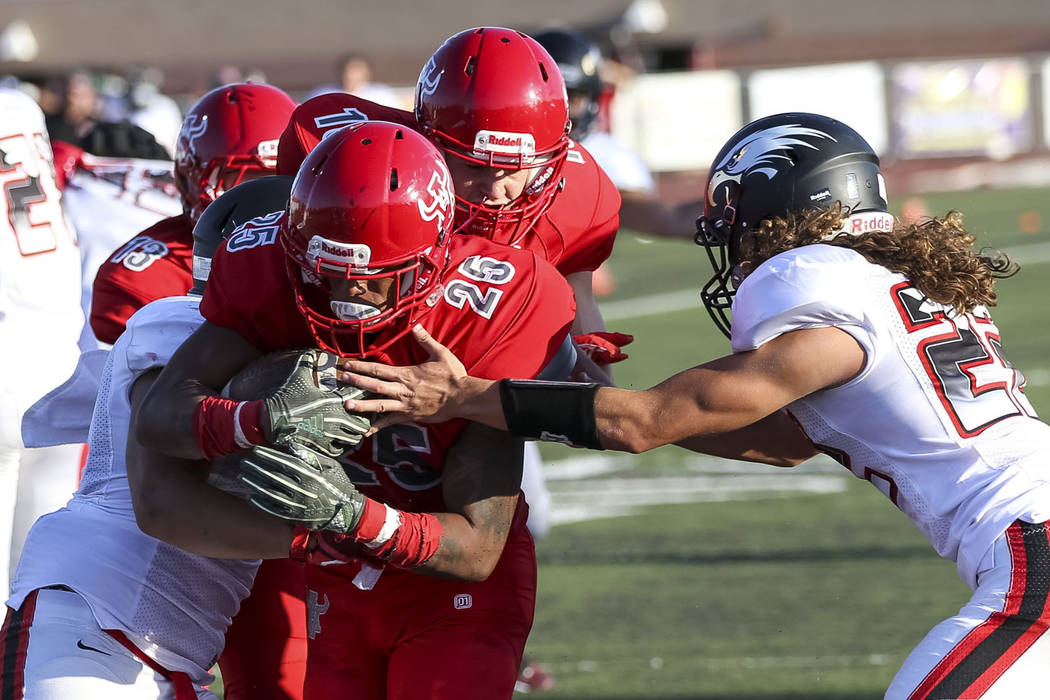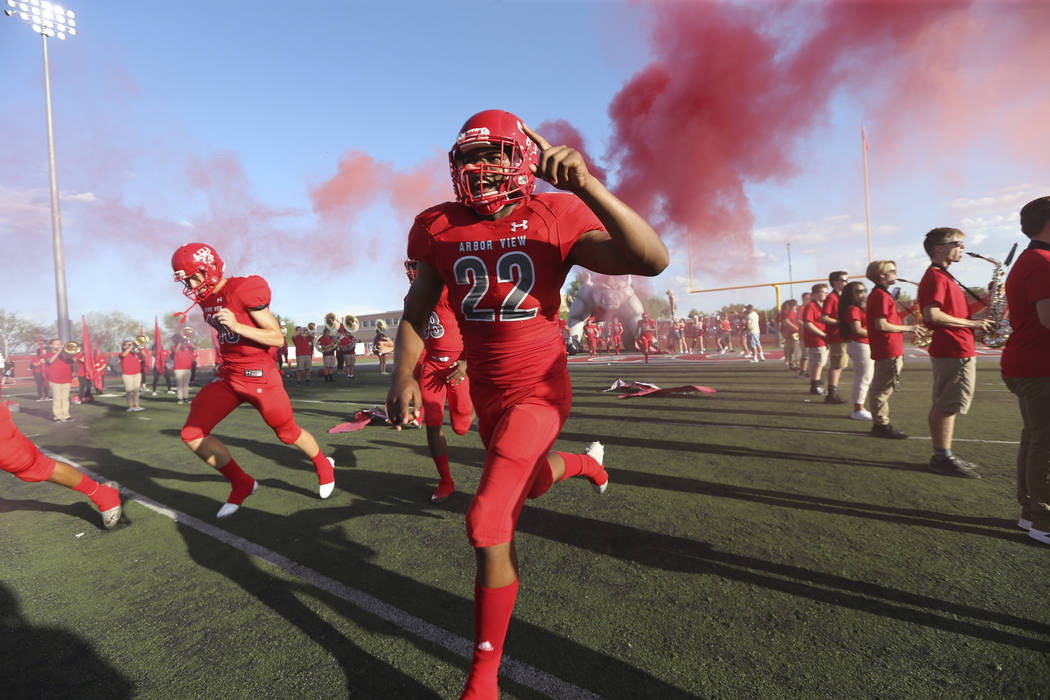 With a 6 p.m. kickoff Friday night, Arbor View had the honor of playing Southern Nevada's first game of the high school football season.
The Aggies made sure it wasn't a game for long.
Kyle Graham returned the opening kick 85 yards for a touchdown, the first of five TDs for the senior, and Arbor View rolled to a 60-13 home win over Valley View (California).
"Honestly, when I first got back there I was a little nervous," Graham said of the opening kick. "But as soon as I saw the ball in the air and I finally got to touch the ball, everything slowed down. After that, my team just got hyped and we set the tone after that."
Arbor View coach Dan Barnson said Graham's return helped the Aggies settle in for the opener.
"As a program, you're a little nervous," Barnson said of the first game. "And 10 seconds later you're up 6-0."
Graham was nearly unstoppable, scoring four rushing touchdowns on just seven carries. He finished with 115 rushing yards.
"Bubba was impressive," Barnson said. "But you know what? Bubba was impressive because there were 10 other guys on the field."
Graham had three touchdowns in the first five minutes and finished with four TDs in the first quarter. He scored on runs of 5 yards, 1 yard and 30 yards in the quarter.
His 30-yard TD run with 3:05 left in the quarter gave the Aggies a 35-0 lead and triggered the running clock.
"I think we had a running clock in the first quarter," Barnson said. "I didn't anticipate that."
Arbor View ran just 15 offensive plays, scoring six offensive touchdowns. They racked up 268 yards for an average of 17.9 yards per play.
"We ran 15 plays the entire game," Barnson said. "And that's great, but it also kind of scares me because we want to get our offense out on the field and we want to work."
The Eagles briefly stopped the running clock after Jacob Barlage hit Sean Norwood for a 48-yard TD pass, the second scoring pass between the two. That cut the lead to 42-13 with 8:25 left in the third quarter.
But on the first play of the ensuing drive, Graham took the ball around the left side, cut back inside, shrugged off a tackler and completed a 52-yard touchdown run to make the score 48-13 and start the running clock again.
The Aggies also got a 55-yard fumble return for a touchdown from linebacker J.J. Tuinei and a 61-yard interception return for a score from Darius Harrison.
The defense also helped set up the offense with a short field, as the Aggies started four drives inside Valley View territory. Another drive started at the 50, and their worst field position was their 48.
"We've been working hard all summer prepping for this game, and I just think me and my boys came out here and we just balled out," Graham said.
More preps: Follow all of our Nevada Preps coverage online at nevadapreps.com and @NevadaPreps on Twitter.
Contact prep sports editor Damon Seiters at dseiters@reviewjournal.com or 702-380-4587. Follow @DamonSeiters on Twitter.