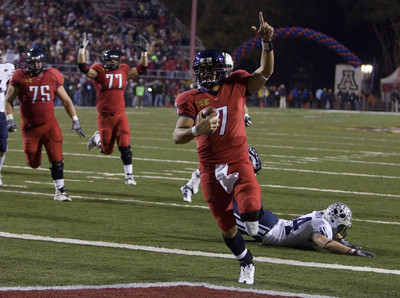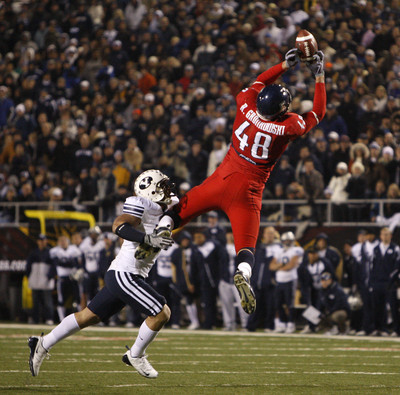 As Arizona went into the victory formation with 1:17 left, fans in the west-side stands chanted "U of A," and they later stormed the Sam Boyd Stadium field as the clock ticked all the way down.
They had waited 10 years for a bowl appearance.
The Wildcats did more than show up, they took full advantage of this opportunity Saturday night in defeating No. 17 Brigham Young 31-21 before a crowd of 40,047.
This was the rare Las Vegas Bowl that seemed to mean more to the Pacific-10 Conference team than the Mountain West Conference representative. Arizona coach Mike Stoops choked up at Friday's luncheon when he began to talk about his players.
No Arizona tears were shed Saturday, just a field full of confetti-covered players hugging and whooping up the Wildcats' first postseason victory since defeating Nebraska 23-20 in the 1998 Holiday Bowl, also the last time they posted a winning record until finishing 8-5 with this victory.
"Until you clear that hurdle, it's going to be there," Stoops said. "It lingered, and it was a very stressful month for us. I'd be lying to tell you it wasn't. There was a lot of pressure put on us by a lot of people and a lot of media. For our kids to handle that, it showed the poise, the toughness that you need to win against good football teams under pressure."
Wildcats quarterback Willie Tuitama was named the game's Most Valuable Player after completing 24 of 35 passes for 325 yards and two touchdowns. He also rushed for a score.
Tuitama's best work came after BYU took its first — and, it turned out, only — lead in going ahead 14-10 early in the third quarter.
He threw a 37-yard touchdown pass to wide receiver Delashaun Dean, who was open by about 15 yards, for a 17-14 advantage midway through the third quarter.
With 25 seconds left in the third, Tuitama connected with halfback Chris Gronkowski for a 24-yard touchdown and 24-14 lead. Tuitama's 6-yard run with 6:09 left in the game ended most doubts at 31-14.
"When they took the lead, we said that we have to get it back," Tuitama said. "That's the kind of people we have on our offense. If they're going to score, we're going to score."
There also was a measure of revenge for the Pac-10. Arizona had lost three consecutive games to Mountain West schools, and the MWC was 6-1 against the Pac-10 this season before Saturday.
"We have an excellent conference," Stoops said. "We got a little tired of hearing about the Mountain West."
BYU had beaten the Pac-10 representative the past two years in this bowl, but the Cougars were Mountain West champions both times. This time, they are third in the conference while league champ Utah prepares for the Sugar Bowl against Alabama and runner-up Texas Christian readies for a Poinsettia Bowl matchup against unbeaten Boise State.
"After finishing the third straight season with 10 wins, it just doesn't quite feel like we've done enough," BYU coach Bronco Mendenhall said.
The Cougars fell woefully short in their three biggest games this season. Quarterback Max Hall, who was spectacular in other games, committed a combined 13 turnovers against TCU, Utah and Arizona.
"I have so much to learn from and work on to be the kind of quarterback I want to be," said Hall, who completed 30 of 46 passes for 328 yards but threw an interception and lost two fumbles. "I'm really looking forward to next year.
"We can't be too disappointed with a 10-3 season. It was a good season, but not the type of season we wanted."
Contact reporter Mark Anderson at manderson@reviewjournal.com or 702-387-2914.
ARIZONA — 31 BRIGHAM YOUNG — 21
• KEY: Willie Tuitama passed for 325 yards and two touchdowns and ran for a touchdown for the Wildcats.
ON THE WEB
View the slideshow
Watch the video