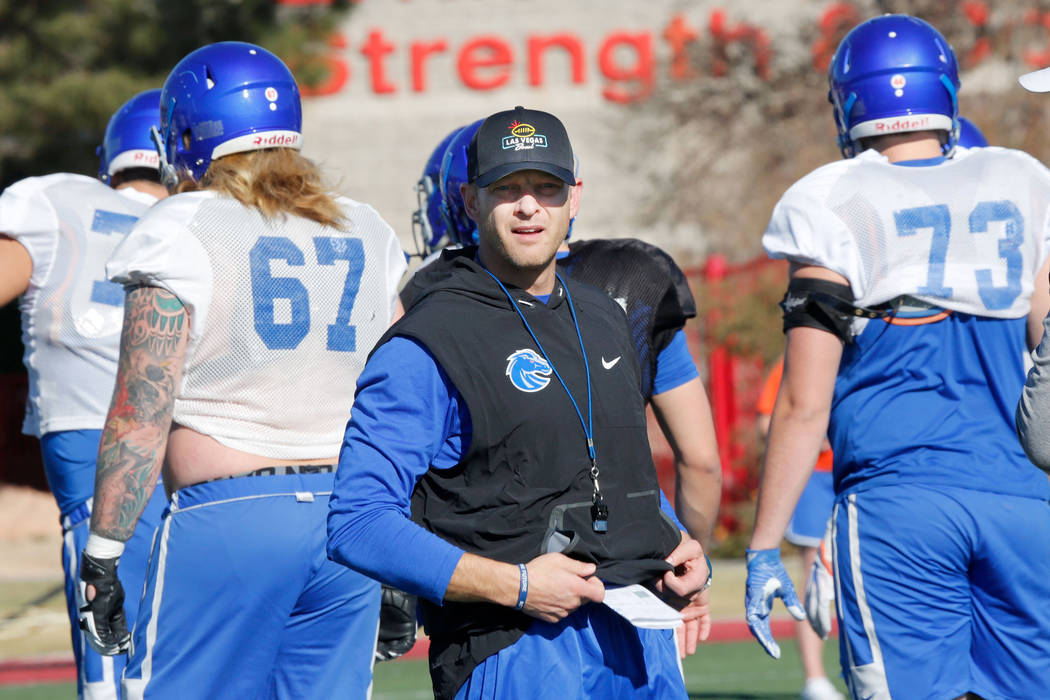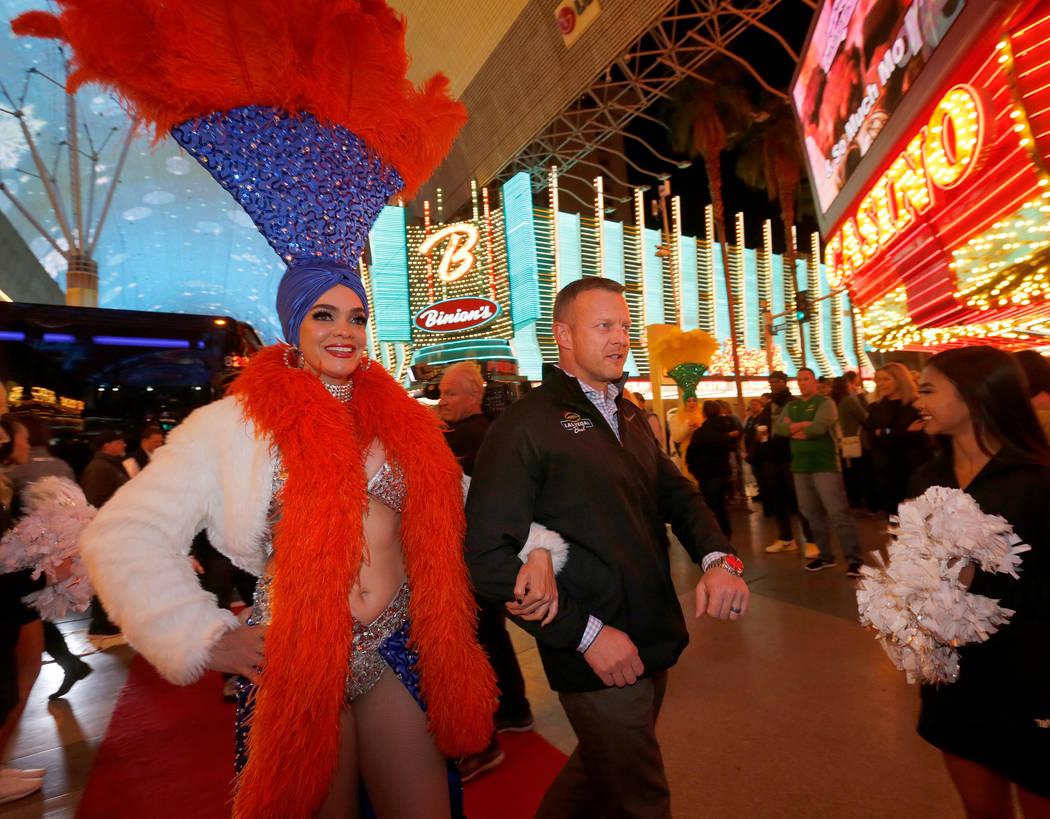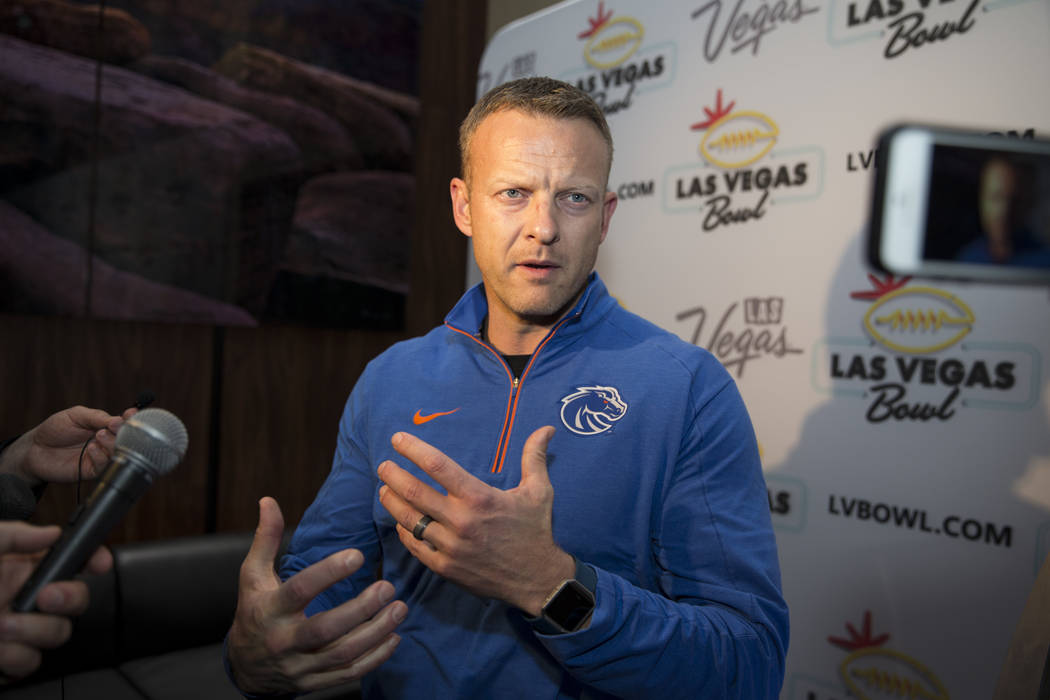 Boise State opened the football season with an uninspired 24-13 victory over Troy, but the worst was to come in Week 2.
The Broncos went to Washington State and took a 31-10 lead in the fourth quarter only to give it up and lose 47-44 in triple overtime.
For a proud program that was three years removed from its most recent conference championship, Boise State found itself at a crossroads. And so did coach Bryan Harsin, who still operates in the shadow of current Washington coach Chris Petersen, who turned the Broncos into a national brand.
Harsin let the players know they couldn't assume any game was won.
"We had to go back to what we talked about all year, and that was finishing," tight end Jake Roh said. "That's something we obviously didn't do in that game."
Boise State's turnaround didn't begin immediately, but its season didn't get away, either. The Broncos (10-3) won eight of nine games, cracked the rankings at No. 25 and claimed the Mountain West championship with a 17-14 victory over Fresno State on Dec. 2.
They will play Oregon (7-5) at 12:30 p.m. Saturday in the Las Vegas Bowl at Sam Boyd Stadium.
Harsin, 41, isn't a stranger to the elevated expectations. He played quarterback at the school in the late 1990s, served on the staff from 2001 to 2010, when the Broncos won eight conference championships, and was Petersen's offensive coordinator for five years.
After serving as co-offensive coordinator at Texas in 2011 and 2012 and head coach at Arkansas State in 2013, Harsin returned to his alma mater and immediately led the Broncos to a 12-2 record, Mountain West title, victory over Arizona in the Fiesta Bowl and No. 16 national ranking.
But then the Broncos went 9-4 and 10-3 with no conference titles, a proverbial walk in the wilderness for Boise State fans. It was the same for the coaches and players, and Harsin made it clear at the Mountain West media days in July at The Cosmopolitan of Las Vegas that such results were unacceptable.
"Did we win a championship?" Harsin said at the time. "Did we win a bowl game? Did we win all of our games? Isn't that the purpose of trying to put all this time in? If guys are disappointed in not achieving everything, that's OK. That's real life."
Now, for Boise State, all seems right in the world again with the Broncos sitting atop the Mountain West.
"We weren't satisfied with what happened," Harsin said this week. "What we learned from last season has led us to where we are right now, and I think our guys put a lot of work in to be where we are. I think our guys overcame quite a bit throughout the season with a fairly young team to be in that championship game, to find a way to win it and to be in this bowl game right now.
"We're still not done. We still want to finish."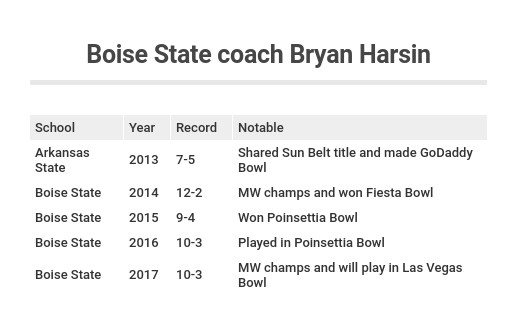 ADD CAPTION/CREDIT
Contact Mark Anderson at manderson@reviewjournal.com. Follow @markanderson65 on Twitter.