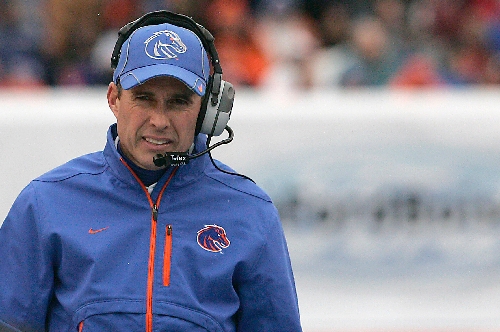 HONOLULU — A month ago, the MAACO Bowl Las Vegas wouldn't have dared to dream of a matchup between Boise State and Utah.
Going into games on Nov. 6, Boise State was ranked No. 2 in The Associated Press poll and No. 4 in the Bowl Championship Series, and Utah was close behind at No. 6 in AP and No. 5 in the BCS.
The Broncos and Utes had far grander goals in mind then. But look where they ended up: headed to Las Vegas for the holidays.
Tenth-ranked Boise State (11-1) on Sunday accepted an invitation to play No. 20 Utah (10-2) in the annual game Dec. 22 at Sam Boyd Stadium. The Utes accepted their invitation Wednesday.
"I think it's the one of the best matchups next to the top-tiered bowls," executive director Tina Kunzer-Murphy said.
It's the type of matchup that could create a quick sellout.
"People have already been calling," Kunzer-Murphy said. "We have a lot of local interest."
Bowl directors often say things like that, but the facts support Kunzer-Murphy. Boise State, which will join the Mountain West Conference in 2011, was officially under consideration for a BCS game until being released Sunday.
In reality, the high-powered Broncos lost their chance for a BCS berth with a 34-31 overtime loss at UNR on Nov. 26. That dropped them out of national championship contention and the BCS altogether.
Though Boise State missed its goal to be the first team from a non-automatic qualifying conference to play for a BCS title, coach Chris Peterson sounded happy to be Las Vegas-bound to play a team that will join the Pac-10 Conference next year.
"We're really excited about it," he said. "It fits very much with what we were hoping for.
"To cap it off we have a very, very good opponent. That may be the most important thing. The respect we have for Utah, certainly their bowl record. The one thing about players is they always want to play good teams."
Utah has won nine straight bowl games, the longest active streak in major college football and the second-longest ever.
"Until a week ago, the Broncos were in the mix for the national championship, so this game will have a lot of national as well as regional interest," Utah coach Kyle Whittingham said in a statement.
"Not many bowls outside the BCS games will feature teams with the kind of success Boise State and Utah have experienced in recent years."
As late as Friday, Boise State was a long shot for the MAACO Bowl. The Broncos appeared headed to San Francisco for the Kraft Fight Hunger Bowl, while UNR seemed ticketed for Las Vegas. UNR-Utah would have been an acceptable matchup to Kunzer-Murphy, she said.
The picture changed Saturday when UNR accepted a bid to the San Francisco game, freeing up Boise State. Even though UNR defeated the Broncos, Kunzer-Murphy jumped at a chance to invite Boise State, which has a higher national profile.
It helped that the Broncos are one of the nation's most exciting teams, averaging 46.7 points behind record-setting junior quarterback Kellen Moore. They won a share of the Western Athletic Conference title with a 50-14 home victory over Utah State on Saturday.
"I know Boise State wanted to come here," Kunzer-Murphy said. "We had many conversations with them. This is their preference."
The Broncos also feature a tough-nosed defense that includes tackle Billy Winn, a Las Vegas High School product.
Contact reporter Mark Anderson at manderson@reviewjournal.com or 702-387-2914. The Associated Press contributed.
MAACO BOWL LAS VEGAS
No. 10 Boise State (11-1)vs. No. 20 Utah (10-2)
Dec. 22, 5 p.m., ESPN
LINE: None
BCS BOWLS
ROSE BOWL
No. 3 Texas Christian (12-0) vs.No. 4 Wisconsin (11-1)
Jan. 1, 2 p.m., ESPN
LINE: Pick; total 53
FIESTA BOWL
No. 25 Connecticut (8-4) vs.No. 9 Oklahoma (11-2)
Jan. 1, 5:30 p.m., ESPN
LINE: OU -17; total 55
ORANGE BOWL
No. 5 Stanford (11-1) vs.
No. 12 Virginia Tech (11-2)
Jan. 3, 5:30 p.m., ESPN
LINE: Stanford -3; total 54
SUGAR BOWL
No. 6 Ohio State (11-1) vs.
No. 8 Arkansas (10-2)
Jan. 4, 5:30 p.m., ESPN
LINE: OSU 2; total 57
BCS CHAMPIONSHIP
No. 1 Auburn (13-0) vs.No. 2 Oregon (12-0)
Jan. 10, 5:30 p.m., ESPN
LINE: Auburn -1; total 74