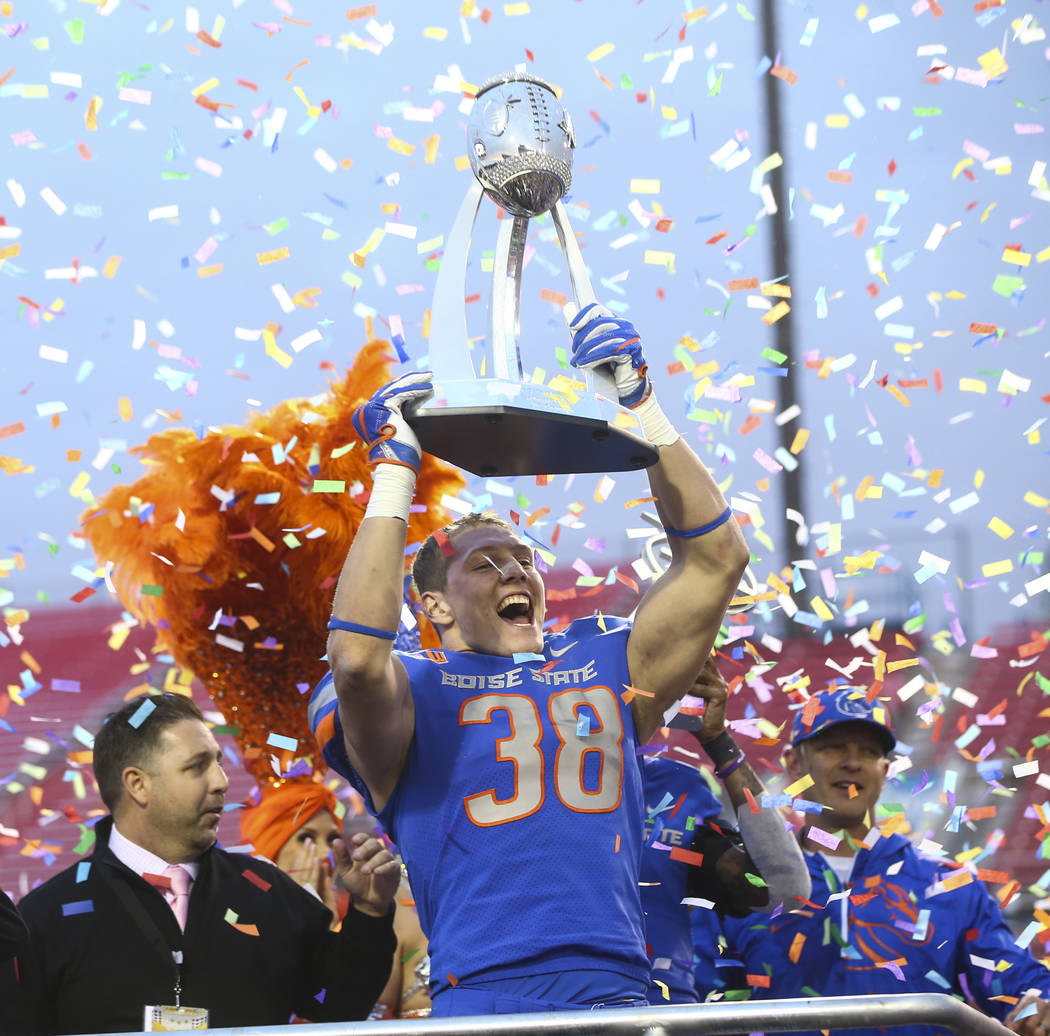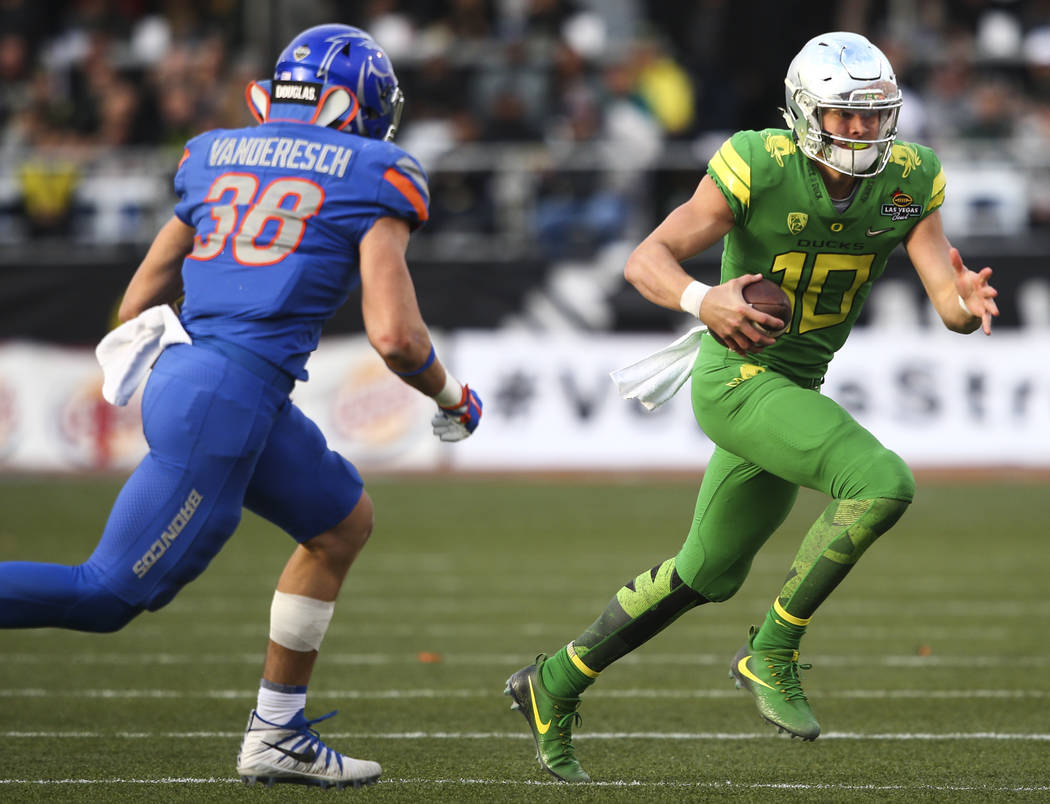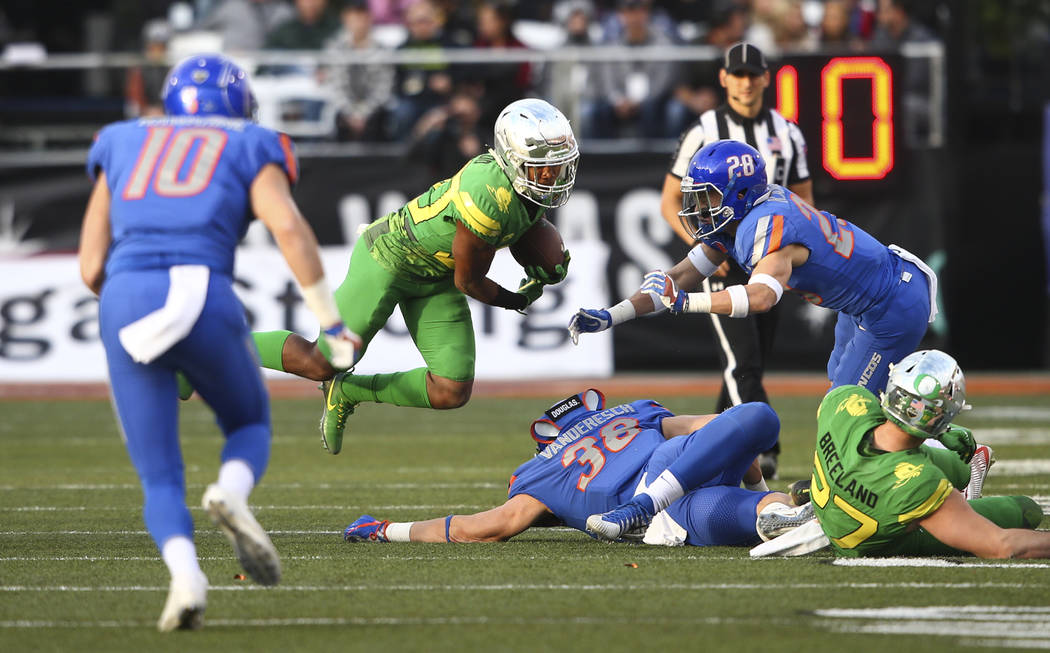 Boise State's defense heard all week how explosive Oregon's offense was when Justin Herbert played under center. The Broncos were well aware of the Ducks' top rushing attack and dominant offensive line.
Oregon's offensive stats didn't look as pretty after the Las Vegas Bowl on Saturday. Boise State linebacker Leighton Vander Esch was a major reason the Ducks' numbers took a drastic dip.
The Mountain West Defensive Player of the Year created havoc at Sam Boyd Stadium with a game-high 12 tackles to lead Boise State to a 38-28 victory. Vander Esch was a matchup nightmare for the offensive line and was in Herbert's face for most of the game.
"Going into the game, we had a lot of respect for them," said Vander Esch, who had three tackles for loss and a sack. "They have playmakers all around the field. To have a performance like that against that kind of offense is pretty special."
Before Las Vegas, Oregon was averaging 52.0 points when Herbert started at quarterback. But the Ducks' offense generated only 14 points against the Broncos.
Oregon had 77 yards of total offense in the first half, but received help from the defense when it scored two touchdowns before halftime.
"He's (Vander Esch) a really athletic guy," said Herbert, who threw for 233 passing yards, two touchdowns and two interceptions. "He played a great game. He's so tough to block."
Vander Esch, a junior, said he hasn't decided whether he will skip his senior season and enter the NFL draft early. He emerged as a top pick after recording 129 tackles, three sacks, three forced fumbles and three interceptions in the regular season.
Green Valley's Crosby to auction No. 58 jersey
Oregon star left tackle Tyrell Crosby gave his No. 58 jersey to Las Vegas Bowl executive director John Saccenti and asked him to auction it to raise money for the victims of the Oct. 1 shooting on the Strip.
Crosby, who signed the jersey, changed his number from 73 to 58 for the bowl to honor the victims. He graduated from Green Valley High and is projected to be a midround pick in the NFL draft.
"He's been an absolute class act the entire time, from switching his number to 58 to coming up with this idea," Saccenti said. "He's embraced coming home."
Broncos show dance moves on opening drive
Boise State's skill players tried to outshine the Las Vegas showgirls with a nifty in-game dance move during the first quarter.
On the 13th play of the opening drive, Broncos tight ends John Bates, Matt Pistone, Alec Dhaenens and running back Ryan Wolpin spun around at the same time before the ball was snapped. Quarterback Brett Rypien threw the ball behind the line of scrimmage to Wolpin as the three tight ends blocked.
The unique play call worked, as Wolpin found the end zone on a 1-yard run to give Boise State a 7-0 lead.
Boise State wideouts are dance majors pic.twitter.com/kNI8xIk1Tx

— Will Brinson (@WillBrinson) December 16, 2017
Defense accounts for Oregon's points in first half
The Ducks made it interesting when they scored two defensive touchdowns in 30 seconds during the final minute of the first half.
With Oregon trailing 24-0, Troy Dye recovered a fumble and returned the ball 86 yards for a TD, the longest fumble return in Las Vegas Bowl history.
Tyree Robinson then matched his teammate with a 100-yard interception for a TD.
Broncos' Harsin continues success against Pac-12
Bryan Harsin improved to 5-1 against Pac-12 opponents since he took over as Boise State coach in 2014.
Harsin's loss was this season when the Broncos fell to Washington State 47-44 in overtime.
Boise State is 12-14 all time against the Pac-12 and 12-6 since 2004. The Broncos are 3-0 against the Ducks.
Contact Gilbert Manzano at gmanzano@reviewjournal.com. Follow @GManzano24 on Twitter.