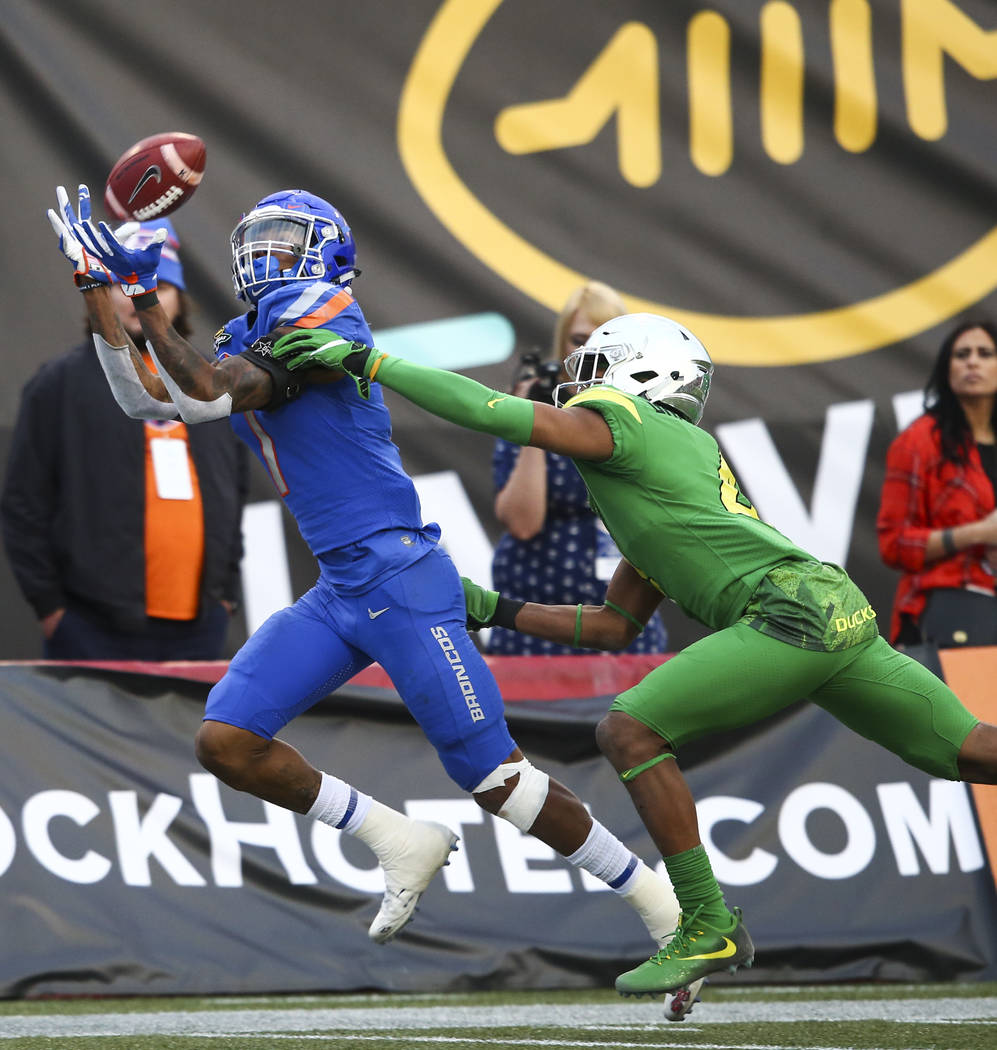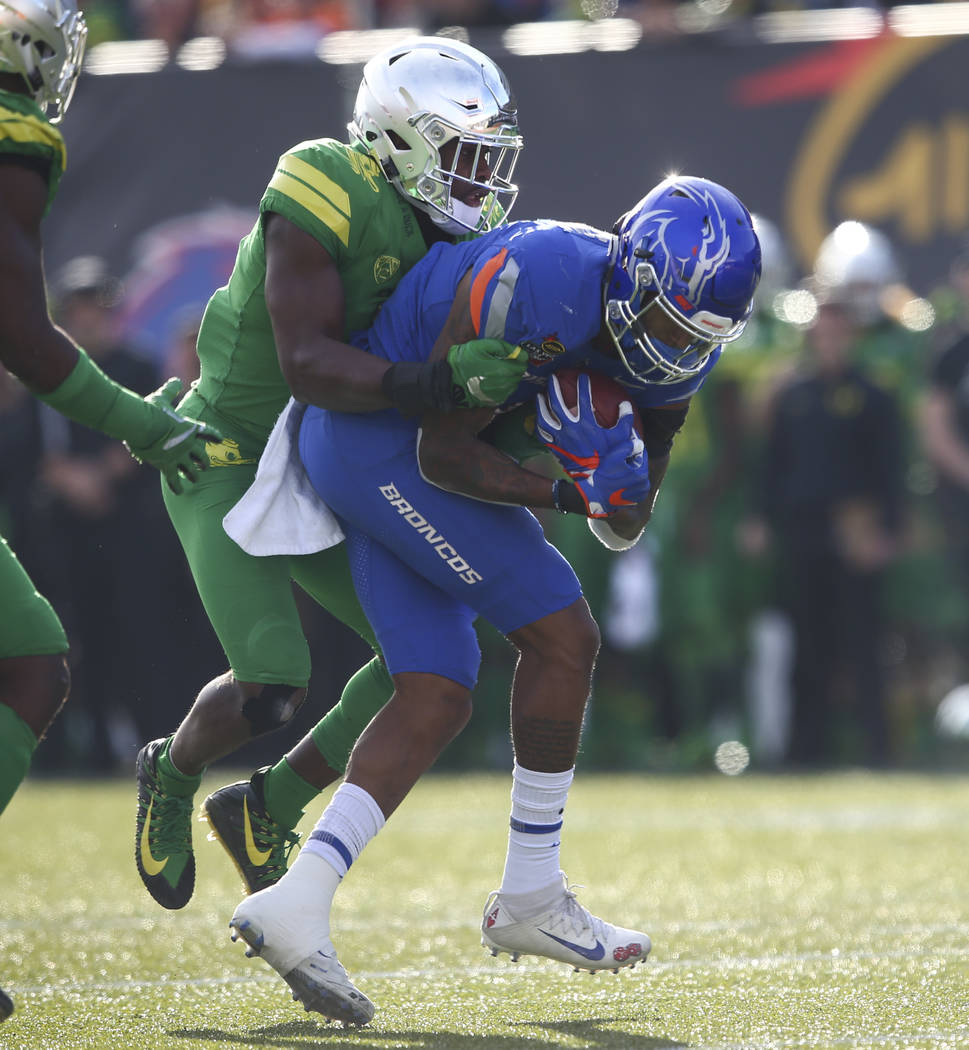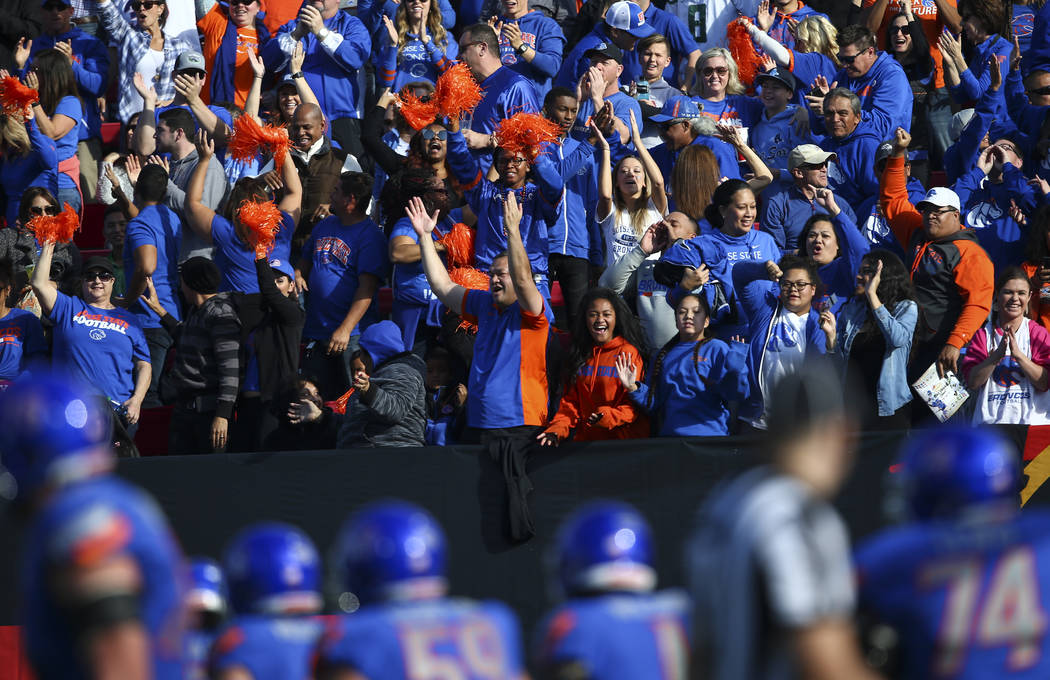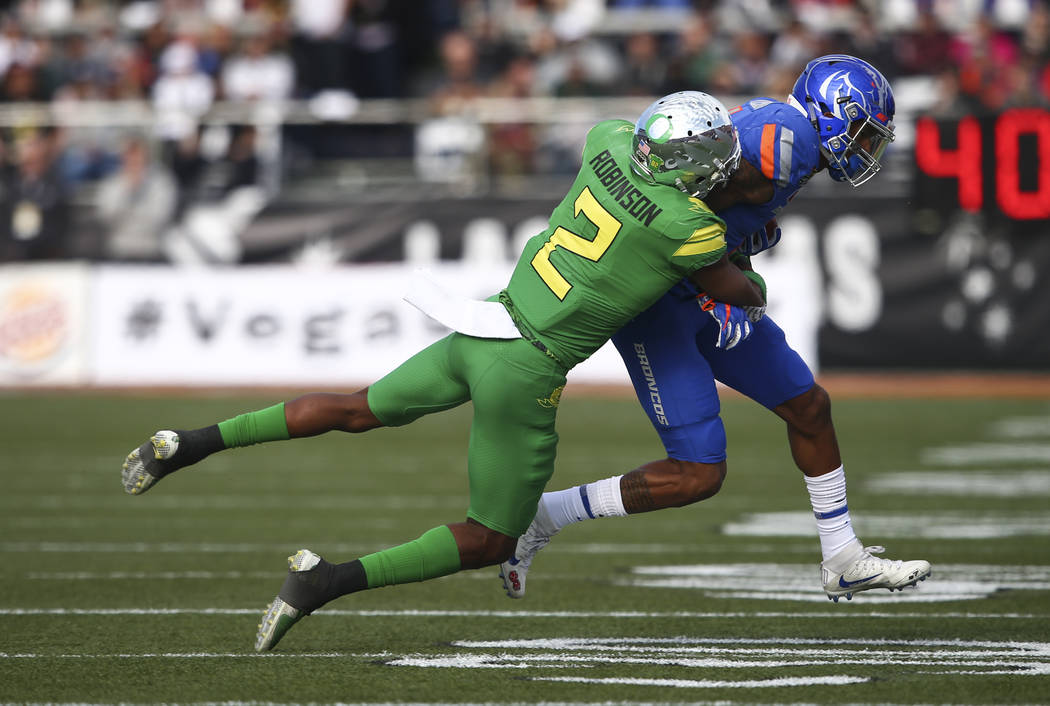 In August at the end of training camp, Boise State senior wide receiver Cedrick Wilson became emotional as he talked about this being his final shot at a Mountain West title.
"You can just tell a guy like that who has emotion for the game," Boise State linebacker Leighton Vander Esch said. "You can tell it means something to him. I heard him say that, and it lit a fire under me like let's go."
The 25th-ranked Broncos got going and won the conference championship, and then with Wilson making big plays on Saturday defeated Oregon 38-28 in the Las Vegas Bowl at Sam Boyd Stadium.
Playing noticeably hurt — he later told the Idaho Statesman both ankles were injured — Wilson caught 10 passes for 221 yards and a touchdown and was named the game's MVP. His yardage total was second in bowl history to the 241 yards Arizona State's Gerell Robinson totaled against Boise State in 2011.
"It was hard on my body," Wilson said. "I remember what (coach Bryan) Harsin said, 'Play for the guy left and right of you,' and the pain started to ease."
Wilson knows what it's like to fight for an opportunity. He was a standout high school quarterback in Memphis, Tennessee, but didn't receive any major college offers and headed to Coffeyville (Kansas) Community College and turned himself into a receiver.
Two years later, he got his chance at Boise State after becoming a junior college All-American.
And two years after that, he leaves with 139 receptions for 2,640 and 18 touchdowns. With his performance against the Ducks, Wilson set Boise State's single-single record with 1,511 yards, surpassing the 1,412 that Thomas Sperbeck posted in 2015.
"Here's a guy that's done nothing but show up from Day One, prepare himself, do things right in the classroom consistently day after day, take care of business off the field, be a leader, be an example, practice as hard as he plays consistently every single time," Harsin said. "We'll miss that. When you have people like that in your building or you work around people like that, they inspire you."
Wilson did more than rack up big numbers. He also made catches when the Broncos most needed them.
His catch late in the fourth quarter all but put away the game. The Broncos, who led 31-21, faced a third-and-seven at Oregon's 48-yard line. Quarterback Brett Rypien found Wilson, who beat Oregon cornerback Thomas Graham Jr. down the right sideline for a 41-yard completion.
"We were talking in the huddle we were going to take a shot," Wilson said. "I don't think they were really expecting it. Brett threw almost a perfect ball. I couldn't ask for a better one, and it was my job to catch it."
Boise State scored three plays later.
"(Wilson) made some big plays today in critical situations," Oregon coach Mario Cristobal said. "Changed the game when we had an opportunity to get off the field."
Contact Mark Anderson at manderson@reviewjournal.com. Follow @markanderson65 on Twitter.