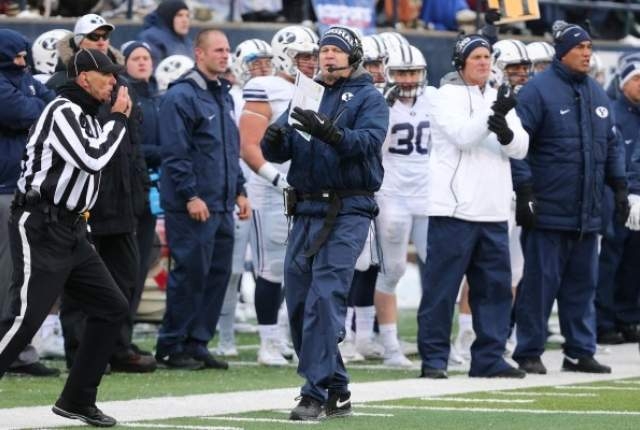 Within 12 hours of Mountain West commissioner Craig Thompson saying Monday he didn't expect the Las Vegas Bowl to take one of his teams and instead go with Brigham Young, the game sold nearly 1,000 tickets.
That's when bowl executive director John Saccenti knew he wanted to end the suspense and invite BYU, but wasn't sure he could until Sunday.
Then BYU mistakenly sent out one an email blast on Wednesday morning saying the Cougars had been invited to the bowl, exciting fans and causing Saccenti's phone to ring at 4 a.m. He called an emergency teleconference with the bowl committee and conferred with ESPN and the Las Vegas Convention & Visitors Authority.
Then, finally, he could extend the invitation to BYU.
"I'm ecstatic," Saccenti said. "With the tight turnaround between selection Sunday and when our teams arrive, these extra couple of days make all the difference in the world not only from selling tickets, but from all team operations, team logistics and hotel operations."
The Cougars (9-3) will play in the Dec. 19 game at Sam Boyd Stadium against the bowl's sixth choice of the Pac-12 Conference. That team will be named Sunday.
This will be BYU's first appearance in the Las Vegas Bowl since 2009 when the Cougars made the last of five consecutive trips to this postseason game. All were sellouts.
"We are thrilled to be returning to Las Vegas to play in the Royal Purple Las Vegas Bowl," BYU athletic director Tom Holmoe said in a statement. "We have a great history and relationship with Las Vegas. They have been very good to us over the years."
Who will the Cougars play?
Should Stanford beat Southern California in Saturday Pac-12 championship game, Saccenti said he expected the possible teams for Las Vegas to be USC, UCLA, Utah and California. If the Trojans win, the potential schools would be Utah, UCLA, Cal and Washington State.
Saccenti said he was told by the Pac-12 that Utah probably wouldn't be interested in facing the Cougars. A Utah spokeswoman said by email the Utes hoped to be invited to a game higher on the Pac-12's list of bowls, but wouldn't turn down an invitation to Las Vegas to play BYU.
No matter the opponent, BYU coach Bronco Mendenhall said he was thrilled to be able to compete in this bowl.
"I am proud of this team and what we have accomplished this year," he said in a statement. "We are excited to build on that success by striving to achieve our 10th win of the season, while playing in a bowl game for an 11th straight year."
Saccenti was happy as well, and he could thank a certain Mountain West commissioner.
"Once Craig said he expected that to happen, I think there were a lot of savvy fans out there that assumed that, A, he knew something and, B, the obvious choice would be BYU," Saccenti said.
— Contact Mark Anderson at manderson@reviewjournal.com or 702-387-2914. Follow him on Twitter: @markanderson65