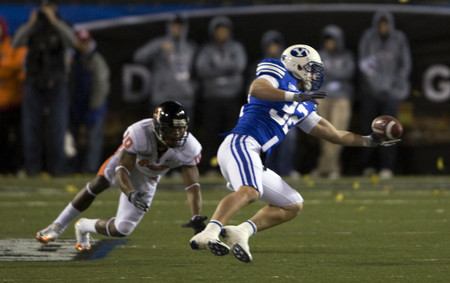 They made a movie about wind in the early 1990s, about a couple of experienced sailors determined to win the America's Cup yacht race.
It's safe to say some of the blustery conditions on the big screen had nothing on those whipping through Sam Boyd Stadium on Tuesday evening.
Football players are not judged by wind-aided times, but those from Brigham Young proved far better at handling consistent gusts that reached 55 mph, being rewarded with a 44-20 victory against Oregon State in the MAACO Bowl Las Vegas.
"The wind affected us," Oregon State coach Mike Riley said. "I can't remember being part of a game with it like that. They handled it better than we did. They executed better in it. We pride ourselves on being a team able to play in different conditions. But they were better at it than us."
If one drive defined BYU's victory, it came midway through the first quarter and the Cougars trailing 7-0. They went 84 yards into the wind over 14 plays, scoring on Harvey Unga's 1-yard run.
A tone was set.
Momentum shifted.
"I thought the way we moved the ball that drive, methodically, chunk by chunk on the ground and through the air, was really important," BYU coach Bronco Mendenhall said. "That's how we tried to play the entire game."
Gusts?
In the second quarter, Oregon State offered two punts that each traveled 6 yards. BYU turned one of them into a touchdown.
The Beavers are also big on advancing the ball through a passing game that often matches wide receiver James Rodgers one-on-one for deep outs, but the wind never allowed for many of those chances.
Rodgers caught four passes for 30 yards, while his record-breaking brother (Jacquizz) rushed 18 times for just 63 yards and a touchdown.
BYU answered with that methodical approach of underneath and shorter routes, getting the ball quickly out of quarterback and game MVP Max Hall's hands.
It was as close as close gets on the final stat sheet, BYU owning slight edges in total yards (308-305) and time of possession (30:03-29:57). It wasn't that close when it came to who best reacted when the winds howled.
"It was the same for both teams," Beavers quarterback Sean Canfield said. "We knew about the wind in warm-ups and had it handled. It wasn't an issue.
"We had a few good plays early and in spurts throughout the game, but never got into any kind of rhythm. Their defense played great."
Las Vegas Review-Journal sports columnist Ed Graney can be reached at 702-383-4618 or egraney@reviewjournal.com.
View the slide show