Carter gives Utah many happy returns in Las Vegas Bowl victory
December 20, 2015 - 2:25 am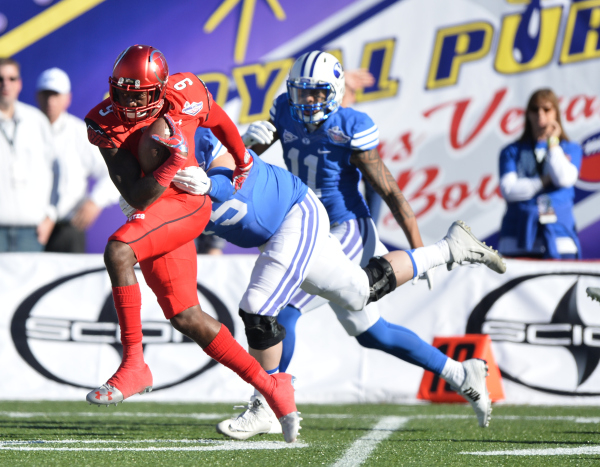 Tips are always appreciated in Las Vegas, and Utah safety Tevin Carter was the recipient of two big ones in the No. 20 Utes' 35-28 victory over rival Brigham Young in the Las Vegas Bowl on Saturday at Sam Boyd Stadium.
Carter picked off a pair of tipped passes by Tanner Mangum to help Utah take a 35-0 lead in the first quarter, when the Utes converted five Cougars turnovers into touchdowns, prompting ESPN announcer Brent Musburger to quip, "I really feel sorry for my Mormon friends at BYU, they don't drink. This game would drive you to it."
Carter, a sixth-year senior who was limited by injuries to just four games last season, returned his first interception 28 yards for a TD to make it 14-0, then returned his second pick 34 yards to the 1-yard line to set up a score by Joe Williams that put Utah (10-3) ahead 21-0 less than six minutes into the game.
"I had a hard time at times this year catching the ball, so this was a big game for me," Carter said. "The first one, Reggie Porter made a great play on the ball and I was there to make it, and the second one, Jason Fanaika made another tip and I was just there again to make the play. So all the credit goes to my teammates."
Named the game's Most Valuable Player, the 6-foot-1-inch, 215-pound Carter doubled his career interception total after coming up with two last season in wins over Michigan and UCLA. Carter returned an interception for a TD against the Bruins before suffering a season-ending groin injury.
After receiving a waiver from the NCAA for his sixth year of eligiblilty after repeated denials, Carter made the most of his final college season, finishing fourth on the team in tackles (56) before helping the Utes clip the Cougars (9-4).
"Tevin is a tough, talented football player. He's got football ahead of him, I don't think there's any doubt about that, in the future," Utah coach Kyle Whittingham said. "He did go through adversity when he was here, injuries and things and we tried to get the waiver for that last year that we weren't sure that was going to happen.
"He just kept hanging in there. All he wants to do is work hard and get better. He's very coachable, he's a tremendous talent and it was great to see him have the game he had (Saturday) and come away with that MVP trophy."
Following Carter's second pick in less than two minutes, Dominique Hatfield scored on a 46-yard interception return to make it 28-0 midway through the opening quarter. Kylie Fitts forced a fumble on BYU's first drive of the game and Gionni Paul recovered it to set up Utah's first TD.
The Utes finished the season ranked in the nation's top 10 in interceptions (22) and turnovers gained (34).
"I think we're the best defense in the Pac-12 this year and it was great to see those guys really shine today," Whittingham said. "Those plays weren't gift-wrapped. We forced those takeaways and those turnovers. That's just our defense flying around. We had great pressure on the quarterback."
The Los Angeles city champion in the 200-meter dash (21.21 seconds) and first-team all-city in football his senior year at Santee High School, Carter was recruited to play wide receiver at California, where he redshirted before leaving to play safety at L.A. Southwest (Junior) College.
"I was a receiver but I really didn't like it that much," he said. "I'm physical. On defense, I can just freelance and play football and that's what they allow me to do here. That's the reason I came here."
Utah fans are glad he did.
Contact reporter Todd Dewey at tdewey@reviewjournal.com or 702-383-0354. Follow him on Twitter: @tdewey33.