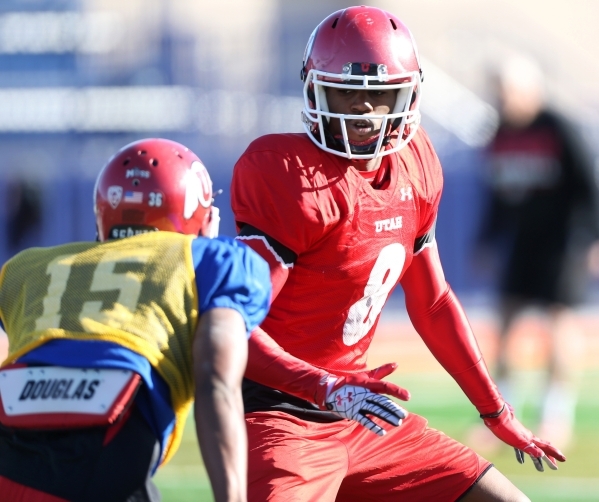 James "Bubba" Poole faced adversity in life earlier than most people.
The Utah senior running back and slot receiver, a Cimarron-Memorial High School graduate, was barely 1 year old when he was shot twice while lying in his cradle in his parents' home in North Las Vegas.
Poole was struck by one bullet in his rib cage and by another that ricocheted off the wall, entered the side of his stomach and exited his thigh.
The shots were fired during a struggle over a gun that was brought into the home by two men intent on stealing Poole's father's lowrider car.
"It didn't really go as planned, shots were fired and I ended up getting shot," Poole said. "I was the only one that got hurt and I wasn't even in the room. They were fighting in the hallway and I was in the room."
Poole said his mother, Jeanetta Edmond, didn't tell him the story behind his scars until he was in high school.
"I grew up in a tough part of Las Vegas," he said. "It's pretty tough over there. Not too many people make it out, due to gangs and violence. But I had a good, strong family to keep my head right. I was the only one to graduate college."
While Poole and his teammates on the No. 20 Utes (9-3) had had their sights set on playing in a more prestigious postseason game than Saturday's Las Vegas Bowl against rival BYU at Sam Boyd Stadium, the Las Vegas native is excited to be capping off his college football career in his hometown.
"It can't get much better for me than to play my last game back at home in front of my family and friends," said Poole, one of three Las Vegans on Utah along with redshirt freshman cornerback Casey Hughes (Legacy) and junior running back Marcus Sanders-Williams (Durango).
A late bloomer, Poole didn't emerge as one of Southern Nevada's leading rushers until his senior year, when he ran for 1,678 yards and 20 touchdowns for the Spartans.
Utah offered him a scholarship, but a low SAT score left him ineligible, so Poole went the junior college route. He enrolled at Saddlebrook College in Mission Viejo, Calif., where he crammed two years worth of classes into one and starred for the football and track teams.
"I knew I messed up in high school," Poole said. "My friends were going off to big (Division) I programs and I knew I slacked off, so I wanted to graduate early and get out of there and Utah was ready for me."
Poole has stayed on top of his studies at Utah, twice earning honorable mention Academic All-Pac-12 honors and already earning his bachelor's degree in communications while closing in on another degree in sociology.
On the field, the 6-foot-1, 197-pound Poole was the Utes' leading rusher in 2013 with a career-high 607 yards on 149 carries and two TDs. He also had 29 catches for 229 yards that season, when he had 186 all-purpose yards in an upset win over then-No. 5 Stanford.
With the emergence of star running back Devontae Booker, Poole's numbers have dipped the last two seasons, but he appeared in all 12 games this year (24 catches for 145 yards) while showcasing his versatility. He's listed as the starting slot receiver and backup running back for Saturday's game and also is on Utah's kick-return team.
"He is a guy who does so many things for our football team," Utes coach Kyle Whittingham said. "He's played receiver for us, he's a good running back and he's terrific on special teams.
"As a person, he's just top notch. I can't say enough good things about him as a person. He's humble, he's a hard worker, he's a leader for us and he's a good student."
About the only thing Poole can't do is get enough tickets to Saturday's game for his large group of family and friends.
"I tried to get as many tickets as I could but I came up short," he said. "I got 30 or 40 people coming out, although I needed 100."
While James is Poole's given name, just about everybody calls him Bubba.
"My family members, they all call me Bubba," he said. "I'm not even sure they know my real name."
Contact reporter Todd Dewey at tdewey@reviewjournal.com or 702-383-0354. Follow him on Twitter: @tdewey33