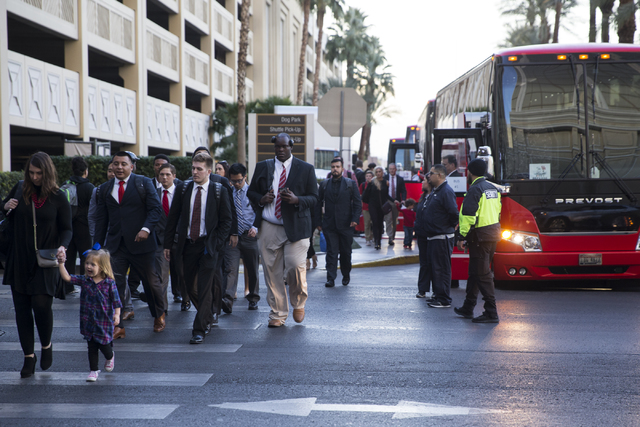 The Houston football team was greeted by an Elvis Presley impersonator in front of the Delano Las Vegas for its grand arrival Tuesday.
The throng of Houston players and staff smiled at the singing Elvis before rushing to the elevators for the team's first meeting of Las Vegas Bowl week. Houston faces San Diego State at Sam Boyd Stadium on Saturday.
One player was stopped from entering the elevator to do an interview. A 6-foot-7-inch gentleman in his late 20s walked over to the reporter. He appeared like he belonged on the basketball team as a graduate coach.
Turned out to be Houston's standout freshman punter.
Dane Roy is a 27-year-old from the town of Bunyip in Australia. He is a product of the ProKick Australia, a kicking school started by former Green Bay Packers punter Nathan Chapman. The Down Under program continues to grow and has led to many Australian punters joining college football teams.
"Oh, there's a lot more Australian punters coming," said Roy, who was an ice cream salesman before giving punting a try. "I've always wanted to come to Las Vegas, and it's pretty cool that football brought me here."
It's the third consecutive year an Australian punter will participate in the Las Vegas Bowl.
Utah's Tom Hackett played in the past two Las Vegas bowls. Hackett, the Ray Guy Award winner in 2014 and 2015, boomed six punts more than 42 yards against Brigham Young last year.
"He had a beautiful punt where he put BYU on the 2-yard line," Roy said. "Hopefully I can do the same this year. This is my first bowl game, so I'm just listening to all the experienced players."
Roy had 55 punts for an average of 40.7 yards this season. He recorded six punts of more than 50 yards and had 19 inside the 20-yard line.
The Ray Guy Award finalists, the honor given to the best punter in the nation, were all from Australia this year. Utah kept the streak going when sophomore Mitch Wishnowsky took the award. Ohio State senior Cameron Johnston and Texas sophomore Michael Dickson were the other candidates.
PALMER'S CONCERNS
College football analyst Jesse Palmer, who will be part of the ABC broadcast team for the Las Vegas Bowl, approves of Houston promoting Major Applewhite as its new coach. Palmer, however, has concerns about his coaching debut against San Diego State.
Tom Herman resigned as coach of the Cougars last month to take the position at Texas. Herman took nearly the entire coaching staff with him to Austin.
"I personally think it's a great hire to keep Major," Palmer said of the Houston offensive coordinator promoted last week. "It will be interesting to see what he can do with a coaching staff full of graduate assistants in his first game. These guys have been thrown into positional coaching positions. It's an interesting dynamic, and we'll see how that affects the team."
Palmer will call his fourth straight Las Vegas Bowl and will be joined by legendary broadcaster Brent Musburger.
Contact Gilbert Manzano at gmanzano@reviewjournal.com or 702-383-0492. Follow @gmanzano24 on Twitter.