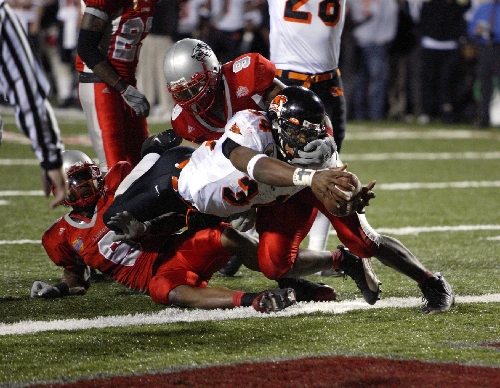 As the 2003 Las Vegas Bowl approached, Steven Jackson wasn't sure if he was preparing to play his final game for Oregon State.
The junior running back knew it had the potential to be a special night for him and seven other Beavers who also played high school football in Las Vegas.
It became a Christmas Eve to remember.
Jackson scored five touchdowns, four on the ground, and rushed for 149 yards to lead Oregon State to a 55-14 rout of New Mexico.
Immediately after the game, Jackson announced he'd forgo his senior season to enter the NFL Draft.
As the Las Vegas Bowl reaches its 20-year milestone this week, Jackson's high-scoring night was voted the best performance of the first 19 games by a local six-person panel.
"The biggest thing before the game started, I wanted to perform big and put on a show for my family and friends who hadn't had the chance to watch me play since high school," said Jackson, who played at Eldorado High School and is closing in on his seventh 1,000-yard rushing season for the St. Louis Rams.
"I was thinking if I should come back for my senior season. But I had such an impressive night, we agreed it would be a nice way to go out, in the final collegiate game of my career and in my hometown."
The game is now known as MAACO Bowl Las Vegas, and eighth-ranked Boise State (11-1) and Arizona State (6-6) will meet at 5 p.m. Thursday at Sam Boyd Stadium.
In recognition of the 20-year milestone, the Review-Journal asked five longtime Las Vegas Bowl watchers to join this reporter in ranking the top players, events and games of the first 19 editions. The panelists were bowl president Rob Dondero, bowl executive director Tina Kunzer-Murphy, bowl executive committee member Jennifer Logan, Las Vegas Convention and Visitors Authority chief executive officer Rossi Ralenkotter and bowl media relations director Mark Wallington.
The 1995 game between Toledo and UNR doubled as the best event and the best game. Toledo won 40-37 on Wasean Tait's 2-yard touchdown run in overtime, the first game in what then was called Division I-A to go past regulation.
There have been many memorable moments in the game's history, starting with the inaugural bowl in 1992, in which Bowling Green scored with 22 seconds remaining to beat UNR, 35-34. That game ranked No. 2 in the poll.
The three games that rounded out the top five — Brigham Young's 17-16 victory over UCLA in 2007, Wyoming's 24-21 win over the Bruins in 2004 and Utah's 17-16 victory over Fresno State in 1999 — also were decided late.
But the memories go beyond the results on the field. Aside from the first overtime game, the panelists recalled other favorite moments.
Ranking No. 2 among the bowl's top events was the Air Force flyover before last season's Boise State-Utah game.
"We had solid rain for two days, so we kept getting calls that they weren't going to be able to come," Kunzer-Murphy said. "They were telling me five minutes before they didn't know if they were going to come in, and then they came in really low. Boise State still talks … that's the best flyover ever."
In 2002, New Mexico coach Rocky Long (now coach at San Diego State) sent in female kicker Katie Hnida midway through the first quarter to attempt an extra point against UCLA. Her kick was blocked, but Hnida's mere presence made her the first woman to appear in a I-A game. That event ranked No. 3.
At the luncheon prior to the 1997 game, Hall of Fame running back Walter Payton delivered a speech that still resonates and earned the No. 4 ranking. Payton talked about his love of UNLV basketball and former coach Jerry Tarkanian, sentiments that went over big with the Caesars Palace crowd.
"It gives me goose bumps thinking of it now," Dondero said.
Almost certainly the most important event in the bowl's history, ranking No. 5, was its first sellout for the 2005 game between Brigham Young and California, because it solidified the bowl's future.
Rows of empty seats year after year had created real doubt about the game's future. But a BYU partisan crowd of 40,053 packed Sam Boyd Stadium, and the game has been on firmer footing ever since. The Cougars lost that night, but became an annual holiday presence, playing in five straight Las Vegas bowls.
BYU was a somewhat controversial pick in 2005, however, because it was selected with a 6-5 record over No. 15 Texas Christian, which was 10-1 and the Mountain West Conference champion.
Former Los Angeles Raiders running back Napoleon McCallum, then a new member of the committee, convinced the bowl to take the Cougars.
"We had never had BYU in the game in all those years, and I said, 'We're either going to have a completely oversold stadium or we're going to have a good crowd,' " Kunzer-Murphy said. "Napoleon spoke up and said, 'As a player, I can tell you this, when you come out and you have a full stadium, there is nothing better.' That kind of stuck in our heads."
Boise State quarterback Kellen Moore makes his second straight Las Vegas appearance this week, putting the finishing touches on a record-setting career. Moore, who last season completed 28 of 38 passes for 339 yards and two touchdowns in a 26-3 win over Utah, was voted the second-best player in bowl history.
The rest of the top five also made tremendous marks in the pros.
No. 3 Marshawn Lynch rushed for 194 yards and three touchdowns in Cal's win over BYU, and he is a driving force behind the Seattle Seahawks' success.
Utah State quarterback Anthony Calvillo, voted fourth, accounted for 336 yards of total offense and passed for three touchdowns in a 42-33 win over Ball State in 1993. He went on to a record-setting Canadian Football League career, his 73,412 yards passing becoming the highest at any level.
The one defensive player on the list, Troy Polamalu at No. 5, made 20 tackles, including three for loss, in Southern California's 10-6 loss to Utah in 2001. Polamalu, perhaps the face of the Pittsburgh Steelers' defense, was the NFL Defensive Player of the Year last season.
But no one had Jackson's impact in Las Vegas. After closing his Oregon State career here, he was drafted in the first round by the Rams and has never looked back after leaving school a year early.
"No regrets," Jackson said. "You never know what will happen your senior year. You could get hurt. I really enjoyed the ride and what followed."
Contact reporter Mark Anderson at manderson@reviewjournal.com or 702-387-2914. Follow him on Twitter: @markanderson65.
TOP GAMES
1. 1995: Toledo 40, UNR 37 — Wasean Tait's 2-yard touchdown run in overtime lifts the Rockets.
2. 1992: Bowling Green 35, UNR 34 — Erik White throws a 3-yard touchdown pass to Dave Hankins with 22 seconds left to give Bowling Green the victory.
3. 2007: Brigham Young 17, UCLA 16 — BYU's Eathyn Manumaleuna blocks a 28-yard field-goal attempt as time expires.
4. 2004: Wyoming 24, UCLA 21 – Corey Bramlet's 12-yard touchdown pass to John Wadkowski with 57 seconds left puts the Cowboys on top.
5. 1999: Utah 17, Fresno State 16 – Utah's Cletus Truhe delivers a 33-yard field goal with 5:03 remaining.
TOP EVENTS
1. Toledo beats UNR in 1995 in the first overtime game in major college football history.
2. Air Force flyover before the Boise State-Utah game in 2010.
3. Katie Hnida becomes the first woman to play in a major college football game, when she attempts an extra point for New Mexico against UCLA in 2002.
4. Walter Payton's speech at the luncheon before the 1997 game, when he talks about his love for UNLV basketball.
5. The bowl's first sellout, in 2005 between Brigham Young and California.
TOP PLAYERS
1. Steven Jackson, Oregon State – Las Vegan rushes for 149 yards and scores five touchdowns in 55-14 rout of New Mexico.
2. Kellen Moore, Boise State — Completes 28 of 38 passes for 339 yards and two touchdowns in 26-3 victory over Utah.
3. Marshawn Lynch, California — Rushes for 194 yards and three touchdowns in 35-28 win over Brigham Young.
4. Anthony Calvillo, Utah State – Passes for 286 yards and three touchdowns, and rushes for 50 yards in a 42-33 victory over Ball State.
5. Troy Polamalu, Southern California – Makes 20 tackles, including 12 solos and three for loss, in a 10-6 loss to Utah.