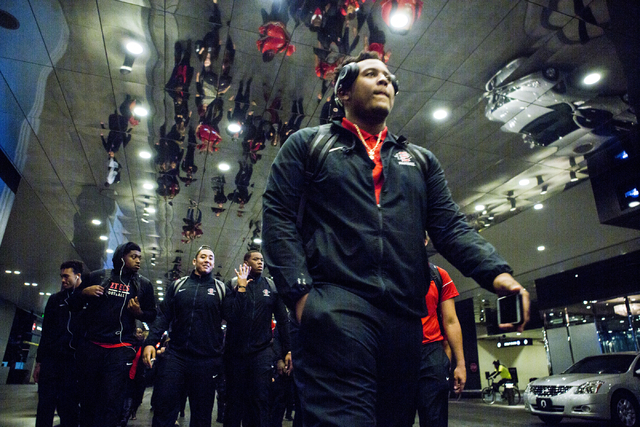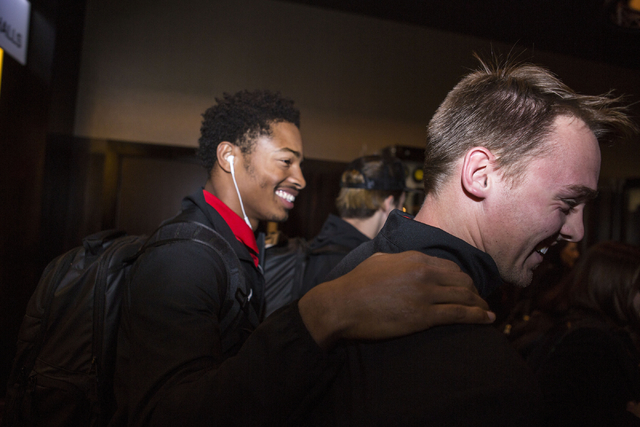 According to the NCAA, San Diego State running back Donnel Pumphrey needs 108 yards rushing in Saturday's Las Vegas Bowl to pass Wisconsin's Ron Dayne to become the NCAA's all-time leading rusher.
According to sports-reference.com and Wisconsin, Pumphrey needs 836 yards to pass Dayne.
The discrepancy is because the website and Wisconsin — as well as most Football Bowl Subdivision schools — include bowl performances in their career statistics and the NCAA has done so only since 2002. The NCAA doesn't include bowl game statistics compiled before 2002.
Dayne missed the cutoff by three years, closing out his Badgers career in 1999 with what the NCAA lists as 6,397 yards rushing. Including his postseason performances, Dayne finished with 7,125 yards.
Pumphrey, a Canyon Springs High School product, has 6,290 yards. That's good for No. 2 on the NCAA list, with Texas' Ricky Williams (6,279) at No. 3 and Pittsburgh's Tony Dorsett (6,082) at No. 4. Including bowls, Pumphrey is No. 3 and Dorsett No. 2 all time with 6,526 yards, meaning it would take a 237-yard effort from the Aztec to pass the Pro Football Hall of Famer.
"I didn't even know (that there were two different lists)," Pumphrey told the San Diego Union Tribune this season. "I don't really care either way, to be honest with you. All the guys (on the lists) are big names, so just to be in consideration is a big accomplishment to me."
Either way, the 5-foot-9-inch, 180-pound Pumphrey — who has 2,018 yards rushing this season — will finish his career as one of the top three rushers in college football history and one of only six members of the exclusive 6,000-yard club, bowl games included. Along with Dayne, Dorsett and Williams, the club features Southern California's Charles White (6,245) and Memphis' DeAngelo Williams (6,026).
TALKING ABOUT PRACTICE
San Diego State (10-3) arrived at the Hard Rock Hotel late Tuesday afternoon and is scheduled to practice at UNLV's Rebel Park on Wednesday morning.
LAS VEGAS AZTECS
Besides Pumphrey, San Diego State features several other former Southern Nevada high school players, including starting defensive tackle Noble Hall, a sophomore from Valley. Other Aztecs returning home are senior linebacker Randy Ricks (Legacy), freshman receiver Isiah Macklin (Green Valley), senior defensive lineman Sam Tai (Liberty) and junior linebacker Tyler Morris (Foothill).
EVERYBODY'S ALL-AMERICAN
San Diego State features two first-team All-Americans in Pumphrey (Sports Illustrated, Walter Camp) and offensive lineman Nico Siragusa (USA Today). The teammates also comprised the program's first Associated Press All-American duo since 1988, with Pumphrey named to the second team and Siragusa third team. Pumphrey also was a finalist for the Doak Walker Award, presented annually to the nation's top running back.
Contact reporter Todd Dewey at tdewey@reviewjournal.com or 702-383-0354. Follow @tdewey33 on Twitter.