Las Vegas Bowl pursues new sponsor as Royal Purple drops out
January 7, 2016 - 5:42 pm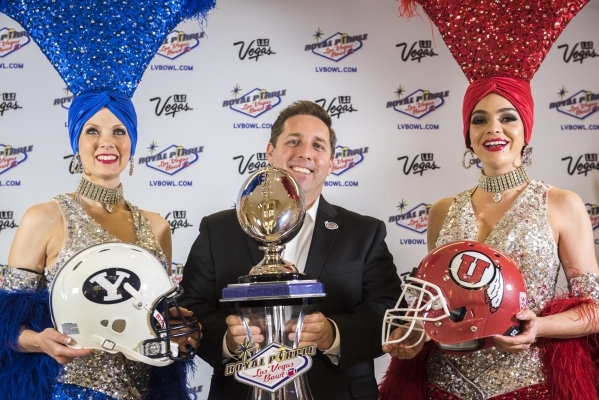 The Las Vegas Bowl is looking for a new title sponsor after motor oil producer Royal Purple decided to not renew its deal with the annual pre-Christmas college football game at Sam Boyd Stadium.
Royal Purple was acquired by Calumet Specialty Products Partners, an Indianapolis-based refiner, in 2012, and had bought the three-year title sponsorship the same year to increase its brand awareness in Western markets since the Las Vegas Bowl usually includes Mountain West and Pac 12 conference teams.
Royal Purple is based in Porter, Texas, near Houston. Royal Purple originally wanted to be a title sponsor of a college bowl game in the Houston area. But another sponsor beat Royal Purple to that game, so Royal Purple chose the Las Vegas Bowl.
ESPN Events of Charlotte, N.C. owns the Las Vegas Bowl and another dozen holiday-time bowl contests and uses the college games as content to drive TV ratings for the sports network and ABC, which broadcasts the Las Vegas Bowl.
John Saccenti, Las Vegas Bowl executive director, said all Royal Purple executives involved in arranging the original partnership deal have since left the brand.
The new executive leaders informed Saccenti that Royal Purple would not be renewing the title sponsorship deal a few days after the Dec. 19 Las Vegas game, which ended with Utah holding off rival BYU, 35-28. The Las Vegas Bowl is in its 25th year this year, making it the 16th oldest bowl game.
"There's new leadership there and it's natural they want to do things in a different way," Saccenti said Thursday.
Saccenti said he's excited about hitting the streets to seek a new corporate partner at this time because the BYU-Utah game had just produced the second-largest crowd at 42,214 and the game drew a 2.2 TV rating, which was up 57 percent over the 2014 game TV ratings.
The title sponsorship deal is valued at $1 million to $2 million annually.
After Royal Purple delivered the news, Saccenti met with five companies in the past few weeks and plans to mine the executives attending this week's Consumer Electronics Show in Las Vegas. On Thursday, he planned to swing by hotels such as Aria and The Cosmopolitan of Las Vegas to catch up with potential bowl game partners.
But he also wants to talk with locally based companies and explore ways of growing the game together with a local brand.
The bowl game started as the California Raisin Bowl and was played in Fresno, Calif., from 1981 to 1991. The game relocated to Las Vegas in 1992 and was renamed the Las Vegas Bowl. At one time, it was also called Maaco Bowl Las Vegas.
The Las Vegas Bowl is held the Saturday before Christmas to drive visitors to Las Vegas at a time when tourism is typically a little slower.
Officials at Calumet Specialty Products Partners and Royal Purple could not be reached for comment Thursday.
Contact reporter Alan Snel at asnel@reviewjournal.com Find him on Twitter: @BicycleManSnel