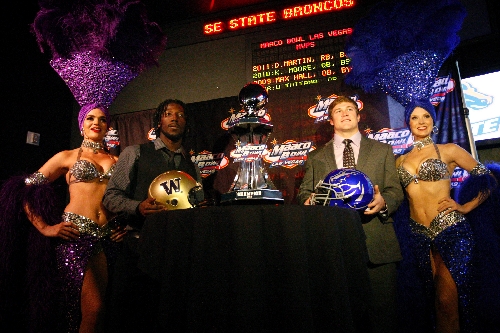 A reporter asked Boise State football coach Chris Petersen on Thursday if he was in Madison, Wis., the previous day.
"I think I'm there today," Petersen said.
Relax, Broncos fans.
The reporter and Petersen were kidding, which is appropriate because silly season again has arrived.
Petersen's name annually comes up this time of year in relation to openings at major coaching jobs. The latest was a tweet that had him visiting Wisconsin, which is looking for a coach after Bret Bielema took the Arkansas job this week.
And, yet, Petersen stays at Boise State, which he has built into a national power. The 20th-ranked Broncos (10-2) will meet Washington (7-5) in the MAACO Bowl Las Vegas, and representatives from both teams were in town to promote the Dec. 22 game at Sam Boyd Stadium.
"It's not even kind of distracting to me," Petersen said of the constant speculation. "It doesn't faze me in the slightest. The only reason it might be a little (problem) is because recruits pay attention to that."
The annual job talk is a problem, to be sure, but one Petersen and Boise State gladly welcome.
It certainly beats the opposite issue UNLV regularly wrestles with, which is whether to force a coach to leave or hope positive results eventually come.
"It kind of comes with the territory," Petersen said. "I think it's a little bit irritating in some ways, a little bit disrespectful to Boise State that everybody every year has me leaving this place.
"This is one of the better jobs in the country. That's the way I think of this place, so I'm not sure why others at this point don't. I think coaches do, but I think a lot of the fans and the people out there don't understand how special Boise is."
Petersen has made it so, going 83-8 in seven seasons. His 91.2 winning percentage tops active coaches.
Boise State has gone undefeated twice under his watch – 13-0 to finish No. 5 in 2006 and 14-0 to end No. 4 in 2009. The Broncos won four Western Athletic Conference titles, and this season shared the Mountain West championship with Fresno State and San Diego State.
Boise State athletic director Mark Coyle knew when he took the job a year ago there would be tremendous interest from other schools in Petersen.
Coyle, though, insisted he doesn't allow himself to become worried about losing his coach.
"Chris and I have a very open relationship and a very truthful relationship," Coyle said. "We want to make sure we provide everything we can to help him succeed at a high level. This program rose so quickly and has had so much success. Sometimes those next steps are the hardest steps to take."
Boise State, which takes its program to the Big East Conference next year, is building a $22 million football complex that is slated to open July 1.
The Broncos gave Petersen a five-year contract in April that will pay him almost $12 million. His salary this year of $1.7 million rises to $2.5 million in the final year of the deal.
Money isn't the only reason Petersen has resisted the temptation of others, such as UCLA last year and California this year.
Petersen knows what he has at Boise State.
The previous two Broncos coaches who left found success didn't come as easily outside Boise. Dirk Koetter at Arizona State and Dan Hawkins at Colorado failed to live up to expectations and eventually were fired.
"I think Boise State is such a different place now than when Dirk and Dan were there," Petersen said. "It's not even kind of the same place. It's the beauty of Boise. It continues to grow and change. The administration is so supportive. It's a great place to be."
■ NOTES – This is Boise State's third consecutive appearance in the Las Vegas bowl, so Petersen had the routine down posing with the showgirls and the trophy. "I think I might be coming here too much when I continue to recognize the showgirls," he said. "I'm serious." … ESPN is sending its A-list crew, with Brent Musburger handling play by play, Kirk Herbstreit the analysis and Tom Rinaldi the sideline reporting.
Contact reporter Mark Anderson at manderson@reviewjournal.com or 702-387-2914. Follow him on Twitter: @markanderson65.