Planning for heated BYU-Utah rivalry paid off for Las Vegas Bowl officials
December 20, 2015 - 7:02 pm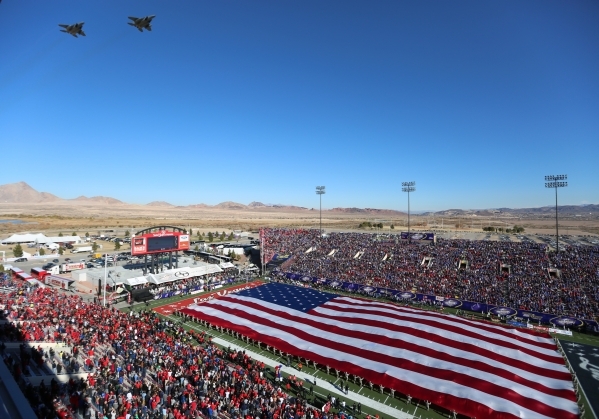 Except for Utah defensive tackle Viliseni Fauonuku calling Brigham Young "dirty" at a Las Vegas Bowl welcome event, the fears of all that could go wrong when putting the heated rivals in a postseason game were never realized.
Bowl officials limited the interactions between the teams, keeping them separate at various events. The only exceptions were the small parties that took part in assisting local charities.
Even the game officials were in on the planning. They stood at midfield before Saturday's 35-28 victory by Utah at Sam Boyd Stadium to make sure the teams didn't cross the 50-yard line and cause problems.
"The setting of playing this game in Vegas at a neutral site is really intriguing," said BYU outgoing coach Bronco Mendenhall, who now becomes Virginia's coach. "I thought it was a really cool site to play in, a great one for our players and a great environment."
Bowl executive director John Saccenti said the week couldn't have gone much better. This was the most-hyped game in the bowl's 24-year history, drawing an announced crowd of 42,213, the second-largest attendance at the Las Vegas Bowl.
"It was a long week," Saccenti said. "When we first were talking about selecting these teams, they told me over and over again this is different than anything you've dealt with or been a part of. You know what, we did find out first hand.
"It was a long week, but both teams really liked being here. I think they both had a great time, and we had no issues, so all was good."
The next order of business is signing a title sponsor. Its three-year contract with Royal Purple is up.
"We believe Royal Purple will not be back," Saccenti said. "That's not 100 percent official yet. They were all here. They may change their mind after they saw what happened here and the atmosphere. A lot of the people that were at the game were folks we didn't do the deal with. So this was their first time experiencing the game, so I do want to have that conversation with them and get their thoughts on it.
"And if not, what a year to be back out on the streets when you have a sold-out stadium and this kind of atmosphere and this kind of publicity that surrounded the game."
The bowl added an entertainment element this year. Different acts such as Jabbawockeez and a requisite Elvis impersonator performed on a specially created stage.
Saccenti said he wanted to watch the ABC broadcast to see if those acts were shown and to discuss with the Las Vegas Convention & Visitors Authority and various Strip properties to determine if adding this entertainment should be done again.
"I think it was a big hit," Saccenti said.
Now if only the bowl could invite BYU and Utah on a regular basis or a matchup like that one.
It made for an unusual preparation for both teams, and not necessarily an enjoyable one. Bowls are supposed to be celebrations, but it was anything but a festive mood for the teams leading up to this game.
"This game drains you emotionally getting ready for it, the hype leading into it," Utah coach Kyle Whittingham said. "You essentially double that because it's a two-week lead-in rather than a one-week lead-in during the regular season. It can wear you out."
— Contact Mark Anderson at manderson@reviewjournal.com or 702-387-2914. Follow him on Twitter: @markanderson65.