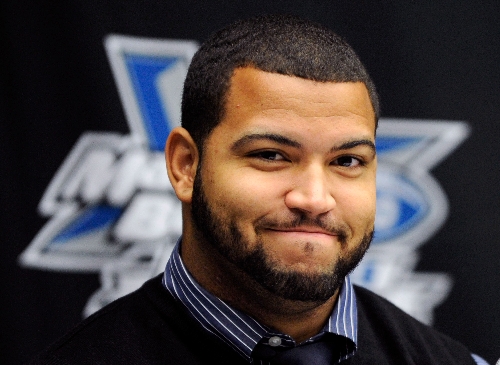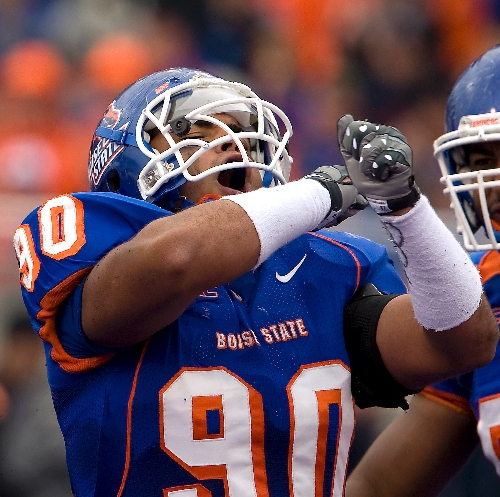 Two high-scoring offenses led by quarterbacks who have put up big numbers — one is the tallest QB in major college football and the other is named Kellen Moore — will take the Sam Boyd Stadium field tonight.
The winner of the MAACO Bowl Las Vegas, however, might not be decided by those players and their offensive teammates.
The game could come down to a critical defensive play or two, and in that case, eighth-ranked Boise State (11-1) holds the edge over Arizona State (6-6). And it could be a Las Vegan returning to his hometown to play his final college game who makes the difference for the two-touchdown favorite Broncos.
Defensive tackle Billy Winn went to Las Vegas High School, then found a home on a talented Boise State line.
"I wanted to get away from the city a little bit and get to a college town like that," Winn said.
Winn also played in last year's Las Vegas bowl, a 26-3 victory over Utah. He has six tackles for losses this season and 34½ for his career, and is part of a defensive line that could put three players in April's NFL Draft.
"They're probably as good as we've played, maybe the best," Arizona State coach Dennis Erickson said of the Broncos' unit. "They do some different things, and they're solid in all aspects. It's hard to find a weakness."
To most fans, though, Winn is probably a footnote in this game, outshone by headliners Moore and Arizona State quarterback Brock Osweiler.
Moore will play the final game of a fabulous college career in which he became the sport's all-time winningest quarterback. He has a chance to gain victory No. 50.
Though Moore wasn't invited back to New York as a Heisman Trophy finalist, his statistics are eye-catching. He has completed 74.1 percent of his passes for 3,507 yards and 41 touchdowns, with seven interceptions.
Osweiler, who turned down a scholarship offer to play basketball at Gonzaga, is known as much for being 6 feet 8 inches as for his effectiveness at quarterback. He has completed 63.1 percent for 3,641 yards and 24 TDs, with 12 interceptions.
Both teams can score, with Boise State averaging 43.2 points and Arizona State 33.9. Their yardage numbers are similar — the Broncos have the edge with a 483.1 average to 450.9 for the Sun Devils.
The Broncos' biggest advantage is on defense. They have allowed 18.2 points and 315.6 yards per game, compared with Arizona State's averages of 26.3 points and 418.9 yards.
Should Boise State's defense make the difference, Winn would love to be an integral part of that effort, but he probably wouldn't do it alone. He is surrounded by talent on a veteran line.
"That whole group … has meshed so well," Boise State coach Chris Petersen said. "I think they've all complemented each other, with Chase (Baker) playing next to (Winn). That's been such a great combination. We realize how lucky we are to have Billy as well as those other guys."
As many as 50 family members and friends will be on hand to cheer Winn.
"It's been incredible," he said. "Any time you can play in front of the home crowd, it makes you feel great inside. It's like my gift to my family being able to play."
■ NOTES — Bowl executive director Tina Kunzer-Murphy said about 1,500 tickets remained Wednesday afternoon, so the game could reach 40,000 in sales for a seventh consecutive year. … Erickson, 64, introduced his mother, two sisters, wife and two sons at the kickoff luncheon. "I've been doing this a long time," he said before choking up. Arizona State fired Erickson on Nov. 28. …
Petersen and Mountain West Conference commissioner Craig Thompson were seated next to each other at the dais during the luncheon, but were noticeably apart. Boise State is leaving for the Big East Conference in 2013. Thompson's seat was conspicuously empty when Petersen got up to speak, but the commissioner had a good excuse. He had to catch a flight to San Diego for the Poinsettia Bowl.
Contact reporter Mark Anderson at manderson@reviewjournal.com or 702-387-2914. Follow him on Twitter: @markanderson65.
ARIZONA STATE VS. BOISE STATE
WHEN: 5 p.m. today
WHERE: Sam Boyd Stadium
TV/RADIO: ESPN (30); KWWN (1100 AM, 98.9 FM)
LINE: Boise State -14; total 66