Utah WR Clay moves on from gaffe
December 17, 2014 - 10:56 pm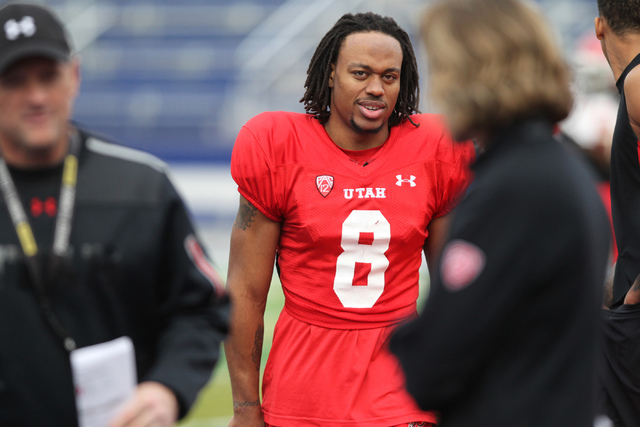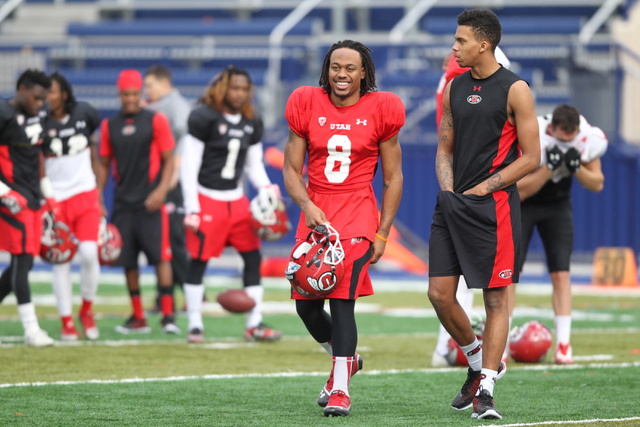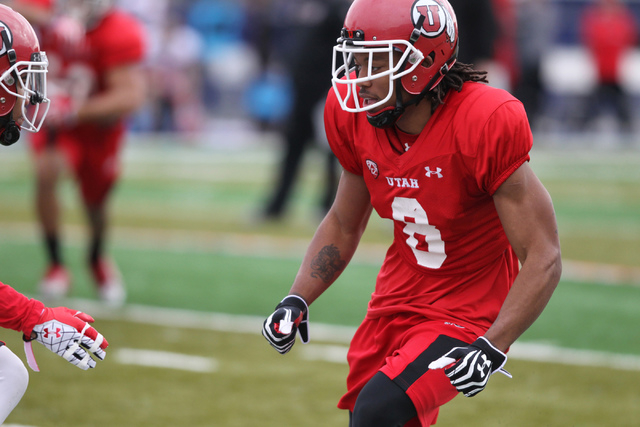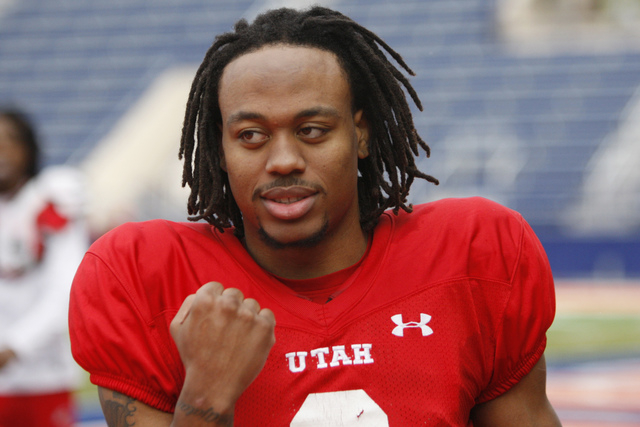 The last thing Kaelin Clay wanted to do was stand in front of a bunch of microphones and begin answering questions, but a Utah staffer made sure he met the press.
Clay then proceeded to answer every question of what would be one of the most discussed plays of the college football season, and he hasn't shied away since that early November night.
His handling of the situation eased some of the criticism, and Clay has used that gaffe as a lesson.
"Things are going to happen, you're going to make mistakes, but it's how you progress and how you move forward," Clay said after Wednesday's practice at Bishop Gorman High School. "It's one play. Hopefully I'll have many more plays to make. That was a play that blew up."
He has made more than his share of plays, establishing himself as one of the nation's more dangerous return specialists. Clay has returned three punts and one kickoff for a touchdown, and the senior has been named a first-team All-American by Sporting News, CBSSports.com and FoxSports.com and a second-teamer by Scout.com.
Clay believes every time he touches the ball he can take it all the way, and there's no reason to think he can't score on any given return.
Colorado State interim coach Dave Baldwin, whose Rams face Utah at 12:30 p.m. Saturday in the Las Vegas Bowl at Sam Boyd Stadium, said it was worth giving up field position by sometimes kicking the ball out of bounds.
"We don't want him to beat us," Baldwin said. "At times, we're going to have to trust our coverage."
Clay (5 feet 10 inches, 195 pounds) can break plays from all over the field, including at wide receiver. He has 39 receptions for 460 yards and four touchdowns, and showed his explosive ability on one such catch on Nov. 8 against Oregon, heading to the end zone with a sure touchdown. What should have been a 78-yard reception would have given the Utes a 14-0 lead.
Just as he reached the end zone, however, Clay celebrated prematurely and dropped the ball short of the goal line.
An alert Oregon player, Erick Dargen, spotted the ball and went to grab it. A Utah player arrived in time to make Dargen bobble the ball. Dargen's teammate, Joe Walker, got the ball and, running with a convoy of blockers, went 100 yards the other way to stunningly tie the game.
What had been a raucous Salt Lake City crowd slowly began to realize the horror that had unfolded in front of its eyes.
Maybe Oregon, which has a powerhouse offense and Heisman Trophy quarterback in Marcus Mariota, would have stormed back to win anyway. The final score of a 51-27 victory by the Ducks suggests the play meant little in the long run.
But no one really knows. The game at least would have played out differently had Clay not dropped the ball.
"Nobody else made that mistake but me," Clay said. "I took full responsibility for the full game, because if you know football, you know how the swings go. We could've had a 14-point lead, so I felt like that changed the whole momentum of the game."
After that game, Clay met the media and explained his actions.
"It was tough," he said. "I didn't want to talk to anybody at the time. I kept my phone off, but it's something you have to face up (to), stand up and face the fact you made a mistake. I made a mistake, and I took the consequences for it. That's all I can do about that."
He also took to Twitter to apologize, and certainly not every Utes fan was forgiving, but Clay probably won over some would-be critics.
"He handled it the right way," Utah coach Kyle Whittingham said. "He obviously didn't hide from it. He didn't dodge any reporters or media. In fact, he went on a national show — I can't remember what it was — and talked about it. He's a tough guy and a stand-up guy. Everyone felt bad about it, and let's move on."
Contact Mark Anderson at manderson@reviewjournal.com or 702-387-2914. Follow him on Twitter: @markanderson65.