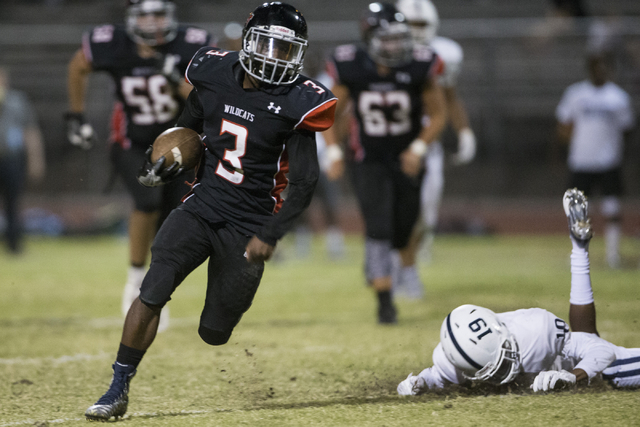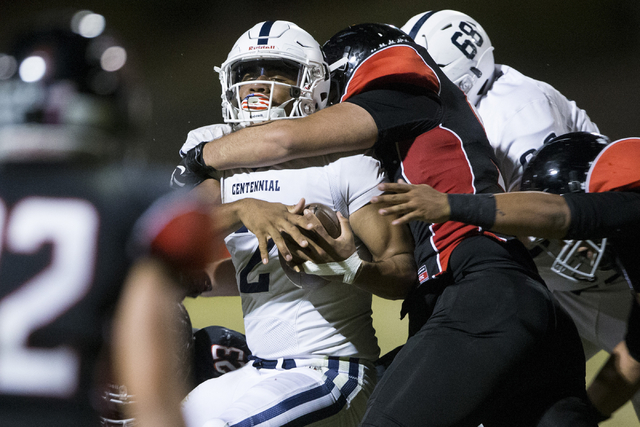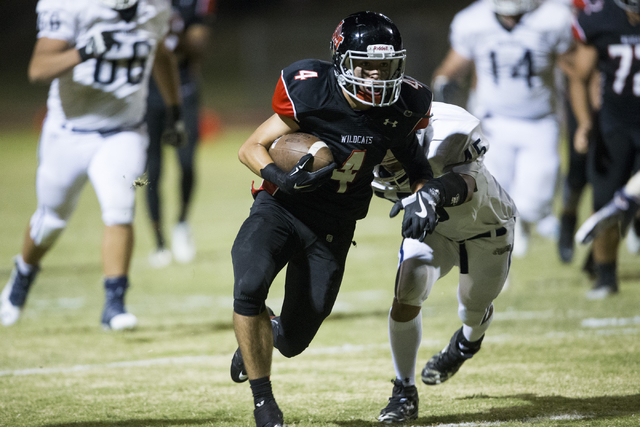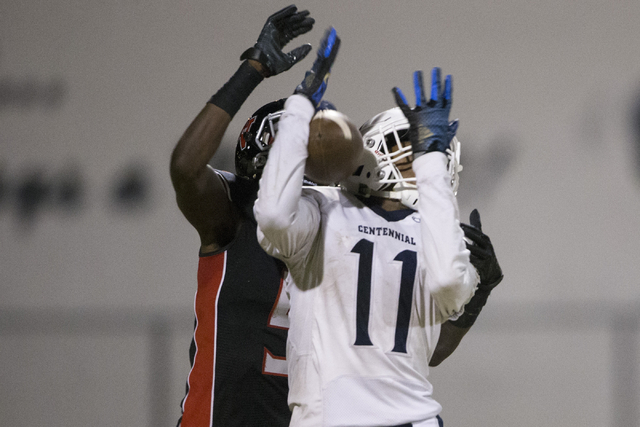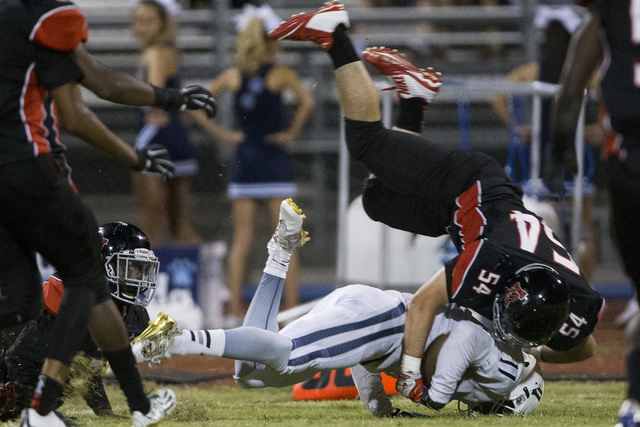 DiQuan Brown touched the ball only three times Friday night.
He made the most of it.
The junior running back scored on two of his three carries and finished with 122 rushing yards as Las Vegas High held off visiting Centennial 24-21.
"Oh, my gosh, that kid is something special," Las Vegas senior linebacker Cruz Littlefield said. "He's very special. What he lacks in size, he definitely puts in for speed and velocity, and he's just an animal. Nobody can tackle him. It's crazy."
Seventh-ranked Las Vegas (3-0) led 17-7 when Brown entered on offense for the second time. His first carry went for 14 yards, and the next was a 48-yard touchdown. Brown took the handoff, turned the corner around the left side, then weaved back through the defense all the way to the right corner of the end zone to push the lead to 24-7 with 8:17 to play.
That turned out to be an important score, as fifth-ranked Centennial (1-2) found its own big-play machine down the stretch. Savon Scarver made a leaping catch in the back of the end zone for a 4-yard TD pass from Jamaal Evans to cut the lead to 24-13 with 4:34 to play.
Scarver set up that play with a 47-yard reception from Evans on fourth-and-8.
After a Las Vegas punt, Evans again found Scarver, this time for a 72-yard TD with 2:07 to play. Scarver beat his man on the post route and made a lunging catch. He somehow maintained his balance and crossed the goal line. The 2-point conversion pass from Evans to Rane Stringer cut the lead to 24-21.
"He's a good football player," Las Vegas coach James Thurman said of Scarver, who had nine catches for 276 yards and three touchdowns. "He's their go-to guy, and that quarterback, I don't know if we tackled him all night. He's like greased lightning over there."
Las Vegas quarterback Zach Matlock picked up 3 yards on fourth-and-1 on the ensuing possession, allowing the Wildcats to run out the clock.
"Relief," Littlefield said of the feeling when Matlock got the first down. "Every day at practice we preach the word finish. I think tonight that we did finish, and ultimately that's what we're supposed to live up to every single time we come out here.
"At the end of the day, I truly believe that we got better and we beat a very good football team tonight."
Centennial struck on its first offensive play when Evans hit Scarver down the left sideline for a 75-yard TD pass and a 7-0 lead with 10:19 left in the first quarter.
But Las Vegas' defense responded after that, keeping the Bulldogs from getting their running game going. Centennial had only 24 rushing yards in the first half and 67 for the game.
"We tell our kids when you play a team like that you might give one up, because you can't simulate that in practice," Thurman said. "Our guys are pretty good, (but) we can't simulate (Evans) in practice. We don't have a guy that runs by you like (Scarver) does. But our kids are resilient, and they're tough, and they're east-side tough. And we didn't flinch."
Isaiah Hicks finished with 113 yards on 24 carries as Las Vegas racked up 253 yards on the ground. Hicks and Brown were seeing time in the secondary for the Wildcats.
"We have a plan to get them both on the field at the same time," Thurman said. "In a perfect world, we'd play them both on offense and then you get to pick which one you want to focus on."
Evans completed 17 of 29 passes for 350 yards for Centennial.
"God, he's got a cannon attached to his right arm, doesn't he?" Thurman said. "He threw it 90 yards, it seemed like, on that last one."
Contact prep sports editor Damon Seiters at 702-380-4587 or dseiters@reviewjournal.com. Follow him on Twitter: @DamonSeiters
Complete coverage of high school sports