Las Vegas doesn't come up in Goodell's state of NFL speech
February 5, 2016 - 2:52 pm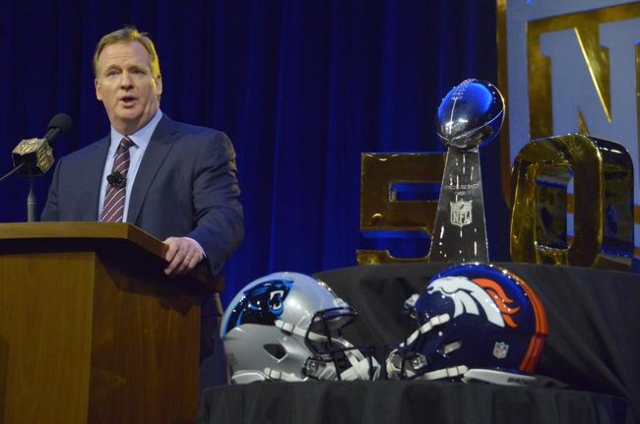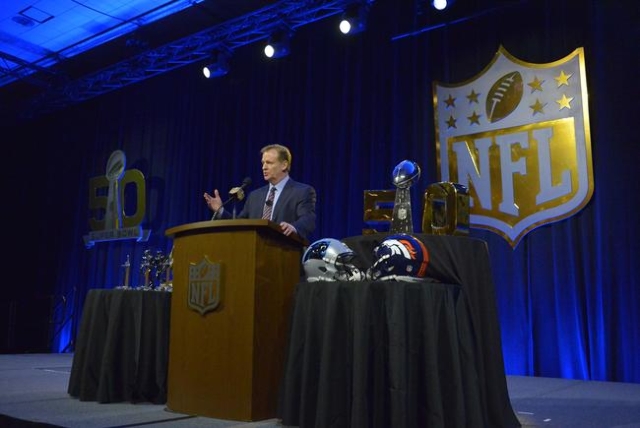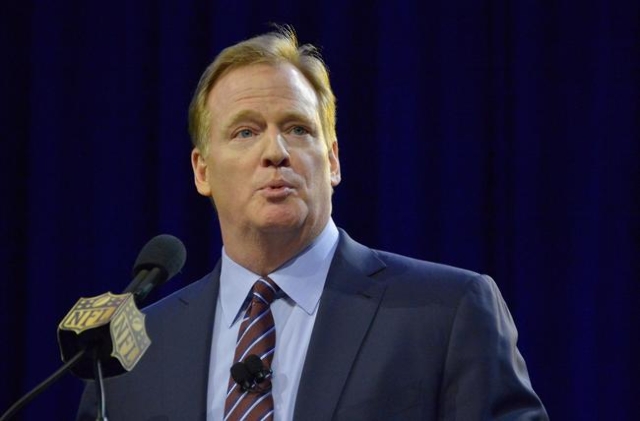 National Football League commissioner Roger Goodell took a pledge to help keep the Raiders in Oakland and the Chargers in San Diego.
"My pledge to Dean Spanos to Mark Davis to the mayor of Oakland and the mayor of San Diego is to do everything possible we can to support them to try to get the right kind of facilities long term in both of those markets," Goodell told the media on Friday during his annual state of the league address.
That pledge won't sit well with Las Vegas football fans longing to have the NFL in Sin City.
Goodell addressed player safety, medical marijuana, the lack of competitiveness in the Pro Bowl, the NFL playing a Monday night game in Mexico City and many other subjects, but the possibility of Las Vegas becoming a home site for an NFL franchise never came up during the 45-minute press conference.
The status of the Chargers' and Raiders' future was the first questioned asked. Goodell made it clear he wanted to help the Raiders and Chargers stay put.
"It is very much a priority for us," Goodell told LA Times reporter Sam Farmer. "We want to work to try to keep our teams where they are. As I said earlier this year, relocation is a difficult process, that was true in St. Louis where we have number of great fans, but it's something from a business standpoint becomes a reality.
"Over the past year, we've seen each of those communities has expressed that they don't have proper facilities for the long term for their teams, they've also indicated that they have not been able to come up with the right solution. Our pledge is try to help the get that done.
"I think it's great that Dean Spanos and his family said, 'We want to make this work in San Diego.' They have an incredible attractive option in Los Angeles, but they decided 'We're going to go try to make this work in San Diego' and we'll do everything we can to support that. The same is true for Mark Davis. Mark Davis has a lot of options. The league supports both of these teams, but we're working very hard, not only with the teams, but the communities to try a find a solution that works for everybody. This has to work for the communities and this has to work for the teams long term."
The idea of Las Vegas becoming a home for an NFL team took off last week after Las Vegas Sands Corp. proposed a 65,000-seat, $1.2 billion domed stadium near UNLV. Raiders owner Mark Davis met with Las Vegas Sands CEO Sheldon Adelson last week and took a tour of the site.
Giving St. Louis another franchise is probably higher on Goodell's list than Las Vegas. Goodell said he met with Missouri governor Jay Nixon shortly after Los Angeles was awarded the relocation of the St. Louis Rams. The city of St. Louis has lost two NFL franchises, the Cardinals left the Gateway City for Arizona in 1987.
"I spoke with the governor just a couple of days after the Houston meetings (in mid-January), and we told him when things settle down and we're prepared, let's talk about the future of NFL football in St. Louis," Goodell said. "We have a tremendous number of fans there. It's a great community and if there's something that we can work out, something we can develop a stadium that would allow a team to be successful there that's something we should consider and I told him that."
In other news related to Las Vegas, Goodell didn't give a straight answer when asked if he considered daily fantasy sports gambling.
"I don't make that determination, each state makes that determination," Goodell said. "We are obviously going to follow the law, we're going to abide by that in every which way."
Nevada gaming regulators banned unlicensed daily fantasy sports websites last October from providing their product to Silver State customers, saying the activity constitutes sports wagering.
The Gaming Control Board made it mandatory for daily fantasy sports websites, such as DraftKings and FanDuel, to apply for a Nevada gaming license if it wanted to operate a sports pool. The websites disagree and have not filed for a gaming license.
"I've said before that as it relates to daily fantasy, there needs to be more consumer protection," Goodell said. "I want that for our fans. I think our fans deserve that, but the primary interest I have is in the integrity of the game so that's why we have opposed sports gambling in the past. When it comes to daily fantasy, I think there's a different issue here, you have mash ups of players, there are different issues that are raised that are not raised with sports gambling and other traditional sports gambling, but we are obviously working with all the officials in each state.
"We will cooperate fully and we will also abide by the law. I think for our long term growth fantasy football is more than daily fantasy. Fantasy football is fun. It's something our fans love to enjoy, but we also have to make sure we are protecting our fans at all times."
The Review-Journal is owned by a limited liability company controlled by the Adelson family, majority owners of Las Vegas Sands.
Contact Gilbert Manzano at gmanzano@reviewjournal.com or 702-383-0492. Follow him on Twitter: @gmanzano24