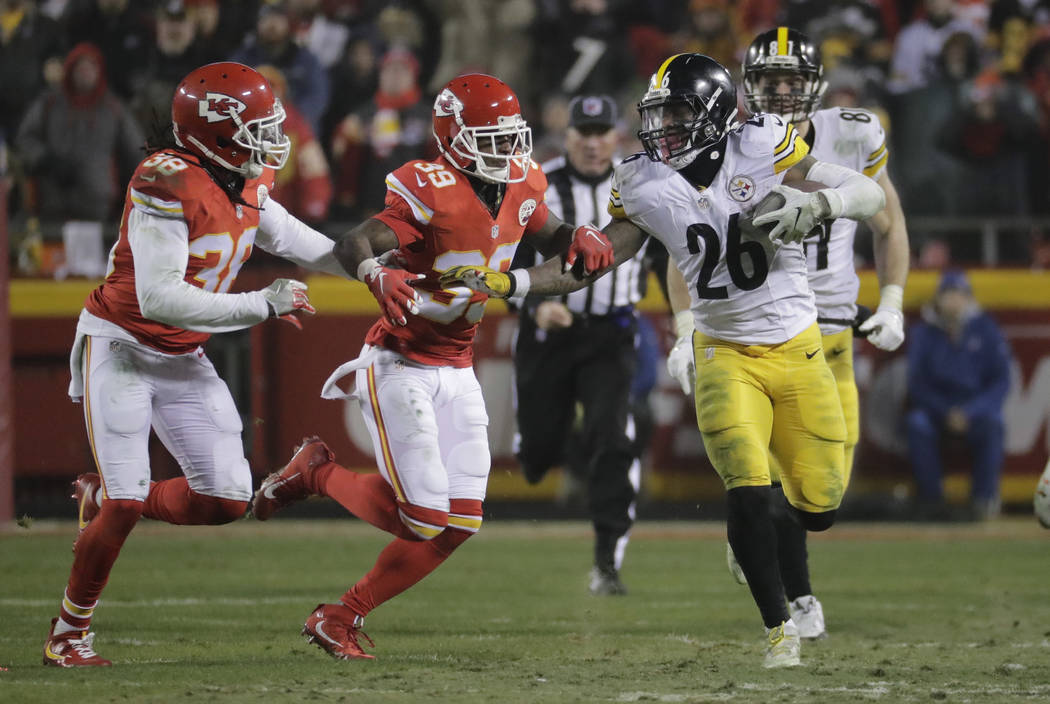 As NFL teams tinkered with their final rosters by trading players and signing players from the waiver wire, the Pittsburgh Steelers were just happy to see their all-pro running back walking around the team's facility this weekend.
It was the most important 53-man roster addition for the Steelers to have Le'Veon Bell rejoin the team after missing all of the preseason because of a contract dispute.
Bell didn't get the massive extension he desired, but was pleased enough with the front office to end his holdout and is expected to sign a $12.1 million franchise tender. Bell passed his physical Friday.
With Bell making freestyle rap songs about getting paid as wide receiver Antonio Brown demanded he report to training camp, the situation could have turned ugly.
But the Steelers got through the family feud for one reason: To defeat the mighty New England Patriots and hoist a seventh Lombardi trophy.
The Steelers have no chance of dethroning the champs without Bell, but now pose the biggest threat to beat Tom Brady and Co.
Pittsburgh's explosive offense finally has a rising defense to rely on with studs Cameron Heyward, Bud Dupree, Ryan Shazier and the recent signing of former Pro Bowl cornerback Joe Haden.
Eventually the Steelers will have to decide if they will give Bell his desired $17 million per year contract. But the negotiation period has closed for the season.
Time to put the petty drama aside and aim for being the last team standing in Minneapolis.
Seahawks add to stacked defense
The NFC was wide open before the preseason concluded Thursday. That changed Friday when the Seahawks traded for defensive lineman Sheldon Richardson from the New York Jets to give Seattle a terrifying defense.
Somewhere Matt Ryan and Aaron Rodgers broke a Microsoft Surface tablet when getting the tweet notification about Seattle's trade.
The Seahawks have issues on the offensive line, but Russell Wilson won't need to muster many points if the defense dominates opponents.
Green Bay will be a contender in the NFC, but Rodgers doesn't play defense, and good luck naming two Packers defenders outside of Clay Matthews.
The Dallas Cowboys, last season's No. 1 NFC seed, took a hit when Ezekiel Elliott was handed a six-game suspension and didn't do much to improve a leaky defense.
The Atlanta Falcons are still loaded with weapons, but can they overcome their mental demons after an epic Super Bowl meltdown?
For now, the safe money is on Seattle to come out of the NFC.
Osweiler cut by Browns
Brock Osweiler hit rock bottom when he was released Friday by the Cleveland Browns.
Osweiler quickly went from almost starting for a Super Bowl team in Denver to getting paid by Houston to being paid to leave by Houston to being roster filler for Cleveland. That's a rough two years.
Then Saturday, the Broncos brought back Osweiler, who is expected to sign for the veteran's minimum.
The Broncos didn't have much to lose. They're in a dire quarterback situation with Trevor Siemian and an injured Paxton Lynch, while a stout defense is being held back by the offense.
Contact Gilbert Manzano at gmanzano@reviewjournal.com. Follow @GManzano24 on Twitter.
Le'Veon Bell's 2016 stats
— 1,268 rushing yards on 261 carries
— 616 receiving yards with 75 receptions
— Nine total touchdowns (seven rushing, two receiving)
— Yards per rush 4.9, longest run 44 yards
— Four fumbles, one lost
Odds to win NFC
— Seattle Seahawks 5-1
— Green Bay Packers 5-1
— Atlanta Falcons 6-1
— Dallas Cowboys 6-1
— New York Giants 7-1
Source: VegasInsider.com