Liberty bears down, subdues Silverado
November 10, 2016 - 10:54 pm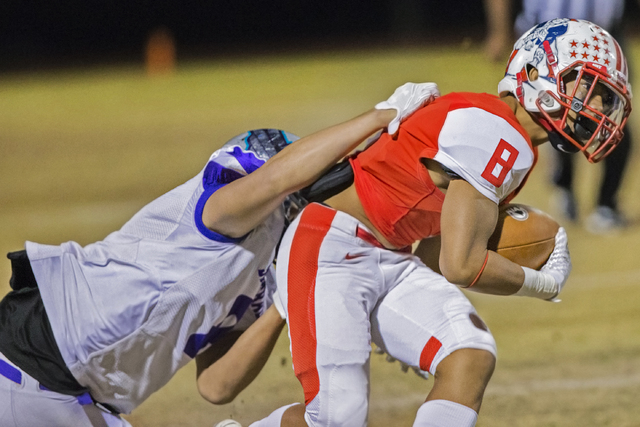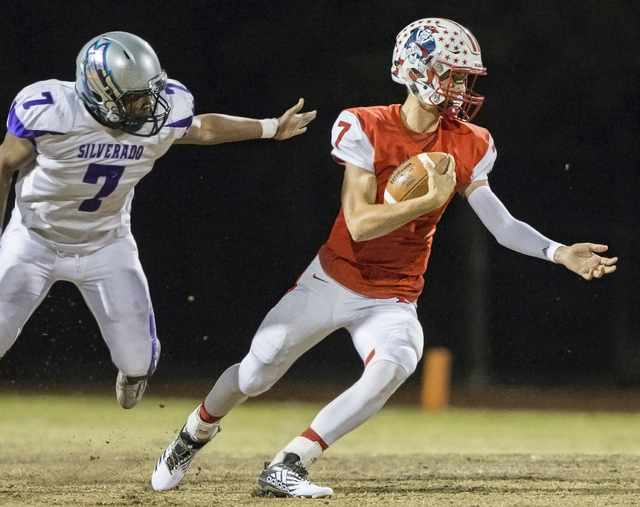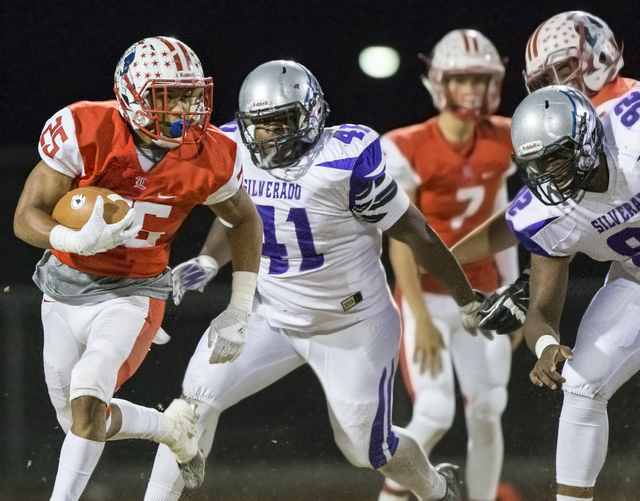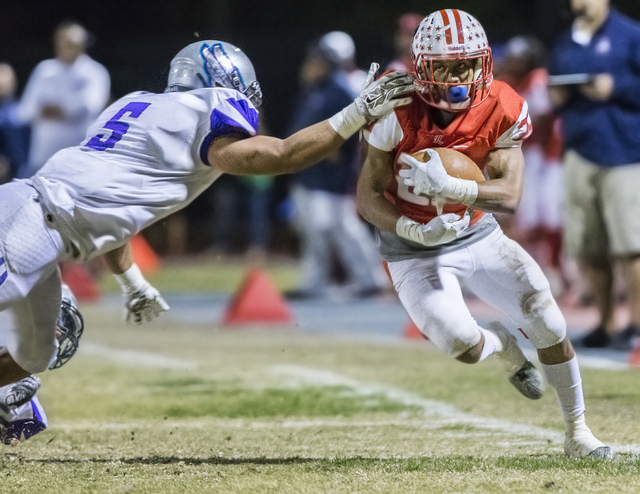 The exact quote from Liberty football coach Rich Muraco isn't appropriate for a family publication.
But as the Patriots walked off the field during the second quarter following another empty possession, Muraco let his offensive players know they were getting their tails kicked.
"I kind of challenged them a little bit," Muraco said, "and I think they responded to it."
After struggling for much of the first half, host Liberty finally got untracked offensively and rode a strong effort from its defense to a 37-6 victory over Silverado in the Class 4A Sunrise Region semifinals Thursday night.
Ethan Dedeaux accounted for two touchdowns, and Kenyon Oblad tossed two scores for the Patriots (10-1), who go for their seventh consecutive region crown when they host Basic at 7 p.m. on Nov. 18.
It is the third straight year Liberty and Basic have met in the region final.
"I think sometimes, they're high school kids and sometimes they think, 'I can give 75 percent effort and that's going to be good enough because that's what we've given at times,'" Muraco said. "Silverado was emotional, and they were hungry, and their defensive line is athletic. They used their speed to kind of give us some fits at times."
Liberty scored 24 seconds into the game on a 35-yard pass from Oblad to Dedeaux, but managed only three first downs on its next four possessions against the Skyhawks (8-3).
However, the Patriots caught a huge break on special teams with a little more than four minutes left until halftime.
One play after Nahzi Salih's successful fake punt was wiped out by a penalty, Salih was tackled for a 20-yard loss following a low snap. Liberty took over at Silverado's 27-yard line, and Dedeaux scored on a 19-yard run four plays later to put the Patriots on top 14-0 with 2:30 left until halftime.
"In playoff games, in tight games, sometimes it's a play here or there that can flip the momentum and get things started," Muraco said. "That was big."
Liberty then pulled away in the third quarter with 20 unanswered points. Bryson Delacruz scored on a 1-yard run one play after Kishon Pitts' 57-yard scamper, and Octavion Bell returned an interception 34 yards for a score to give the Patriots a 31-0 advantage with 5:21 left in the third.
"We came out kind of slow today," Dedeaux said. "At halftime we went in and talked about it. Just get nasty. We feel like we were way more nasty than in the first half."
Marquez Powell hauled in a 3-yard touchdown pass from Oblad late in the third quarter, and the fourth quarter was played with a running clock.
Dedeaux finished with four catches for 96 yards, and Pitts added a team-high 56 yards rushing along with three catches for 37 yards.
Silverado's score came on the final play of the game when Salih returned a fumble 43 yards.
The Skyhawks were limited to minus-18 yards rushing in the first half and finished with 154 yards of total offense.
Keikiokalani Misipeka led Silverado with 110 yards on 14 carries.
"I was kind of glad it was a contest," Muraco said. "Nobody really likes games that are blowouts straight from the get-go. It showed what kids are made of and who we can count on."
Contact reporter David Schoen at dschoen@reviewjournal.com or 702-387-5203. Follow @DavidSchoenLVRJ on Twitter.