Liberty faces No. 1-ranked IMG Academy in Polynesian Classic
Updated September 6, 2018 - 2:15 pm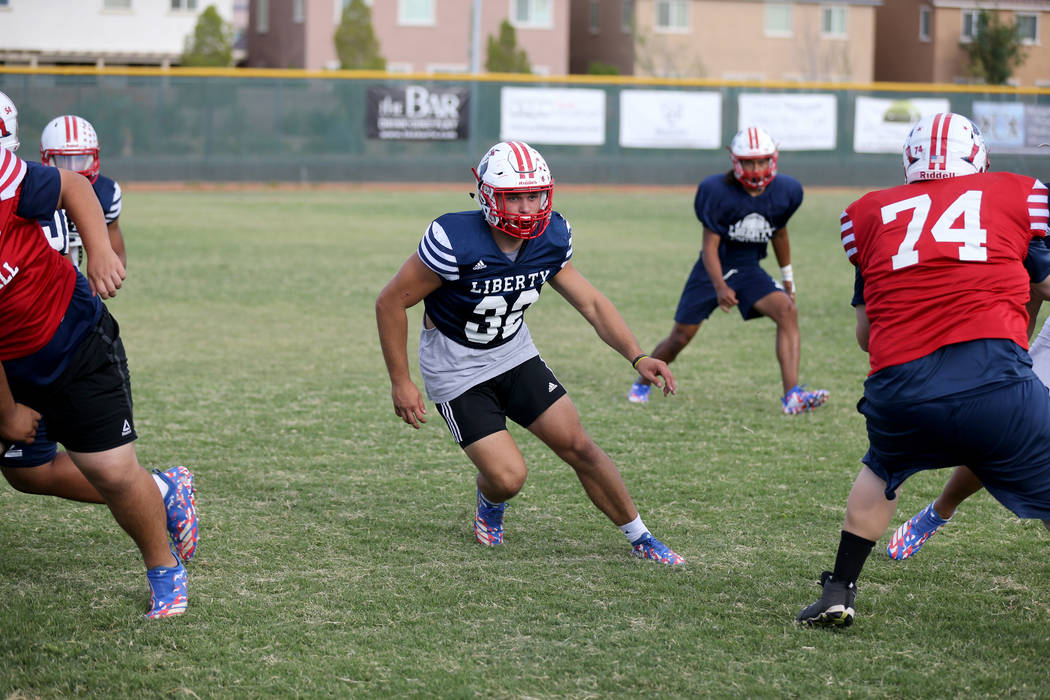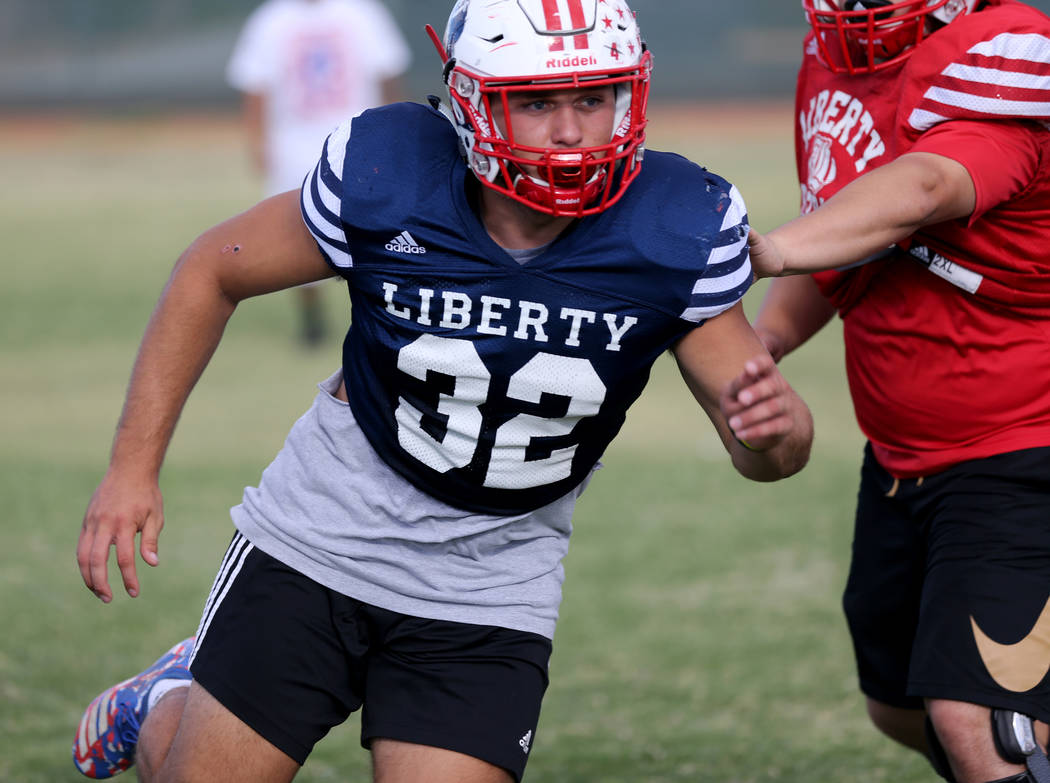 When Liberty coach Rich Muraco was offered the chance to play IMG Academy (Florida) this season, he wasn't sure he wanted his squad to take on one of the nation's premier football programs.
"At first, it was a little bit of like, 'I don't know if we should, if we're quite ready for that level of competition,' " Muraco said.
Then he remembered that playing national powers is nothing new for his Patriots.
"When I thought about it over time, I was like, 'We've played the three-time national champion Bishop Gorman in my career,' " Muraco said.
"We thought why not? Let's take the challenge. Let's use it as something we can focus our attention on all offseason instead of necessarily focusing on Bishop Gorman."
Liberty (1-1) hosts IMG (2-0) at 7 p.m. Friday as part of the Polynesian Classic, which includes three games Saturday at Liberty.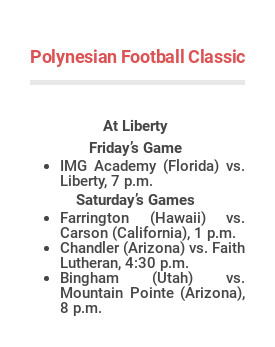 The Patriots faced Bishop Gorman in the state playoffs every season during the Gaels' run of three consecutive national championships from 2014 to 2016. But the Ascenders, ranked No. 1 in the nation by USA Today, are every bit as talented as the top Gorman teams.
IMG has eight seniors who have committed to Division I programs and another 12 with scholarship offers, many to the top programs in the country.
"We've taken on some really good teams in the past, and they're one of the toughest teams we've ever faced as far as on paper," Muraco said. "The offensive line is huge. They're athletic. They have two amazing running backs. They have guys on both sides of the ball that can fly around and play physical football. We definitely have a challenge ahead of us."
But that challenge is the point of playing these types of games. Two years ago, the Patriots traveled to Texas to play Westlake and upset the Chaparrals to earn an early season national ranking. Last year, Liberty went to Florida to play American Heritage, which finished the season ranked No. 3 in the nation by USA Today. And, of course, there are those postseason games with Gorman.

"A lot of people around here, they ask why we play teams like IMG," said senior linebacker Kyle Beaudry, who has committed to UNLV. "For us, we want to be the best. And to be the best, you've got to play the best. It's nothing new. We've played the top teams in the country. It's a thing we do every year."
Beaudry will help lead a strong defensive unit for the Patriots, who have held their first two opponents to fewer than 170 yards.
"Our defense, we call ourselves D-Rock, and we take pride in that," Beaudry said. "We think we're the base of the team, and what we do the offense rides off of it, the special teams rides off of it. We just like to set the tone."
Even if Liberty slows down IMG's offense, moving the football could be a challenge. The Patriots struggled last week against Lone Peak, finishing with 101 yards, and will be without two quarterbacks. Starter Lonenoa Faoa is out with a concussion, and one of his backups, Victor Epstein, injured his nonthrowing shoulder last week.
And Liberty will be facing a defense that features defensive end Noah Smith, who is ranked as the No. 1 player in the senior class by 247Sports. Smith, who has committed to Georgia, has 14 tackles, including 4½ tackles for loss and 3½ sacks, in two games.
Still, Liberty senior defensive lineman Luke Toomalatai has confidence that the Patriots' offense will provide help this week.
"They haven't clicked yet, but offensivewise, we've got ballers all around," Toomalatai said. "We can make things happen on offense. They just need to get things clicking, and once that happens, we should be good to go."
More preps: Follow all of our Nevada Preps coverage online at nevadapreps.com and @NevadaPreps on Twitter.
Contact prep sports editor Damon Seiters at dseiters@reviewjournal.com or 702-380-4587. Follow @DamonSeiters on Twitter.