Liberty's Kenyon Oblad sets career passing record
September 28, 2017 - 10:39 pm
Updated September 28, 2017 - 11:59 pm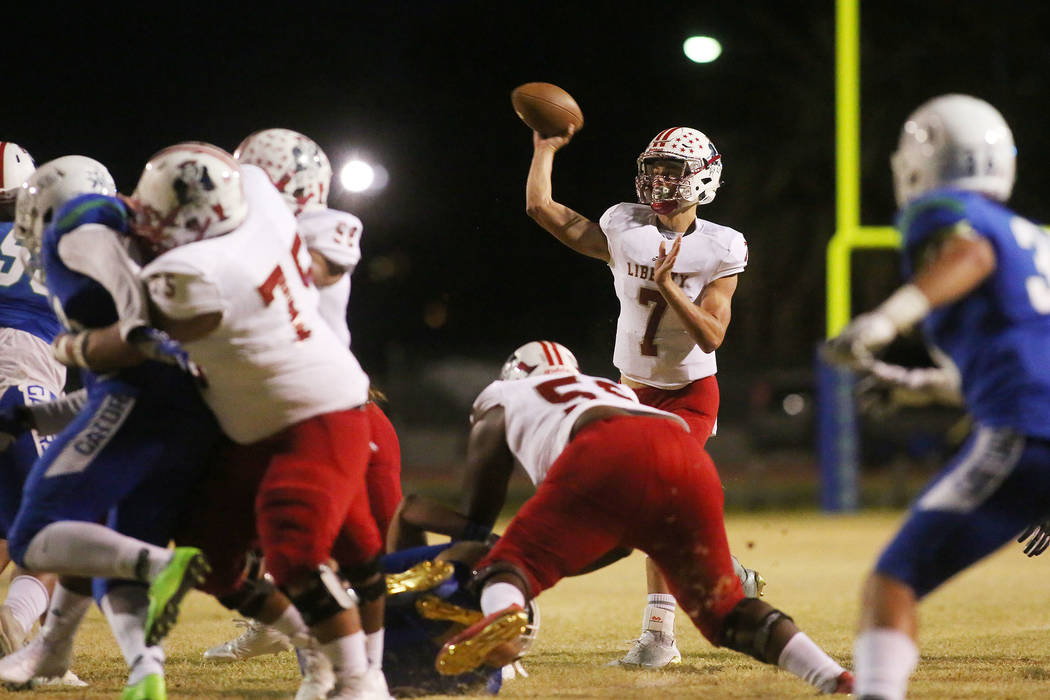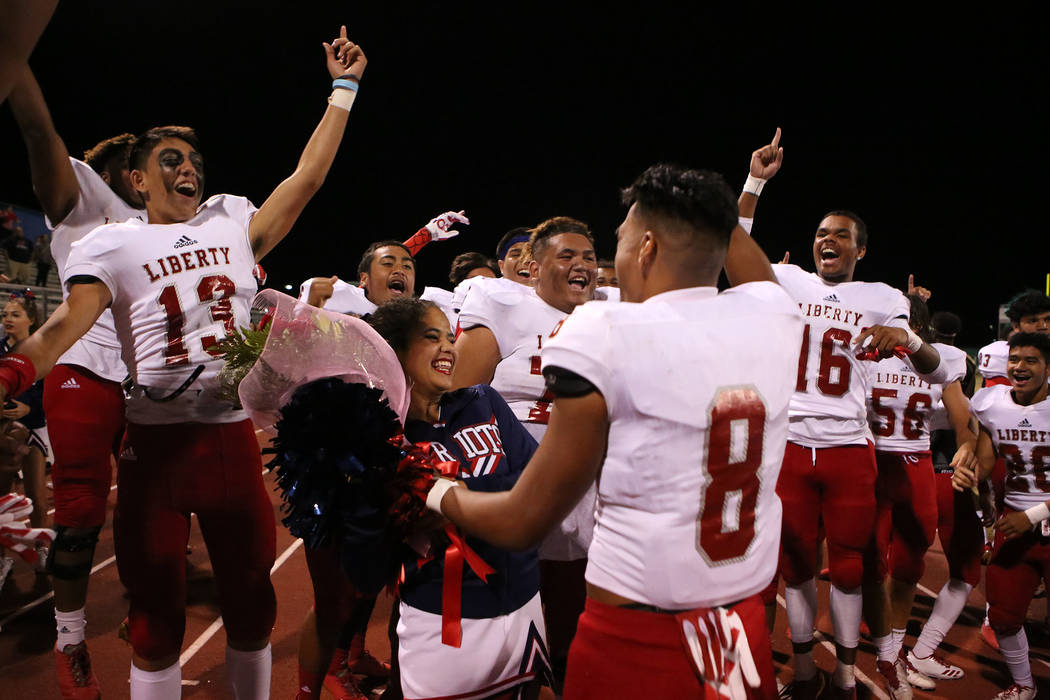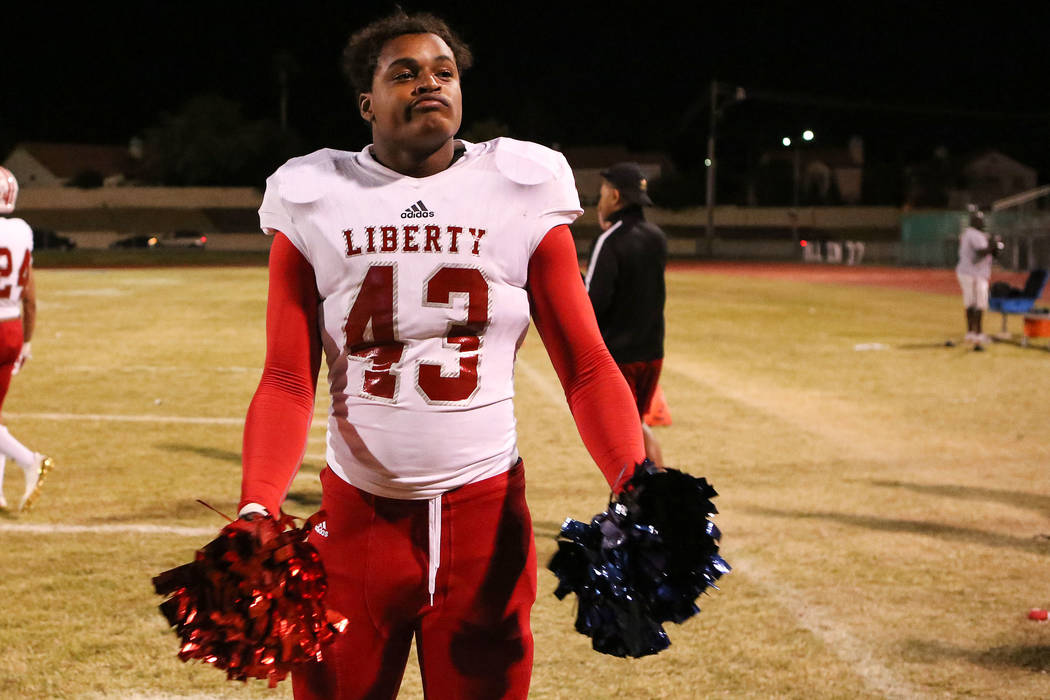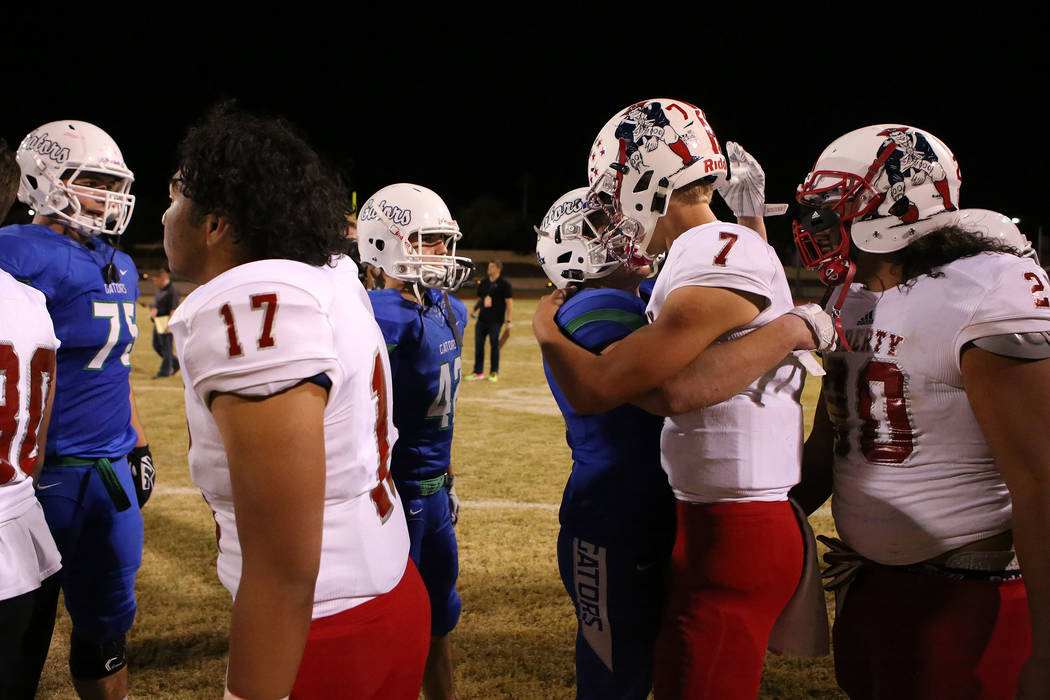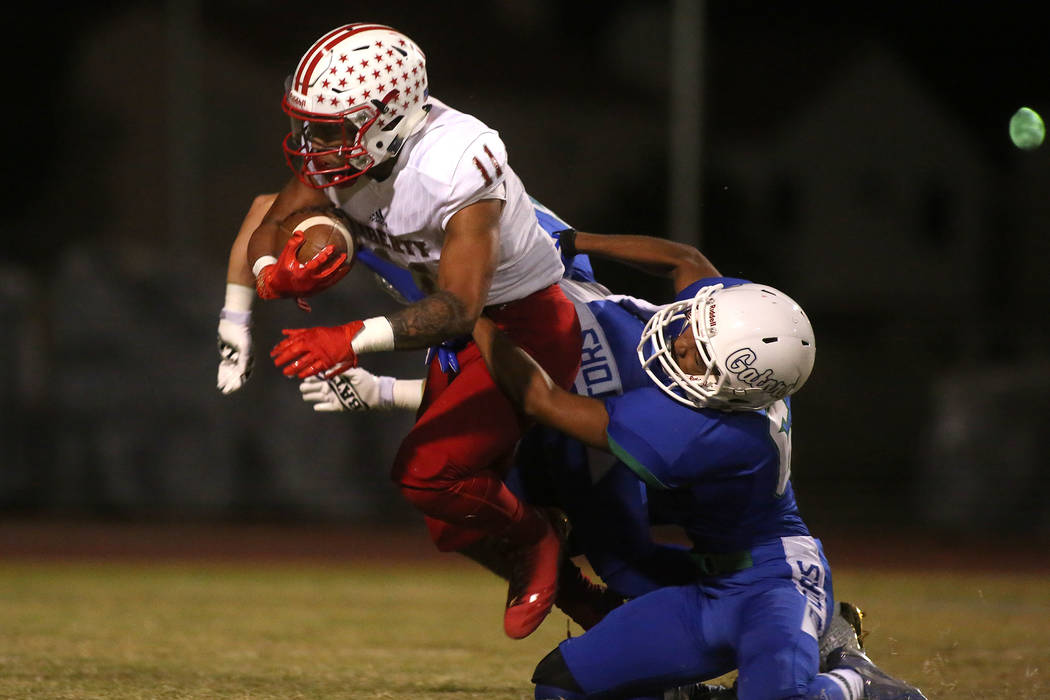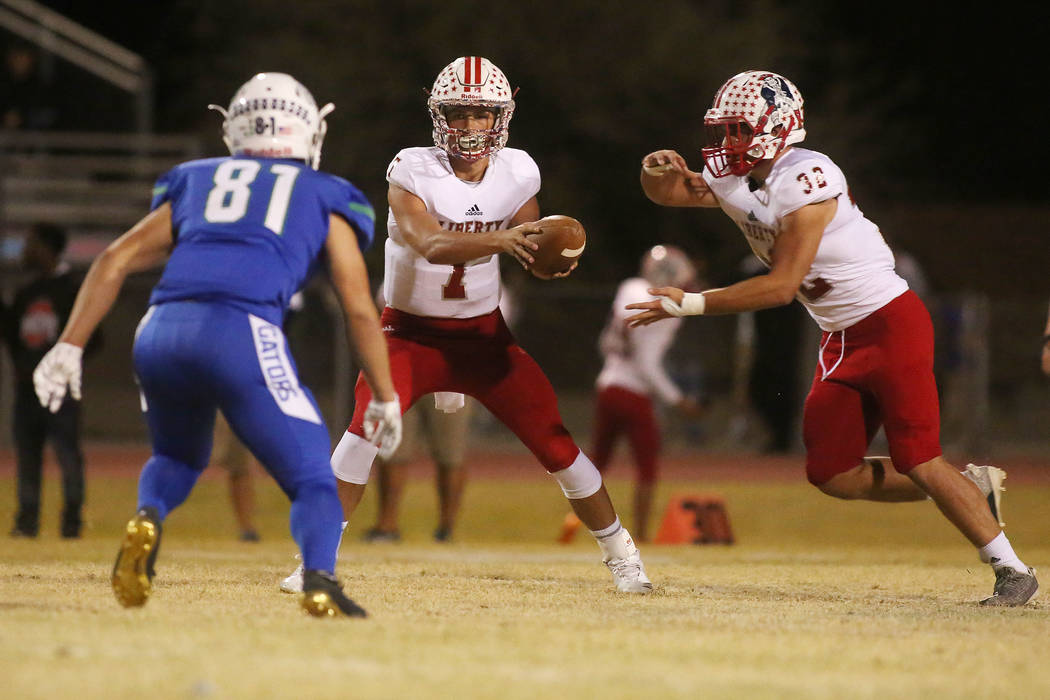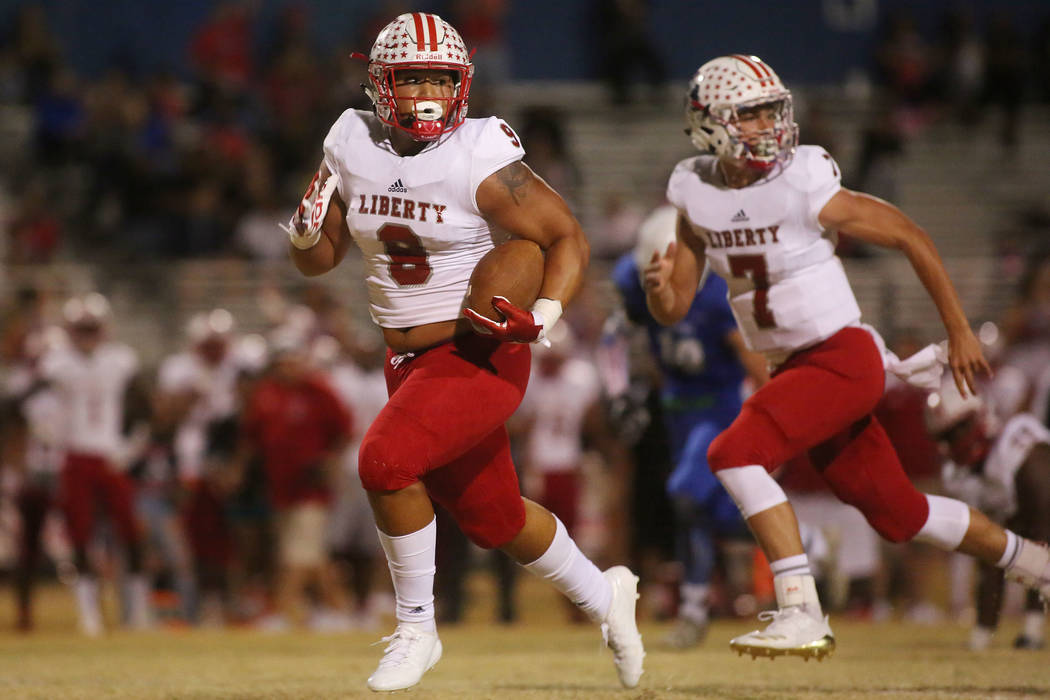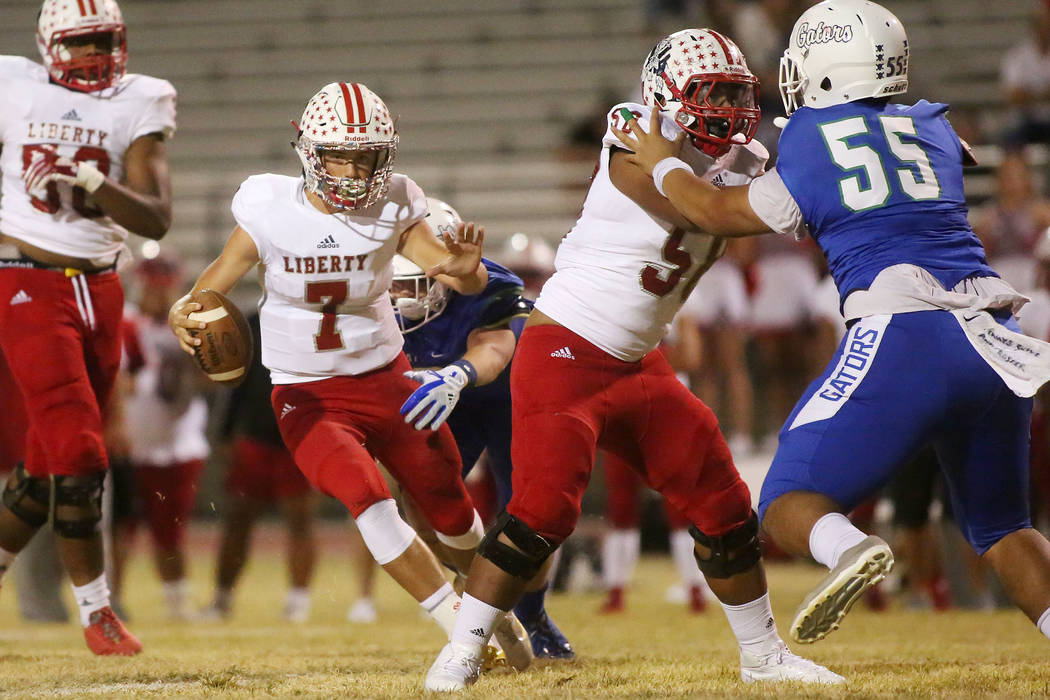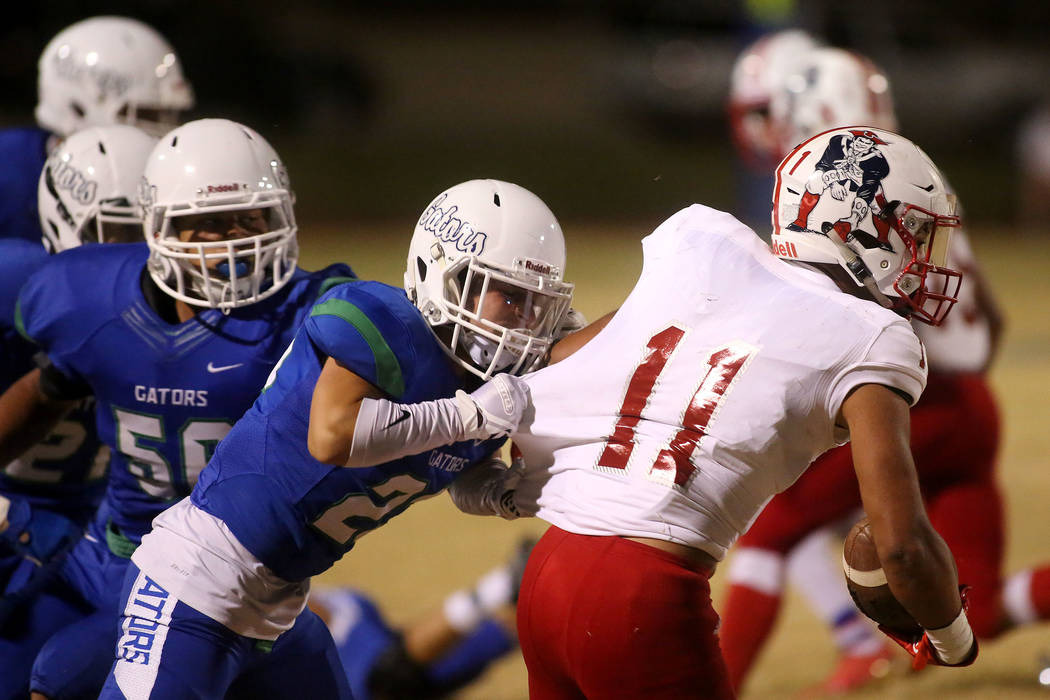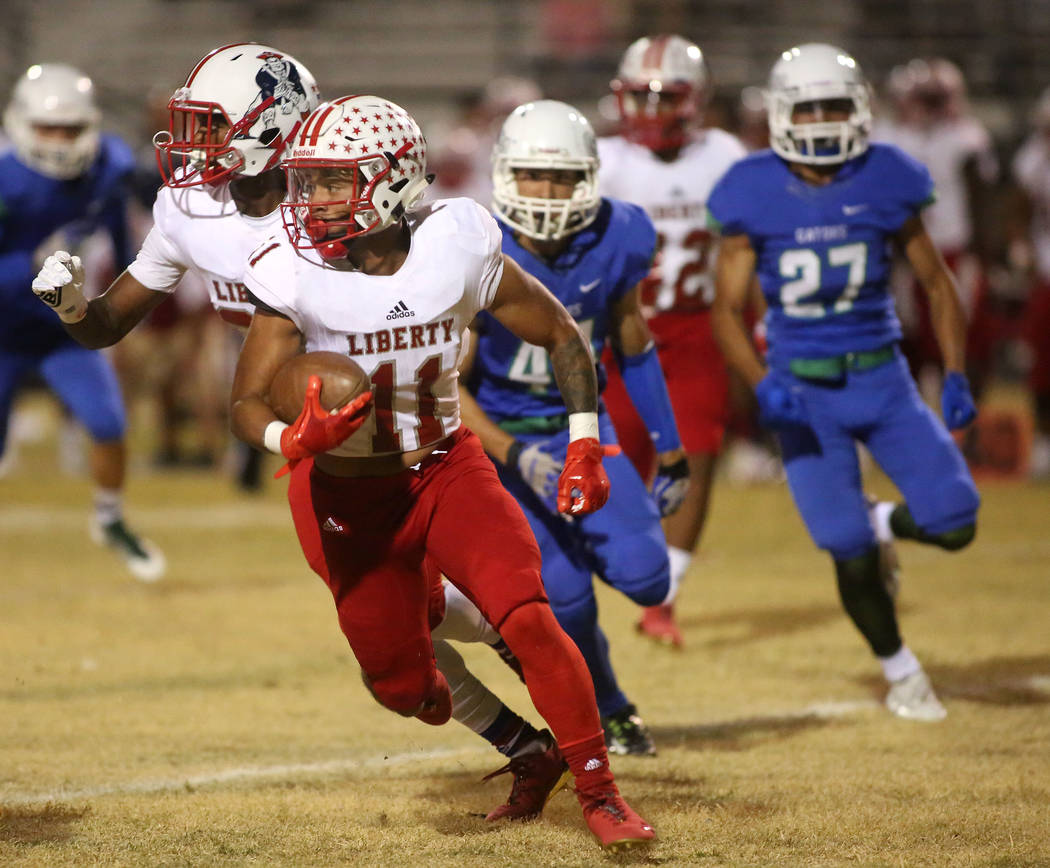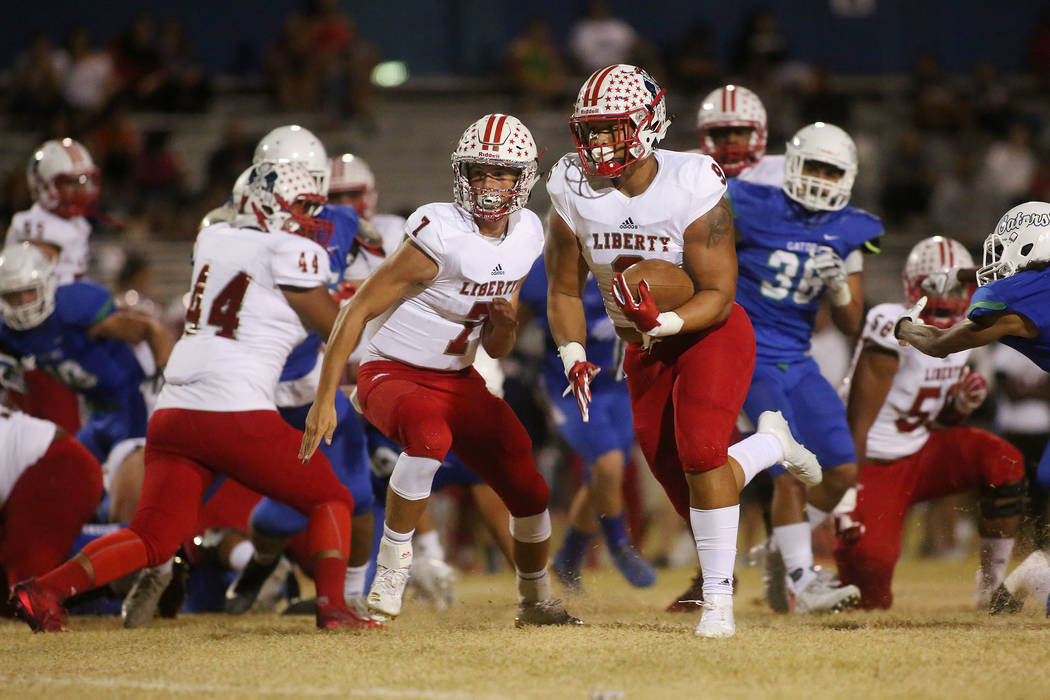 It wasn't a particularly flashy or exciting play. But when Liberty's Kenyon Oblad tossed a 5-yard pass to Cervontes White in the flat late in the first quarter Thursday night, the senior quarterback made history.
The pass gave Oblad Nevada's career passing record, and he went on to throw four touchdown passes to lead the Patriots to a 49-14 road win over Green Valley.
"When I broke it, it didn't really hit me yet because it was in the middle of a drive," Oblad said. "I still didn't really even know I did it. And then I got off the field and (coach Rich Muraco) was like, 'Yo, you passed it.' It was a really good feeling. All the hard work's paid off."
The short pass gave Oblad 10,117 career yards, passing the record of 10,113 set by Bishop Gorman's Jarrett Solomon from 2009 to 2012. But Oblad was far from finished.
He hit White with a 30-yard TD pass on the next play to put the Patriots up 21-7 with 21.8 seconds left in the first quarter.
"It's a special record," Muraco said. "In order to be in that category with that many yards, you've got to start for four years or be healthy. It says a lot about Kenyon, what a talented young man he is to be sitting alone now atop the Nevada state record book."
Green Valley answered with its second long scoring pass, a 54-yard toss from A.J. Barilla to Adrian Gutierrez on the next play from scrimmage to cut the lead to 21-14 with 12.5 seconds left in the first quarter.
But Oblad added two more TD passes — a 7-yard strike to Kyle Beaudry and a 15-yard pass to freshman running back Zyrus Fiaseu — in the second quarter as the Patriots quickly retook control.
Then with Green Valley driving at the end of the half, Austin Fiaseu picked off a Barilla pass and returned it 97 yards for a touchdown on the final play of the quarter to give Liberty a 42-14 halftime advantage.
Oblad had a 16-yard scoring pas to David Elder in the fourth quarter to trigger the running clock and give him 10,318 career yards.
"Coming into the season it was kind of like a worry to beat the record because everybody's talking about it, hyping it up and stuff," Oblad said. "It's good to beat it, and to be over with it and now just keep playing football."
White finished with five catches for 110 yards and Marquez Powell added five receptions for 91 yards to lead the Liberty receivers.
Defensive lineman turned running back Crishaun Lappin had TD runs of 1 and 42 yards. Lappin also had two tackles for loss and a sack.
But the night belonged to Oblad, who had a first-half streak of eight consecutive completions starting with the record-setter.
"Earlier today I was a little bit more nervous than I usually was," Oblad said. "But as soon as the game started, after a drive or two went on, it was gone. It was just like another football game."
Contact prep sports editor Damon Seiters at dseiters@reviewjournal.com or 702-380-4587. Follow @DamonSeiters on Twitter.