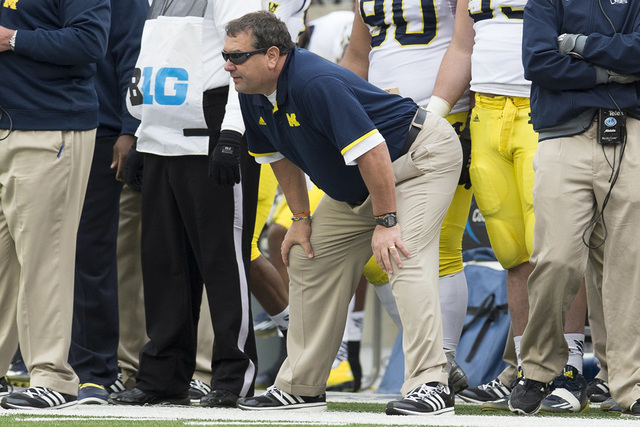 Michigan fired Brady Hoke after four seasons as coach, according to multiple media reports on Tuesday.
The university scheduled a 4:30 p.m. ET news conference to formally announced its decision.
Michigan finished with a 5-7 record in 2014 after a 42-28 loss to Ohio State last Saturday and failed to attain bowl eligibility for the first time since 2009. A rocky season included a controversy over the handling of a head injury suffered by quarterback Shane Morris during a home loss to Minnesota on Sept. 27.
Last month, David Brandon resigned as Michigan's athletic director and was replaced by interim director Jim Hackett, who said last week that he would decide Hoke's fate.
The 56-year-old Hoke was hired by Brandon on Jan. 11, 2011, and led Michigan to an 11-2 finish in his first season that included a win in the 2012 Sugar Bowl. But the Wolverines' record slipped to 8-5 in 2012 and 7-6 in 2013 before this year's losing season.
Hoke leaves Michigan with a 31-20 record in his four-year run. He previously was the head coach at San Diego State and Ball State.
Hoke replaced Rich Rodriguez, who struggled in three seasons at Michigan but has enjoyed success at Arizona and was named Pac-12 coach of the year on Tuesday.