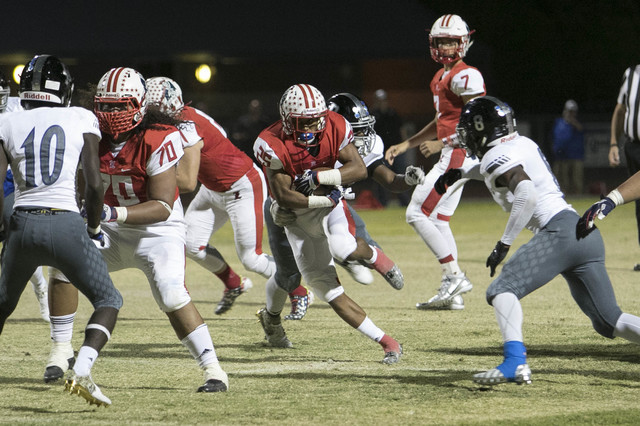 Here are five games to watch in Week 5 of the high school football season.
Liberty (3-0) at Centennial-Corona (Calif.) (3-1) – If the win at Westlake (Texas) was the biggest regular season win in the Patriots' history, Friday night has a chance to be the second-biggest. A public school is representing Nevada in the national rankings, and now the No. 21 Patriots get to prove they belong among the nation's elite. It won't easy. The 12th-ranked Huskies' only loss came against No. 2 IMG Academy and even that was by one point. These two squads have met once before, a 60-42 win by Centennial-Corona on Aug. 30, 2013.
Shadow Ridge (2-0) at Las Vegas (3-0) – Back on the home front, the Wildcats' non-league play has announced to the Northeast League, and all of Southern Nevada, that they are for real. Las vegas is a legitimate contender lacking a superstar with eye-popping stats, and an undefeated regular season might not be out of the question for the Wildcats. In their way stand the Mustangs, a team which has obliterated its two admittedly weaker opponents this season. This game could show the region what kind of team Shadow Ridge really is.
Basic (3-0) at Canyon Springs (3-1) – Let there be quarterbacks. The Wolves get the benefit of sending out Aaron McAllister under center, with his Southern Nevada-leading 15 touchdown passes. For good measure, he also leads quarterbacks with at least 40 passes in completion percentage (69.62) and is fourth in yards (904). The Pioneers counter with Diamante Burton, who has a hand in all 11 of the team's touchdowns this year: eight passing and three rushing. Basic is going to light up the scoreboard Friday, the question is whether its defense can prevent Canyon Springs from doing the same.
Centennial (1-2) at Cimarron-Memorial (1-2) – Both teams have the talent on their rosters to be above .500, but here they both sit. The Bulldogs have been the victim of a brutal schedule that includes losses by a combined six points to Desert Pines and Las Vegas, two schools that are tied for fourth in this week's coaches poll. This is a pivotal game for both squads, but the Spartans need to show they are a contender. Had a late field goal been a little bit more to the right against Cheyenne, the Spartans would have a winning record, but they can ill afford to fall deeper into a hole in the standings.
Del Sol (3-1) at Chaparral (2-2) – In a game that could go a long way in determining the Sunrise League champion, both teams come in with a lot to prove. The Dragons lost two weeks ago by 30 then won last week by 40, and now that league play has begun, need last week's team to show up just about every week. The Cowboys need to get on track quickly after getting upset by Pahrump Valley last weekend. They will lean, as they have all year, on quarterback Santiago Vialpando, who leads Southern Nevada with 1,107 passing yards.
Justin Emerson can be reached at jemerson@reviewjournal.com. Follow on Twitter: @J15Emerson
Complete coverage of high school sports